Every shooter who has ever tried a red dot sight can never really go back to not using one. Red dots are one of the primary essentials which significantly improves the accuracy and consistency of a shooter. Founded in 2013, AT3 Tactical is one of the major manufacturers and retailers of AR-15 parts, accessories & optics based in Hanover, Minnesota.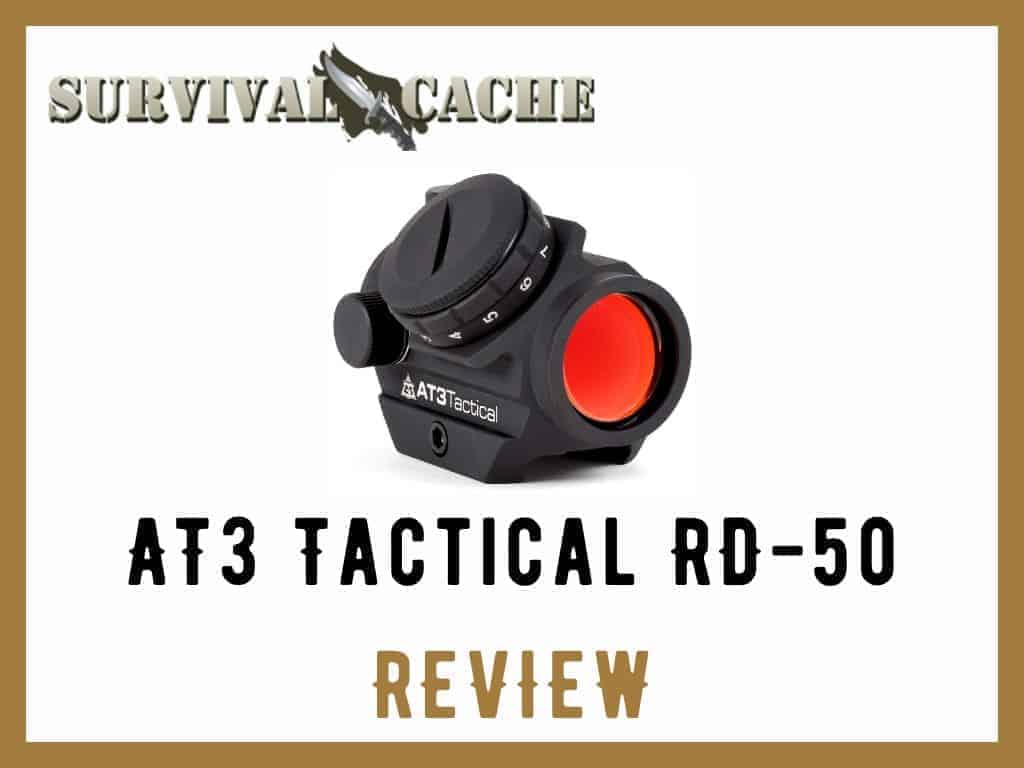 AT3 Tactical RD-50 Red dot sight is the most affordable scope available in the market. If you are looking to boost your shooting skills, this red dot scope can be one of your worthwhile investments.
No other scope offers such optimized features, including a riser and cover at such an affordable price under $100.
SIGHT
DETAILS

Scratch-resistant amber lens

Eye relief for eyeglass users

Multiple user-friendly brightness settings

Check Price on

Amazon.com
AT3 Tactical RD-50 Review
In this review, I'll be sharing a complete overview of what the AT3 Tactical RD-50 has in store for you. Also, following it will be a brief explanation of the pros and cons to help you understand the scope in detail.
Multi-Coated Lens
The multi-coated lens gives an excellent image quality and an enhanced clarity making the sight scratch resistant. This is known to considerably improve the aim and shooting, in turn.
Reticle
The Crisp 2 MOA feature allows ultimate accuracy and both-eyes-open shooting option.
Pro-Mount Cantilever Mini Riser
The new Pro-Mount Cantilever Mini Riser lightweight technology helps a secured mount on your AR and also helps in faster targeting and stays on the target under any circumstances.
11 Red Dot Brightness Settings
This feature provides the scope for the best visibility under almost any lighting conditions.
Parallax Free 
No matters where the shooter's eye is, this design makes it easier for the red dot to stay on its target.
6061 T6 Aluminum Body
This nitrogen purging the aluminum body of the red dot guarantees to resist fog and moisture. The shockproof design circuitry saves the sight from damages while taking a drop or rough handling.
CR2032 Lithium Battery
This scope comes with a genuine Renata lithium battery, which runs up to 50000 hours under the lowest settings and approximately 5000 hours under typical use.
Protective Armor & Lens Caps
A cover made of RD-Armor a hard rubber that helps the body and lenses of the sight to stay protected.  
This scope comes with an integrated lens cap that works like an added protection to the lens. It thus, in turn, increases its longevity and saves it from scratches. The lens caps are built with sheer precision to snap open with one hand.
Rubber Gaskets
These gaskets on the turrets and battery cover help to keep the sight waterproof, even if the RD-Armor is not mounted.
---
AT3 Tactical RD-50: Pros And Cons
Pros:
Excellent value for money
Excellent image quality
Parallax free 
Ultimate accuracy
Lightweight
Waterproof
Shockproof
Scratch-resistant amber lens
Eye relief for eyeglass users
Exceptional battery life
Multiple user-friendly brightness settings
Transferable lifetime warranty
Maximum transmission of light
Integrated lens caps
Cons:
A flip lens cap is always better as it prevents it from getting lost
Sometimes appear a bit too starburst to concentrate on the focus rather than the dot
Unacceptable for HD or rugged usage
Manual brightness settings which are time-consuming 
SIGHT
DETAILS

Scratch-resistant amber lens

Eye relief for eyeglass users

Multiple user-friendly brightness settings

Check Price on

Amazon.com
---
Users' View About The AT3 Tactical RD-50 Red Dot Sight
The majority of AT3 Tactical RD-50 users have claimed this scope to be an excellent optic sight, given its price. They have also categorized it as sturdy, packed with features, and easy to mount with its Allen wrench as compared to the other optics available in the market under $100. 
On the other hand, a few users have compared RD-50 with Bushnell TRS-25, which happens to cost you approximately $50 more.
Some users claim the RD-50 to have a more significant emitter resulting in protruding the view in comparison to TRS-25 and have claimed the RD-50 brightness knob to be spongy.
To sum it up, maximum customer sentiments claim the RD-50 to be a pocket-friendly red dot sight and is an excellent choice for whoever is looking to buy a sight with stunning features at a low cost.
---
Common Questions about AT3 Tactical RD-50 Red Dot
Q: Does this fit on a Weaver-style base?
A: Yes, it does easily.
Q: Is this manufactured by primary arms?
A: No, RD-50 is manufactured by AT3 Tactical, a branded company based in Minnesota. This company specializes in the production of this type of scopes and is very reliable. It also offers a free lifetime warranty.
Q: Would this fit on a Stevens 320?
A: Yes, it surely will. But you will have to mount a Picatinny rail at the top of your gun, which is readily available on Amazon and will cost you less than $10.
Q: How many types of the mount are included in the box?
A: One, it comes with a ¾ or 1-inch riser mount. 
Q: What's the closest my eye can get to this scope and allow a full picture? Eye relief says unlimited.
A: Yes, it has an excellent range. You can have your eye close or far away, and the result is the same. You can use it with your eyeglasses as well.
---
Verdict
The AT3 Tactical RD-50 is best known for its reliability regarding its shooting and hunting performances. The red dot is specially designed to control heavy recoils and, at the same time, withstand adverse circumstances. It has an excellent built quality, made to last long and survive adverse climatic conditions. 
The best add-on about this red dot sight is that, even at an affordable price, AT3 Tactical has not compromised with its performance and durability in any way. It has maintained its quality standard as always.
If you are looking for a cheap red dot sight yet packed with some great features, AT3 Tactical Rd-50 Red Dot Sight is a great pick.
SIGHT
DETAILS

Scratch-resistant amber lens

Eye relief for eyeglass users

Multiple user-friendly brightness settings

Check Price on

Amazon.com