Long-range shooters know the importance of using every tool possible to estimate a host of conditions that can affect a bullets travel.  One of the most important is the distance to the target.  Mil-Dot can make estimating the distance to target much easier and more precise.  Using a Mil-Dot scope does take some training. You also need to understand your gun, the bullet you shoot, and how the Mil-Dot scope works.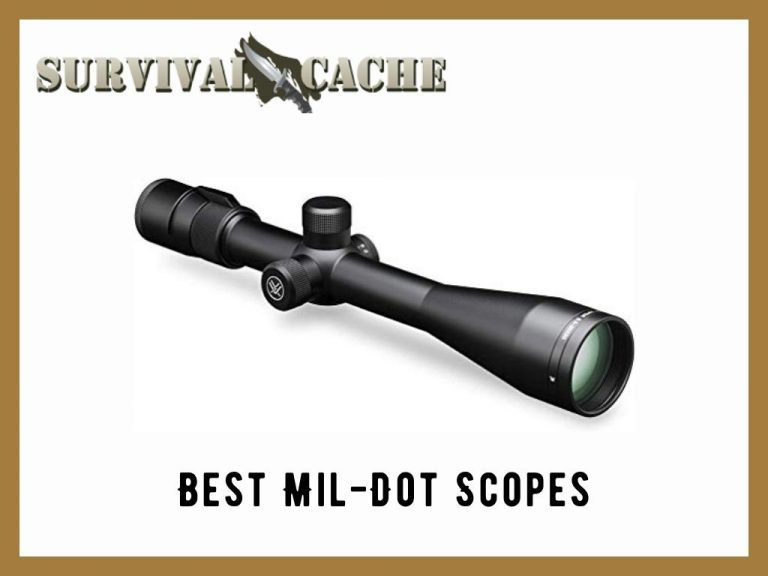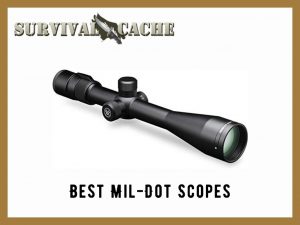 Putting a Mil-Dot scope on your rifle will not instantly make you shoot better, straighter, or further.  A Mil-Dot scope is a tool.  Like any tool, it takes time to master and practice to use.  You must choose the right Mil-Dot scope for your shooting style and your rifle. 
The scopes on my list are just a sampling of the choices available on the market today.  These Mil-Dot scopes represent what I feel are the best in their category and are the scopes I would recommend if asked. 
The scopes on my list are just a sampling of the choices available on the market today.  These Mil-Dot scopes represent what I feel are the best in their category and are the scopes I would recommend if asked. 
What is a Half Mil-Dot Riflescope?
Mil-Dot reticles are graduated by dots or hash marks that represent one milliradian of angle.  These dots or hash marks help judge distance or make adjustments to windage and elevation.  A shooter accustomed to using a Mil-Dot reticle may not need to make turret adjustments.  If you know all the information about the distance, angle, and bullet characteristics, you can use hold-over to compensate.
Half Mil-Dot scopes have additional dots or hash marks that further graduate the reticle into half milliradian measurements.  Half Mil-Dots markings add a level of accuracy that is hard to achieve with full Mil-Dot scopes.
If you want to just check our top picks, here they are at a quick glance:
---
Best Mil-Dot Scopes – My Top Picks
Across the board, there are hundreds of scopes from which to choose.  The variety of riflescopes on the market presents challenges for even the savviest and knowledgeable shooter.  If you are just getting into the long-range shooting game, I think my list of the best Mil-Dot scopes on the market will help you decide.
In my opinion, Vortex Optics builds some of the finest scopes for the money you can buy.  Their optical glass is at the top of the list. Their quality control and design efforts rival the finest optics makers globally, and the service that Vortex Optics provides its customers is superb. 
The Vortex Viper 6.5-20×50 PA rifle scope is a mid-range model in the Vortex Optics line of long-range scopes.  You can buy much more expensive optics from Vortex. But for most shooters, the slight differences won't be noticeable.  The Vortex Viper 6.5-20×50 PS rifle scope will get you the expected impressive list of Vortex features.
Magnification – 6.5 – 20X
Objective Lens – 50mm
Eye relief – 3.1 inches
Field of View – 17.4 – 6.2 feet at 100 yards
Tube size – 30mm
Turret style – Tall Capped
Adjustments per click – ¼ MOA
Adjustment per rotation – 12 MOA
Maximum Elevation Adjustment – 65 MOA
Maximum Windage Adjustment – 65 MOA
Parallax Setting – 50 yards to infinity
Overall Length – 14.44 inches
Weight – 21.6 ounces
Reticle – Available with Mil-Dot reticle or Vortex BDS reticle
Reticle placement – Second Focal Plane
Fully coated optics for maximum glare reduction and low light transmission
Pros
Best scope for the price available on the market
Best warranty of any manufacturer
Best glass to be found on any scope in this price range
Tough, durable, and easy to zero
Cons
A bit on the heavy side for a non-illuminated scope
Add to all this the Vortex Lifetime Warranty, and you have a hard to beat package at any price.  Fortunately, the price of the Vortex Viper 6.5 – 20 x 50 PC rifle scope will surprise you in comparison to other scopes that offer these same features and quality.
The Vortex Viper is the long-range scope that I currently have on my Savage .270 rifle.  It has performed so well that I have not chosen to upgrade.  This rifle and scope go to the field for hunting and the range for local long-range shooting.  I am a huge Vortex fan, and this riflescope has done nothing to but make me fonder of Vortex Optics.
2. Best Illuminated Reticle Mil-Dot Rifle Scope – Bushnell Match Pro 6-24×50 Riflescope
Bushnell is always on my list of scopes when I am making recommendations.  Bushnell's history and its reputation give them an edge in almost every category.  The same is true in this case.  Bushnell optics are never a bad choice in my book.
For years, illuminated reticles were a fad looked down on by traditional long-range shooters.  The first illuminated reticle scopes were quirky and often less than reliable.  Serious shooters saw no need to add one more piece of technology to proven designs.  This attitude has changed
Illuminated reticles are now mainstream and the technology has improved to give more durability and longer battery life.  Many hunters especially see an illuminated reticle to get a few extra minutes of shooting time at dusk and dawn when light conditions can be questionable.
Bushnell has married their traditional quality with an illumination system that you will be hard-pressed to beat.  Matching an illumination system with a first focal plane reticle gives you the best of both worlds.  Coupled with Bushnell's uncompromising quality and service and you have what I believe is a winner in the illuminated reticle category.
First Focal Plane Reticle
Parallax setting – 10 yards to infinity
10 Mil Turrets
18 Mil travel on windage and elevation
No Tool turret reset
Etched glass reticle with holdovers for elevation and windage
Large locking turrets
Multi-coated glass
Recoil rated for large caliber rifles
Includes a sunshade and cap kits
Eye relief – 3.74 inches
Field of View – 4 to 18 feet at 100 yards
Length – 14 inches
Tube diameter – 30mm
Weight – 29.8 ounces
Pros
The locking no-tool turrets are fantastic
Easy to zero and quick to adjust
Precise and crisp clicks on the windage and elevation
The glass is much clearer than other scopes in this price range
Cons
More of a competition-style scope than a field scope
One of the downsides many shooters find with illuminated scopes is the extra weight.  Most illuminated scopes are heavier than their traditional counterpoints due to the extra technology and the need for a battery.  If you are bench shooting or regularly shoot from a prone position with a bipod, this may not be an issue.
If competition is where your interests lie, watching what the professional shooters use on top of their rifles will give you an idea of where to shop.  Mind you. These are not budget scopes. At the top levels of competition, the shooter's equipment determines the difference in scores.
Surveying the scopes used by the top professional shooters find the Nightforce ATACR 7 – 35×56 F1 rifle scope a favorite.  Nightforce has a reputation as a precision scope manufacturer.  The quality of Nightforce products is unquestionable.  Many military long-range shooters use Nightforce optics as their choice of scope.   
As you would expect of a rifle scope in this price range, The Nightforce ATACR 7 – 35 x 56 F1 scope is feature-rich.  This scope design is meant from the ground up for serious long-range shooters.  Nothing has been left out or overlooked by Nightforce.
Magnification – 7 – 35X
Focal plane – First focal plane
Tube Diameter – 34mm
Overall length – 16.0 inches
Weight – 39.3 ounces
Adjustment per click – ¼ MOA or .1 MRAD
Maximum elevation adjustment – 100 MOA
Maximum windage adjustment – 60 MOA
Parallax Adjustment – 11 yards to infinity
Eye Relief – 3.6 inches
Field of View – 15 – 35 feet at 100 yards
Reticle illumination – Nightforce patented Digillum System
Pros
From 100 yards to 1000 yards, this is the best scope I have shot
The clearest glass I have seen on a riflescope
Well worth the extra cost if you are a serious competitive shooter
The fit and finish on this scope are immaculate
Cons
The price is the biggest drawback on this riflescope
If you intend to be a serious long-range shooting competitor, the Nightforce ATACR 7 – 35 x 56 F1 Scope is the pinnacle of long-range scopes.  It gets my nod as the choice for best competition mil-dot scope. The adage that shooters should expect to pay more for their optics than they did for their rifle may hold in this case.
If competitive shooting is not your game, but the pursuit of big game is, then you should consider the Bushnell Nitro 2.5 x 10 x 44 mm rifle scope for your large caliber hunting rifle.  Don't be misled that the Bushnell Nitro scope lacks any features or qualities of the other scopes on our list. 
A long-range hunting scope has different needs than a bench-rest competitive scope.  Hunts often occur across rugged terrain, where a long-range scope needs some different characteristics than a precision bench-rest scope.  The major difference is in the style of turrets.
Bench-rest long-range scopes tend to have tall easy to manipulate turrets.  These can be an obstacle when you are carrying a rifle over rough terrain or through heavy brush.  Hunters rarely adjust the turrets on hunting scopes in the field.  Capped turrets that sit low make maneuvering the rifle and scope combination much easier through heavy brush.  There is less chance of an accidental change or damage to the scope with low capped turrets. 
Even with these differences, Bushnell's Nitro 2.5 – 10 x 44 riflescope has all the features any long-range shooter could expect in a high-quality riflescope.
Capped turrets for protection
Fast focus eyepiece
Bushnell Lifetime Warranty
Include sunshade and flip-up scope caps
Multi-coated lenses
Waterproof construction
Wideband coating for excellent glare reduction and light transmission
Eye relief – 3.7 inches
Field of view – 9.5 to 37 feet at 100 yards
Overall length – 13.6 inches
Objective lens – 44mm
Side Parallax adjustment
Etched glass reticle
Pros
Good quality for the price.
This scope is made in South Korea and the quality is much better than Chinese or Filipino glass
The adjustments are precise, and the clicks are positive. 
The scope works great on my hunting rifle
Cons
Past 500 yards, it can be difficult to keep the target in focus.
The Bushnell Nitro 2.5 – 10 x 44 riflescope offers hunters the best of both worlds.  Excellent long-range capabilities and a sleek low profile design.  The scope will not only give you great long-range performance, it will ride snuggly and efficiently on your rifle no matter what kind of terrain or obstacles you face.
Going long is always a challenge when shooting.  Pushing that limit out beyond the 1,000-yard mark is a goal for many long-range shooters.  Hitting targets consistently at the 1,000-yard range demands the best precision rifle optics and the magnification power to bring the target into view.
Trijicon has just the scope for these long-range challenges.  The Trijicon 5 – 50 x 56 riflescope can take you out well beyond that elusive 1,000-yard mark with ease.  The generous 5 – 50 magnification and the extra-large 56mm objective lens puts distant targets into easy view.
Trijicon has a reputation for quality and attention to detail.  Their scopes see action around the world in many different applications.  The Trijicon 5 – 50 x 56mm long-range riflescope is no different.  Trijicon has put features in the AccuPower that make it an award winner.
Length – 16 inches
Height – 2.99 inches
Magnification – 5 – 50 X
Tube size – 34mm
Illuminated reticle – Yes
Second focal plane design
Five illuminations setting for both red and green
Maximum Windage Adjustment – 50 MOA
Maximum Elevation Adjustment – 100 MOA
Adjustment per click – 1/8 MOA per click
Weight – 38.4 ounces
Objective lends – 56mm
LED illumination source
Cu2032 battery
Eye relief – 3.5 – 3.9 inches
Field of View – 2.1 – 21.2 feet at 100 yards
Submersible to 10 feet
Pros
The clarity and crispness of the sight picture at long ranges is astounding
This scope reflects every reason to buy Trijicon.  The fit and finish are great
Compared to my last long-range scope, the Trijicon is light-years better
In low light, this scope is a real performer
Cons
Almost any of the scopes on my list will effectively reach beyond the 1,000-yard mark.  The Trijicon AccuPower 5 – 50 x 56 does it better than almost any other scope.  If you are after that magic shot beyond the 1,000-yard mark, you won't find a better riflescope option to take you this distance than the Trijicon AccuPower 5 – 50x 56 rifle scope.
Primary arms are not as well-known as the other manufacturers of riflescopes on our list.  However, that doesn't mean they don't produce an excellent riflescope.  In fact, their scopes compete very well with the best scopes on the market and their prices are well within the budget of almost all shooters.
The Primary Arms 4 – 16x 44 riflescope is my choice for the best budget long-range rifle scope.  The quality, durability, and precision of the Primary Arms riflescope are well above what most shooters expect from a scope in this price range.  Primary arms bring to the table all the features any long-range shooter could want.
Magnification – 4 – 16X
Second focal plane design
31mm objective lens
Includes Butler Creek flip-up lens caps
Illuminated reticle
12 brightness settings
Shockproof, waterproof, and fog proof
Uses a CR2032 battery
Adjustments per click – ¼ MOA
Eye relief – 3.5 inches
Field of View – 6.98 – 26.19 feet at 100 yards
Overall length – 14.3 inches
Objective lens – 44 mm
Mil-Dot reticle
Maximum Elevation adjustment – 30 MOA
Maximum windage adjustment – 30 MOA
Weight 23.5 ounces
Tube diameter – 30 mm
Pros
Much more accurate than I expected for a scope in this price range
Great turrets and precision clicks make adjustments easy
This is a perfect starter scope for someone just getting into long-range shooting
Primary Arms customer service is the best I have ever experienced
Cons
The crosshair lines are a little thin and can get lost against a busy background
If you are on a budget but still want to have excellent long-range performance in your scope, you won't find a better choice than the Primary Arms 4 – 16 x 44 Mil-Dot riflescope.  You can take this scope to the range for competition or into the field on your annual hunt and expect above-average performance at a great price.
---
Mil-Dot Rifle Scopes – The Why's and Where Fors
If you are new to rifle scopes, you may be confused by the discussions of MOA, Mil-Dot, and milliradians.  Before you go any further, it is important to become familiar with these types of reticles' measurements and uses.
What Does Mil-Dot Mean?
Despite many common misconceptions, Mil-Dot has nothing to do with the military. The Mil part of the Mil-Dot description refers to milliradians.  A milliradian is a measure of angles.  If you have a tube that is 1 milliradian angle from the back to the front and you look down that tube, at 100 yards, you will see about 3.6 inches of your target.
Skilled shooters can use a Mil-Dot scope to perform several functions.  The Mil-dot graduations on the reticle are useful to judge distance, make corrections for bullet drop, and crosswind drift.  Learning to use a Mil-Dot reticle on a riflescope can be a bit daunting, but once you understand the concepts, it is a great piece of kit to have on your riflescope.
Why Are Mil-Dot Scopes so Popular?
Mil-Dot scopes provide shooters such a range of valuable features that it is hard to list them all in one place. 
Mil-Dot riflescopes measure adjustment increments in milliradians, which are easy to convert
At long ranges, a Mil-Dot scope may offer more precision than other types of reticles
Converting range and adjustments to clicks is often easier with a Mil-Dot scope
The Mil-Dot system is a base-ten system as opposed to the MOA quarter system of adjustments
The bottom line is that many shooters find the milliradian measurement system easier to understand and use.
---
What to Look for in a Mil-Dot Riflescope
When you start shopping for a Mil-Dot riflescope, there are several factors you should consider in the process. 
How Well is the Riflescope Made – From the overall construction to the materials used, you want to pick the best possible combination of construction and materials that you can afford.
Magnification – The ability to hit a target at any significant distance is dependent on being able to see the target in relation to the reticle.  The more magnification, the close the target will appear. 
How Well Can You See the Reticle – If you shoot in low light conditions, you may want to consider an illuminated reticle.  An illuminated reticle can add extra time to your shooting window when hunting or give you the edge in competition when light conditions are not the best.
The Glass You Look Through – The quality of the lenses in the riflescope is a critical factor.  Low-quality lenses will not transmit as much light.  The objects you look at through the scope may not seem as crisp and clear. 
---
Understanding a Mil-Dot Reticle
Mil-Dot reticles can be confusing when you first look at them.  Understanding what each of the markings means and how to use it effectively makes the Mil-Dot scope a versatile tool for any shooter.
The Crosshairs and Dots
The basic Mil-Dot reticle has crosshairs with dots placed along each axis.  Typically, each dot is .25 milliradians in diameter and spaced one milliradian apart.  At 1,000 yards, one milliradian equals 1 yard. 
Most Mil-Dot reticles have thin lines near the center of the crosshair and thicker lines toward the ends.  The distance between the ends of the thicker lines usually equates to 36 inches at one hundred yards.  This distance may be dependent on the magnification setting on the scope.  Consult the user's manual for your scope for more detailed information.
Other Markings and Information
Some Mil-Dot scopes include other markings that help in distance calculations or make adjustments to the scope for elevation and windage.  Many of these markings are proprietary to the manufacturer of the scope.  The user manual that came with your scope is the best source of information about using the other markings on the reticle.
---
Illuminated Reticles – Should I Get One?
An illuminated reticle's choice over a non-illuminated scope is more a matter of personal taste than anything else.  There are valid arguments for both. 
Complexity – Illuminated reticles add complexity to the construction of the scope.  Many shooters hold that an illumination system is just one more thing to go wrong and fail at the worst possible time. 
Weight – By and large, scopes with illuminated reticles tend to be heavier than their non-illuminated counterparts.  Extra weight may not be an issue if you are a competitive bench-rest shooter.  However, if you are lugging a rifle across ridgelines and up slopes, even a few ounces may make the difference in your comfort.
Batteries – Batteries, according to Murphy's Law, will fail just when you need them most.  To be prepared means having extra batteries close at hand.  Extra batteries are one more thing to remember for your range bag or in your backpack.
When the Illumination Fails – If you chose an illuminated reticle, be sure that the reticle is visible and useable without the illumination.  Being unable to see the reticle could be important when that once in a lifetime shot is right before you, and the batteries die, or you have dropped your rifle and the lights won't come on.
Illuminated reticles are handy if you hunt or shot in lowlight conditions.  However, don't dismiss the problems associated with that extra technology built into your riflescope.
---
What Do I Think?
These scopes on my list represent my choice for each category of scope.  No one scope can perform well in all the categories.  You must decide on what you expect from your riflescope.  You may need performance at great distances or rugged durability for hunting in extreme conditions.  The budget may be a consideration as well.
For the average shooter who wants to gain the best long-range riflescope for the money, my recommendation is the Vortex Viper 6.5- 20 x 50 PA riflescope.  The Vortex Viper is not the cheapest scope by any means.  However, for the price, the performance and quality are unparalleled.  The Vortex Viper will take you close to the 1,000-yard mark while being rugged enough to take back-country on an elk hunt.
---
Mil Dot Scope FAQs
What is better Mil Dot or MOA?
It can be difficult to tell which is better out of the Mil Dot or MOA because they are great. From an accuracy perspective, the MOA is slightly more accurate than the Mil Dot, so if accuracy is your main priority then you might think that the MOA is better.
However, Mil Dot measurements are easier to communicate and manage, which makes this scope easier to use than the MOA.
So if you want a scope that is easier to use then you might think that the Mil Dot is better than the MOA. Both scopes use different measurements too, so this might influence your decision.
So it is impossible to definitively say whether the Mil Dot or the MOA is a better scope, instead the decision of which is best will completely depend on your preference. So look at the benefits of both before deciding which is best for you.
What is a half mil dot scope?
A half mil dot scope is a modified version of the Mil Dot. As well as being referred to as a cope, you may also hear the half mil dot being called a mil-dot reticle.
They are incredibly similar to regular Mil Dot scopes with a 3.6 MOA distance between the centers of the dots. The main difference between a regular Mil Dot and a half mil dot scope is the tick marks that have been added to the scope.
On a regular Mil Dot scope you will only find markings for every mil dot, whereas on a half mil dot scope there are markings on every half mil dot to allow you to get a more precise measurement on the scope. But other than that, a half mil dot scope and a regular Mil Dot are very similar.
How many inches is a mil at 100 yards?
When you are looking through a mil scope it can be difficult to tell the distance between you and what you are aiming at.
At 100 yards one mil usually equals about 3.6 inches. It can be hard to tell distance simply using your eyes, and when you look through a scope it is even harder.
This means that 0.1 mil is approximately 0.36 inches at 100 yards. Understanding the distance on your scope can be very confusing, but if you bear this small measurement in mind when you use your Mil Dot it will make telling the distance easier.
So every 100 yards on your Mil Dot is roughly 3.6 inches on your dot, and every 0.1 mil will be 0.36 inches. You can use this number to easily calculate distances of more than 100 yards through the scope.
Does US military use MOA or mil?
Even though the MOA scope is slightly more accurate than the Mil Dot scope, the US military actually tends to use a mil based measurement for their scope. This isn't so much because of any benefits of the mil dot, instead it is simply because the military have always used this metric.
Ever since the 1970s and 80s, the military have used a Mil Dot scope based measurement with MOA knobs, and this practice seems to have stuck because they still use the same scope.
So while the scope that the military uses is a Mil Dot style of scope, this device does have MOA knobs, so the military almost uses a hybrid of both scopes. But out of the two, the scopes that the military use are closest to a Mil Dot.
Do snipers use MOA or Mrad?
Generally speaking, out of the MOA and the Mrad scope, more snipers tend to use the Mrad scope. This is mainly because the Mrad scope makes it easier for the sniper to calculate precision angles and do their job more effectively in difficult situations.
It is for this reason that not only military snipers but also police snipers choose to use the Mrad scope.
Being a sniper is not an easy job, so using a scope that is able to calculate precise angles will definitely make the job a lot easier.
So the majority of snipers, both police and military, choose to use a Mrad scope because they are more precise. However, not all snipers will use this type of scope and some will choose to use an MOA scope.
Both of these scopes are great and in the end it really comes down to personal preference.
---
Finding the Right Riflescope for Your Needs
Finding the right riflescope for your needs is a lot like buying boots.  The most important part is the fit, but style and features are important as well.   I hope that my list of the Best Mil-Dot riflescopes helps you find the long-range rifle scope that best fits your needs and requirements.
If you found this article helpful, please leave your thoughts in the comments section below.  I love to hear from our readers.  Your experiences, suggestions, and input help everyone who is part of our shooting community.  Good Shooting and Stay Safe.