I think that we can all agree that fire can be pretty darn important in a survival situation. I learned this at a young age when I fell into some icy waters while hunting and had to be warmed up as quickly as possible. From that experience I learned that the ability to make fire can be a critical skill to have.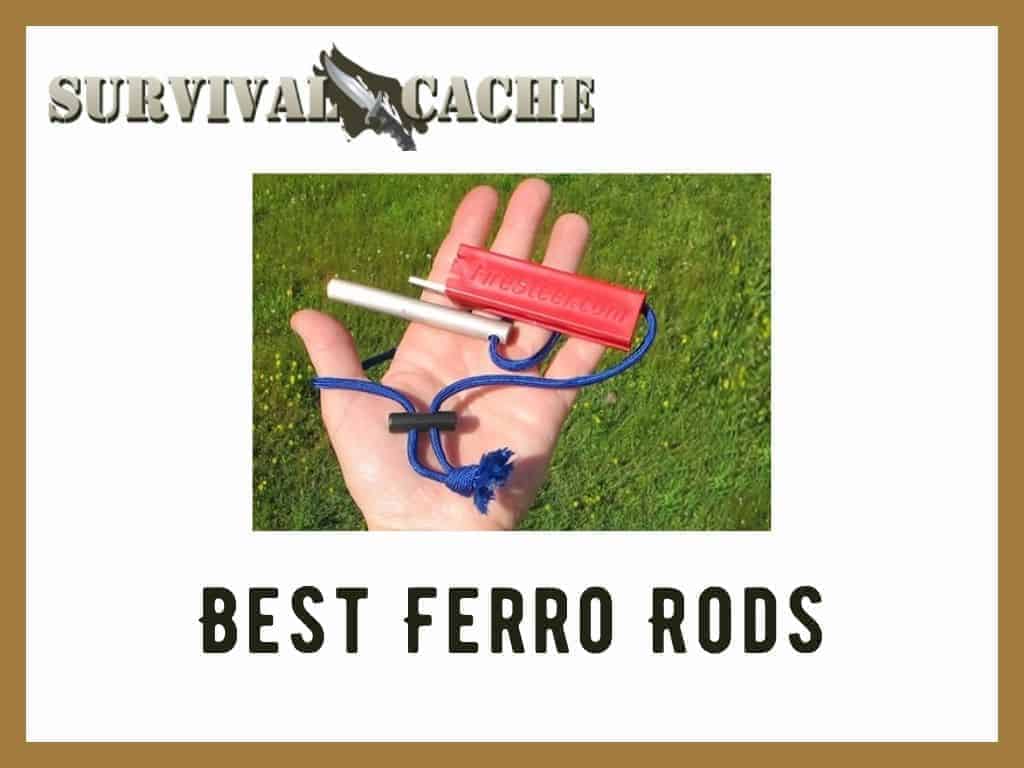 When it comes to making fire I know that there some methods that are a bit romanticized in the survival community. So I would like to clear the air a bit and say this. While you should know as many methods as possible in which to make fire, you should not be going into the wilderness without a lighter and matches. Period.
I will tell you right now that when it comes to a survival situation, if I have the means for an instant flame, i.e. a lighter/matches, I will not be messing around with a bow drill or a magnifying glass or any other method. Having said that, here are the four items that I always carry in order to produce a flame or a spark. Lighter, matches, ferrocerium rod coupled with a magnesium rod, and a magnifying glass.
When the lighter and matches fail to work I then move on to my ferro rod because it is the next best way in which to get a flame. But at this point some of you may be asking what in the world is a ferrocerium rod?
But are you in a hurry? After countless hours of research, here are our top product picks. You can check them out:
What Is A Ferrocerium (Ferro) Rod?
Simply put, it is a metal rod made up of a mixture of materials that are rare earth metals. When using another metal surface to strike the rod, it will produce hot burning sparks. Having a shower of hot burning sparks directed into a tinder bundle will obviously help in getting a fire going.
Many ferrocerium rods may look alike but beware because not all of them are made equal. In order to save money, some companies tweak the mixture of materials they put into their ferro rods. In this case you will end up with a product that produces very little sparks with a short burn time.
Let's review the best ferro rod products in the market.
---
Best Ferro Rod: My Top 3 Picks
The following are three very good ferro rods that I have used for years and I believe should be on your radar.
FireSteel by Firesteel.com Review
Firesteel.com is an American based company that produces some of the best Ferro rods I have used. A few years back I decided to try their smallest model which at that time cost me a whopping .99 cents. I figured for that price it wasn't going to be very good and if I was right then at least I didn't stand to lose much. Boy was I wrong. The rod that I got was a little bit bigger than a toothpick. This made it difficult to hold but I still wanted to give it a go. Its size notwithstanding, a shower of sparks came forth when I scraped that little rod. Ever since then, I have been carrying ferro rods by this company on my person, in my bags and in my vehicles. And I am not the only one. Products by this company are carried by outdoorsman, first responders, and even the U.S. military.
Firesteel.com has many sizes, shapes and models to choose from that will fit anyone's needs and budget. Their largest model and on my wish list, is the Magnum. It is one inch in diameter by six inches long! I might be able to pass that one down to my grandkids.
Here are pictures of my personal FireSteel:
Pros
Huge variety of sizes
Affordable
Great quality
Easy to use
Produces a shower of sparks
Long burn time
Cons
Purefire Tactical Survival Model Rod Review
The purity of the magnesium used in this product stands above the rest and makes getting a fire going so much easier. While I can see why some might consider the Survival Modeltoo big, I think it is great. The large handle provides a comfortable grip when I am wearing gloves and it is easier to use if my hands are shaking from the cold.
The only negative thing I can think of anyone saying about this product is the price. It will cost more than your average ferrocerium rod, but this isn't your average ferrocerium rod. Each one is handcrafted, made in the USA and the magnesium/ferro rod are of the highest quality. However, with the different models available I think anyone would be able to find one to fit their price range. 
It has stood up to my use, abuse, and the test of time. This has easily become one of my favorite fire starting aides and I encourage everyone to check them out. Interesting side note to viewers of "survival tv", Purefire Tactical products have made an appearance on the show Naked and Afraid.
Here are pictures of my personal Purefire tactical rod:
Pros
Large striking surface
Magnesium rod included
Easy to handle
Rugged construction
Comes with a striker
Cons
I will be the first to admit that for the longest time I ignored Ferro rods of this design. Honestly, I wasn't exactly sure why there was just something about them that didn't appeal to me. But then one day something occurred to me that many people tend to overlook. I asked myself, how would I get a fire going in a survival situation if I were injured (one-handed) and a Ferro rod was all I had?
To be fair, there are a few methods in which traditional Ferro rods can be used one handed. But given certain circumstances, something like the Sparkie might be easier to use. The design and use of it are quite simple. While holding onto the handle and depressing the thumb grip, press the tip of the Ferro rod downward. This will cause the Ferro rod to scrape against the interior striker and produce sparks.
This product primarily made my list because it can easily be used one handed. Having said that, there are few things I don't like about it. Even though the idea of it is simple, it took some practice in order to use properly. This was because of the feel of it and the direction of the sparks. It is rated for over a hundred strikes which is on the low end when compared to other ferro rods. Having used this roughly fifty times, I can already see that the rod is being worn down.
Also, I have figured out that I need to use one long, continuous stroke every time. By not doing that, small bumps or divots have been created along the ferro rod. This will stop the operation in mid stroke causing less sparks to be created. To me, this appears to be more operator error than fault of the product. As with all gear, I highly recommend practicing its operation in ideal conditions first.
Here are pictures of my personal UST Sparkie:
Pros
Very affordable
One handed use
Lightweight
Compact
Cons
ust Sparkie Fire Starter
One handed operation, ultra compact, lightweight design-less than an ounce
Generates 3 times the heat of ordinary matches
Last update on 2023-12-04 at 03:52 / Affiliate links / Images from Amazon Product Advertising API
---
Why Carry a Ferro Rod?
I listed above my first two choices for starting a fire, a lighter or matches. While they are both great in producing a flame instantly, they do have their drawbacks. Both can become damaged, run out fuel or become unusable due to moisture. In terms of being damaged a ferro rod can break but as long as it can be scraped it can still produce sparks. For a ferro rod to run out of "fuel" it basically has to be worn down completely. Most ferro rods are estimated for between 7,000 -12,000 strikes with some being used for even longer. So, if you are skilled in using one and have the right materials on hand for making a fire, a ferro rod will last a very long time.
In terms of usability, moisture doesn't bother a Ferro rod. I can completely submerge one in a glass of water, leave it, take it out and it will still produce the same amount of sparks as it would have before becoming wet. This is why I carry Ferro rods, because of their durability and longevity. Even high-quality Ferro rods are insanely affordable given what they can do and how long they will last. So, for me it is not a question of why carry one, it is a question of why wouldn't I carry one?
---
Wrapping It Up
Gear and methods for starting fires has always been important to me and for obvious reasons, always will be. Lucky for me, the gear available for fire making is lightweight and compact. This allows me to easily add many different methods and items into my bug out bag so that I can be as prepared as possible. I hope through this article I was able to give you a few new ideas for the best ferro rod fire starter aides.
Please feel free to leave a comment or question below. Stay warm!