"Personal weapons are what raised mankind out of the mud, and the rifle is the queen of personal weapons."  With this sentence Cooper begins his book The Art of the Rifle and sets the tone for all that follows.

By Captain Bart, a contributing author to SurvivalCache.com
Overview:
It amazed me that while I had read other of his works such as "To Ride, Shoot Straight, and Speak the Truth", I had not read his "Art of the Rifle".  While I can unreservedly recommend his book "Ride" I was greatly impressed by "The Art of the Rifle".  I think that one of Cooper's strong points is that he recognizes the rifle is a tool, a tool that is useful in the hands of a skilled craftsman.  In this book, Cooper endeavors to show what things a would be rifleman must learn and practice to become that skilled craftsman.
About the Author: (From Wikipedia.com)
John Dean "Jeff" Cooper (May 10, 1920 – September 25, 2006) was recognized as the father of what is commonly known as "The
Modern Technique" of handgun shooting, and one of the 20th century's foremost international experts on the use and history of small arms. Born John Dean Cooper, but known to his friends as "Jeff", Cooper was commissioned into the United States Marine Corps prior to the attack on Pearl Harbor. During World War II he served in the Pacific on the USS Pennsylvania, and then was recalled to active duty for the Korean War, resigning his commission as Lieutenant Colonel in 1956.  He received a bachelor's degree in political science from Stanford University and, in the mid-1960s, a master's degree in history from the University of California, Riverside.
In 1976, Cooper founded the American Pistol Institute (API) in Paulden, Arizona (later the Gunsite Training Center).  Cooper began teaching shotgun and rifle classes to law enforcement and military personnel as well as civilians and did on-site training for individuals and groups from around the world.  He sold the firm in 1992 but continued living on the Paulden ranch.  He was known for his advocacy of large caliber handguns, especially the Colt 1911 and the .45 ACP cartridge.  Cooper died at his home on the afternoon of Monday, September 25, 2006 at the age of 86.
Favorite Part:
Finding a favorite part is very difficult.  The entire book is excellent.  I think what I appreciate almost as much as anything is the sayings that are sprinkled thought out the book.  The idea that a master shooter is someone who can "shoot up to his rifle's capabilities" is informative.  Quite a bit of time is spent defining what a "good shooter" is and then how to become one.  At the same time, he is not disparaging of the "good enough" shooter.  Finally, he doesn't consider a bench rest only shooter to be a real rifleman. He talks a great deal about impromptu positions, how to get into and out of them and when to use them.
Dislikes:
None, really.  Jeff Cooper essentially reinforced all my likes and dislikes.  What's not to like about someone who basically agrees with me.
Summary:
It amazes me that so many shooters who talk about Jeff Cooper have apparently not read any of his work.  Cooper is always the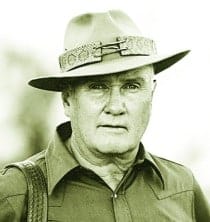 pragmatist.  A shooter who consistently shoots adequate groups at all ranges, under all conditions is a good rifleman.  He may not win any medals but he gets the job done.  The section on gear is well done.  He does point out that a skilled marksman can shoot a manually operated action as quickly as with a "self-loading", his word for semi-auto, action.  His four rules of firearms safety are absolute, carved in stone truth and most have heard them.
Jeff Cooper's 4 Rules of Gun Safety:
Rule One – All guns are always loaded.
Rule Two – Never let the muzzle cover anything you are not willing to destroy.
Rule Three – Keep your finger off the trigger until your sights are on target.
Rule Four – Be sure of your target. Know what it is, what is in line with it, and what is behind it. Never shoot anything you have not positively identified.
The discussions of alert conditions and one shot stops are well written and worth the read.  Sling work is well covered and the use of the "Scout" rifle is address.  In short, an enjoyable, informative read with a lot of good information.  For a new shooter, it should be required reading.  For the experienced shooter, if you haven't read it, it should be required reading.
Finally a quote from the book that I wish I'd said first:
"Put not thy faith in safety catches!  Gadgets can fail and sometimes do."
The Art of the Rifle (Special Edition) Available on Amazon
The Art of the Rifle – Available on Amazon


Visit Sponsors of SurvivalCache.com