In the movie of Cormac McCarthy's The Road (Oprah's Book Club), right after the nuclear explosion (or whatever it was) Viggo Mortenson runs to the bathtub and fills it up. He knows that the public water system will be down soon and an extra bathtub full of water is incredibly important.
That's a great idea and something I plan on doing in any emergency situation with enough prior warning. The WaterBOB is a great way to do just that, but more sanitary.
Last update on 2023-12-01 at 15:04 / Affiliate links / Images from Amazon Product Advertising API
The WaterBOB Review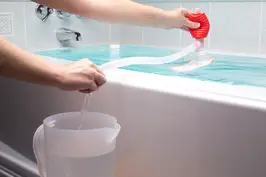 The WaterBOB is simple enough. It is a heavy duty plastic water storage container that you place in your bathtub and fill up. The bathtub itself supports the bag. The bag has a tube that you place over the faucet for filling.
WaterBOB Specifications
Holds up to 100 Gallons
FDA Food Grade 10 mil plastic bag
Siphon Pump for Dispensing.
Advantages
Some people might think this is a waste of money when you could just fill your bathtub up with water without the bladder. That's a good point, and what I would do if I had to, but there are a couple of things you might want to consider about the WaterBOB
Cleanliness
Sure you clean your bathtub, but you still bathe your dirty self in it everyday. I'd rather have my drinking water in a food grade container.
Longevity
Hopefully, this 100 or so gallons of water will be enough to last you for a few weeks at least (depending on the number of people). Water left standing in your bathtub for several weeks, possibly without having had a chance to clean the tub beforehand, is going to get dirty and moldy pretty quick.
Every Drop
Even if your tub is cleaner than a surgeon's table it still has a drain. Even if you have a heavy-duty drain you are going to lose some, and that is unacceptable in a survival situation. The WaterBOB isn't going to lose a drop.
The End
What happens when you get to the very end of the supply? I would rather have my last gallon or two in a plastic container I can pick up, move, or drain instead of a 1/2 inch of three-week-old water in the bottom of my bathtub.
Cheaper
Your first reaction may be that the price is too much for a WaterBOB, but if you look at that price of 55-gallon barrels that are food-grade, you will likely pay $50+ for those, plus buy lids, and still only get roughly half the storage capacity.
---
WaterBOB Video Review
It sounds like an infomercial, but you get to see the thing work better than pictures.
---
What Do You Think?
I really can't think of an easier way to quickly gather and store 100 gallons of clean water in an emergency. Would you use this system or stick with more traditional methods?
More on Water Containers: