Leatherman is known mostly for its high-end multitools; however, the company does realize that not everybody wants to spend over $100 for a multitool.
For a lot of people, a multitool is just a tool they like to keep handy in the car or kitchen drawer just in case they need to make a quick fix.
The Leatherman Rev multitool fills this void perfectly – it's inexpensive and sturdy, and though it lacks the bells and whistles of high-end models, it has all the tools you will ever need and supplies excellent value for money.
In this review, I'll go over everything the Rev multitool has to offer, highlight the pros, and explain the cons to help you understand if it's right for you.
Last update on 2020-08-12 at 07:18 / Affiliate links / Images from Amazon Product Advertising API
Leatherman Rev Review
The Leatherman Rev looks almost identical to the Leatherman Wingman and the Sidekick, except it's lighter, and lacks scissors and the spring-loaded pliers.
It comes in well below the price of other Leatherman products, but it retains all the hallmarks of Leatherman's craftsmanship.
Size And Build
The Rev weighs only 5.9 ounces, and is 3.8 inches long, making it the perfect multitool to carry around in your pocket. In the pockets, it feels a bit like a bulky pocket knife!
The build quality is excellent for something at this price range, and the size makes it feel great to clench onto, but the lack of heaviness makes it less satisfying to hold in hand.
Then again, the Rev costs a fraction of other quality multitools, so I don't think the lack of weight should be considered a put-off.
Tools
The Rev multitool has a butterfly design and comes with 14 different tools, none of which are replaceable or removable, and only one of which locks in – the knife.
Knife Blade
Let's talk about the knife blade first. It's 2.6 inches long, straight-edged, and has a drop point design. It's made out of 420HC stainless steel, making it easy to sharpen and corrosion-resistant.
It comes with a super-sharp edge right out of the box, meaning you have to be careful with it. The blade is the only outside access tool in the Rev, and it's hard to open with one hand, which is probably for the best.
Pliers And Wire Cutters
The Rev has two pliers: needlenose and regular, and two cutters: the regular kind and for hard-wire.
The pliers aren't spring-action, making them a little inconvenient to use, but for the price, it's nothing to complain about.
The wire cutters feature an overlapping blade design, ensuring that the wire cutters always meet and give you a clean cut. The Rev also has a small cutout, making cutting through fencing, barbed wire, and steel cables a breeze.
Screwdrivers
The Rev has one Philips screw head and two flatheads: one small and one medium size. The screwdrivers feel a bit shallow, but they'll allow you to make quickly tighten a loose screw.
The Philips head is of the flattened variety, but it is still well made. You may find it difficult to use it with large screws, but it will work well with most other screws.
File, Ruler, And Package Opener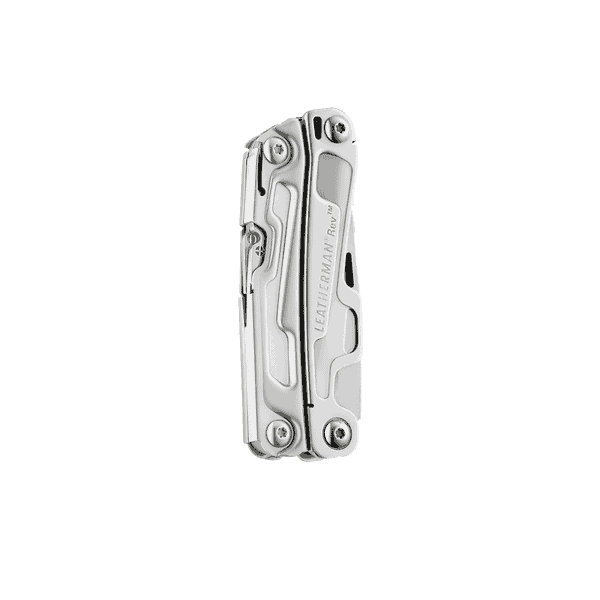 The package opener is a small hook that enables you to open envelopes and packages quickly – but I find myself using the knife out of habit.
The standard metal file does a fair job of smoothing out the rough edges of plastic and wood, and it also works well with soft metals.
The ruler is only 1.5 inches long, which is too small to measure anything – it's a little disappointing considering that it's a Leatherman tool.
Bottle Opener, Can Opener, And Wire Stripper
The can opener is super reliable and will let you open any can with ease. The bottle opener also does an excellent job popping the top off of a beverage.
The wire stripper is a notch that you can place a wire in and twist it to remove the plastic sheathing. The knife does an equally good job doing this, though.
Pocket Clip
Leatherman includes a pocket clip with every Rev, ensuring that you never drop and lose your tool. It'll come in very handy if you plan to use it on a daily basis.
Available Accessories
You can opt to get a black nylon pouch with the Rev when you order it – enabling you to fit it onto your belt.
But if you're looking for something a little robust, you can get one of Leatherman's rugged leather sheaths that last as long as the multitool itself.
Warranty
Leatherman stands behind every tool they make, and you get a 25-year limited warranty that you can claim on their website.
---
Leatherman Rev Multitool Pros And Cons
Pros
Excellent value for money
Compact
Wire cutters work flawlessly
Most tools are full size despite the multitool's small size
Sturdy build
Super-sharp knife
25-year warranty
Cons
Ruler way too small to be useful
No scissors
Feels cheaper than other Leatherman products
Screwdrivers feel shallow
Parts are neither removable nor replaceable
Impossible to open the knife with one hand
---
What People Are Saying About The Leatherman Rev Multitool
Leatherman Rev multitool users love that its build is just as sturdy as other Leatherman products, and while some think the reduced weight is a huge plus, others find that it makes the Rev feel cheap.
Many compare the Rev to Leatherman's Wingman Multitool – which costs about $20 more. The Wingman has a pair of scissors and a spring-loaded plier in addition to the 14 tools the Rev has, but many find that a $20 surcharge isn't justified for just two extra features.
Some complain that the Rev's ruler is too small to be of any use and that the screwdriver feels too shallow, but almost every user is pleased with the sharp knife and the great pliers that come with the Rev in a smaller, more portable package.
Overall, customer sentiments indicate that the Rev is the right product for someone looking for a reliable, low-priced multitool.
Last update on 2020-08-12 at 07:18 / Affiliate links / Images from Amazon Product Advertising API
---
FAQs About Leatherman Rev Multitool
Q: Can I wear the Leatherman Rev Multitool on my belt?
A: Yes, you can wear the Rev on your belt using the nylon sheath from Leatherman. You must order the sheath separately.
Q: Do all of the Rev's tools lock-in?
A: No, only the knife locks in.
Q: How do I claim my warranty?
A: You can claim your warranty by visiting the official Leatherman website.
Q: Are the pliers spring-loaded?
A: No, the Rev doesn't have spring-loaded pliers. The Leatherman Wingman Multitool, on the other hand, does have spring-loaded pliers.
Q: Is the knife's blade straight or serrated?
A: The blade is straight.
---
Verdict
Like all Leatherman products, the Rev Multitool also does not disappoint. The quality of construction is solid, and as long as you keep the multitool away from water and salt and lube the joints once in a while, the Rev will last for years.
The compact design makes it feel great in the hands, but it's a tad bit lighter than you would expect. Furthermore, although the ruler is a little too small and the screwdrivers feel a bit shallow, the sharp knife, solid pliers, and the overall sturdiness more than makeup for it.
For the price, the Rev multitool is worth every penny you pay, and is, by all means, one of the best multitools in the sub-$100 price segment.
Last update on 2020-08-12 at 07:18 / Affiliate links / Images from Amazon Product Advertising API