If you haven't yet utilized one of the various mobile applications related to survival, you should. I've been using various apps lately, and I've been very impressed with how much information is freely available in each of them. 
The thing that I love the most is the fact that the majority of them are available for offline use, which means that a cellular or WiFi connection is not required for them to operate.
I also looked for ease of understanding because many apps have considerable information but may not be simple to interpret for novices in the prepping community. 
I'll also add that quantity does not equal quality, which I ran across way too often. Many apps have lots of content yet lack information that can help a real SHTF scenario.
I guess you could say they were cookie-cutter apps. The apps that I've included here have been tried and tested by real Preppers, repeatedly in harsh conditions. Let's get into it.
Top 10 Survival Apps For Preppers
1: SAS Survival Guide
This is the favorite of mine on this list, primarily for the sheer quality content it offers. SAS Survival Guide has a little brother named SAS Survival Guide – Lite.
The free version is still a great application; it just lacks a few premium options of the bigger brother, which were reviewed here, but offers a plethora of information considering it is free. 
The initial aspect that I admire about this app is the ability to search for keywords. This saves so much time by saving you from scrolling through the hundreds of pages that it features. 
I love the abundance of photos and videos too, which help illustrate specific topics. I enjoyed learning about which plants are or aren't poisonous.
It even explained in detail all types of various kinds of snakes that may pose a danger. The app (excluding media) is entirely available offline too, which is highly appreciated.
Platform Availability: iOS & Android
Price: $5.99
Pros: 
 Several Useful Photos & Videos 
 Comprehensive Information 
 All Text Available Offline
Cons: 
 Lacks Extreme Weather Information
 Application Layout Is Dated
2: Scanner Radio: Police and Fire
If you're new to prepping, you should know that being informed of what the local law enforcement and rescue teams are doing around you is hugely critical. 
Before I began prepping, I always thought it was pretty neat to listen in and see what was presently happening in my town. 
I never thought of how useful an app like this could potentially be in a disaster. This app works by intercepting the radio of emergency services such as police and firefighters.
The part that I love the most, aside from getting an inside scoop quickly of what's going on in town, is the ability to search for whichever city I desire, plus the app can even play in the background.
It also can intercept Amateur Radio and NOAA radio signals, which is a unique feature among most apps alike. It's a must-have for every prepper.
Platform Availability: iOS & Android
Price: Free
Pros: 
 Police & Fire Radio 
 User Friendly Layout
 Intercepts NOAA & Amateur Radio
Cons: 
 Basic Functionality (Objective)
 Rarely Updated
3: Prepper Colony 
If you're anything like me, you quickly get unorganized with the sheer amount of random gear and supplies you have. 
This is especially the case when it comes to food and smaller, more tedious gear like weapon accessories or random survival gear. Prepper Colony is excellent for solving this problem. 
It works by giving you a great layout to help you organize all of your gear and preps that you may have. The aspect I like most was the food lifespan calculator. 
It works by taking the nutrient specifications and does its magic to determine what kind of shelf life you can expect. It even features an extensive list of items or food preps, plus it allows you to enter your own if you'd like. 
I think every prepper should consider this application, particularly if you don't like to use paper to jot down your preps.
Platform Availability: iOS
Price: Free
Pros: 
 Preset & Self Editing Lists
 Easy To Use Layout
 Food Lifespan Calculator 
Cons: 
 iOS Only
 Scarce Updates To Fix (Rare) Bugs 
4: Offline Survival Manual
This is one of the first survival apps that I've ever used, and I still use it today. I'll say that the most beneficial aspect is that the entire app is, as the name suggests, entirely offline. 
I downloaded the app to further my knowledge of useful survival information, and it did as I expected by illustrating many great reads that were easy to understand.
Although it may be useful for the occasional camping trip, it's an excellent addition to any smartphone to learn helpful information about survival related to SHTF scenarios.
This app teaches many valuable skills, such as fire building, shelter creation, managing a wound, and much more. 
The layout is pretty basic, but that's an easy trade-off in return for the incredible skills that it teaches within the app, which I'll add are right up there with the pricier apps listed here.
Platform Availability: Android
Price: Free
Pros: 
 Completely Offline 
 Easy To Understand 
 Illustrated Very Well
Cons: 
 Very Basic
 Rarely Updated
5: First Aid: American Red Cross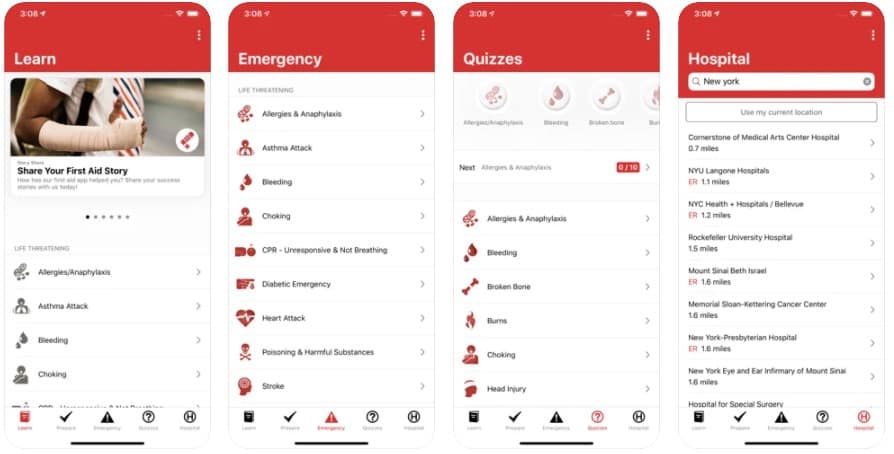 This is my go-to app whenever I'm itching (no pun intended) to learn a new first aid skill. I think the name speaks for itself in terms of the content it offers, which is impressive.
To start with, it's fully offline with only a few features excluded (like 911 calling), so it's certainly available for any camping trip, or god forbid, a real SHTF scenario.
I also really like the available videos, which go in-depth in illustrating the first aid strategies. You'll find that it features many good photos as well. 
A very cool thing that I appreciated is the severe weather aspect of the app. It houses many different kinds of great safety tips for hurricanes, tornadoes, earthquakes, and much more.
It even includes fun quizzes that can be taken to ensure you're retaining the information. The sheer amount of first aid skills taught makes this app an outstanding one.
Platform Availability: iOS & Android 
Price: Free
Pros: 
 Several First Aid Strategies 
 Mostly Offline
 Severe Weather Tips
Cons: 
 911 Feature Requires Connection
 No Search Feature Available 
6: CCW: Concealed Carry 50 State
If you're a novice prepper or a veteran, you probably know that firearms are an essential possession to have in the case of a SHTF scenario. 
I've personally researched firearm laws in many states, and believe me; it gets tedious. This is why I highly recommend that you download this app. The significant benefit it offers is a detailed explanation of every gun law of all fifty states. 
It helps inform you of the different laws, such as technical gun regulations, state park laws, carrying requirements, red flag laws, and beyond. 
The best part is it includes two years of premium for free after the initial purchase. It also allows you to save your gun licenses; that way, they're backed up if you ever lose them. 
It even features the local officials; this way, you can stay informed directly from those local to you. The entire app is even fully available offline, so no cellular connection or WiFi is required.
Platform Availability: iOS & Android 
Price: $1.99
Pros: 
 Available Offline 
 Features Official Local Numbers
 Ability To Save Licenses 
Cons: 
7: FEMA
FEMA should need no introduction; they're the staple of American disaster management. The first thing that should be a priority over all other aspects of preparing is staying informed. 
The FEMA app notifies you of numerous types of disasters as they are currently happening. This way, you can rest assured while not paying attention to the news at all times. 
These alerts can be set nationwide or assigned to your local location. The best part about the FEMA app is that it also features endless amounts of tips and information helpful for disasters.
It even includes a pretty detailed emergency kit list, which I found to be very understandable and easy to implement into my skill set.
My favorite part is the feature that allows you to share your location with friends or family; it's entirely up to you; this way, you and your family can find each other in the case of disaster.
Platform Availability: iOS & Android 
Price: Free
Pros: 
 GPS Sharing (Optional)
 Disaster Alerts
 Emergency Kit Lists
Cons: 
 Rare Notification Bugs
 Apps Is Buggy
8: Gas Buddy
I don't know about you, but if a SHTF situation ever happens and it's possible, I'm hopping in my car to reach my family. This is impossible without gasoline, which is why I love this app. 
I know that many of us are familiar with where local gas stations are but don't think you'll have the luxury of staying local in a disaster.
Gas Buddy is great because it has a cache full of different gas stations in all areas of the nation. It even has a cool feature that routes you to the cheapest gas stations.
This can be used for more than just disasters, though; it can be used in everyday life. We still need gas when tragedy is at bay.
The app is pretty unique in terms of UI and features because most other gas finding apps offer outdated gas price information and do not route you as Gas Buddy does.
Platform Availability: iOS & Android
Price: Free
Pros: 
 Updated Gas Prices
 Routes You To Locations 
 Neat UI
Cons: 
 Crashed Occasionally 
 No Rewards Available 
9: Gaia GPS Hiking, Off-road Maps
You can't have a list consisting of prepper apps without a map, which is why I highly recommend that you download Gaia, an app that allows complete mapping all available offline.
Gaia offers many useful features, the first being smart routes. This feature allows you to use preset paths that are easier traveled than the others available for use.
The part I loved the most about Gaia is the fact that it lets you see the altitude and elevation of whatever terrain you're traveling on.
It even has a massive selection of trails picked out by their team, which is something I love because it allows me to discover new paths that could be used for bugging out near my area.
It also allows you to mark down the locations of campsites and features NOAA weather forecast; you really can't get any better than this when it's relative to GPS apps; it's an all in one.
Platform Availability: iOS & Android 
Price: Free
Pros: 
 Campsite Marking
 Weather Forecast
 Altitude/Elevation Specifics
Cons: 
 GPS Accuracy Is Wacky
 Maps Update Constantly 
10: Knots 3D
Knots 3D is an essential app to have for every prepper, in my opinion. Knots are necessary to know and offer many different kinds of uses for different situations.
This application features well over 100 unique types of knots, many regularly used by law enforcement and emergency services.
I've even noticed many individuals in the military mention this app, so it has backing. Knots can be used to tie down a tent while camping, create a tourniquet, or even tie down gear, to name a few.
The coolest part about it all is that the entire app is completely usable offline, so you won't need any type of connection to use it, which may be scarce in the wilderness.
It even features many detailed photos illustrating how to tie each knot, which is something many apps of this nature lack. So if you're a prepper, definitely consider this app.
Platform Availability: iOS & Android 
Price: $4.99
Pros: 
 Over 100 Different Knots
 Great Photos Illustrate Each Knot 
 User Friendly 
Cons: 
 New Knots Rarely Added
 A Few Bugs
---
Verdict
If you're a prepper or just a person who feels they should begin preparing before disaster hits, these apps should get you a good head start at doing so. 
I considered many factors while reviewing these apps, but the biggest one was the actual user experience. Many real preppers swear by these applications that I've included, including myself. 
While smartphones may not be the first thing you think of when it comes to prepping, they sure do offer a ton of great resources. 
I've used each of these, and I endorse each of them personally. They each offer a different experience that will undoubtedly up your prepping game.