When it comes to knives, there are a lot of different options out there. Whether you need a big, small, fixed blade, folding blade, light, or heavy knife can depend on lots of things. If you are unsure about what knife you should carry, it would be wise to start with a quality, inexpensive, 'middle-of-the-road' knife to 'cut your teeth on'. (Please do not cut your teeth). We do an in-depth Schrade SCHF36 review. Schrade is a quality brand. Does this SCHF36 knife live up to expectations? Let's see.
Last update on 2023-09-24 at 10:12 / Affiliate links / Images from Amazon Product Advertising API
Schrade SCHF36 Review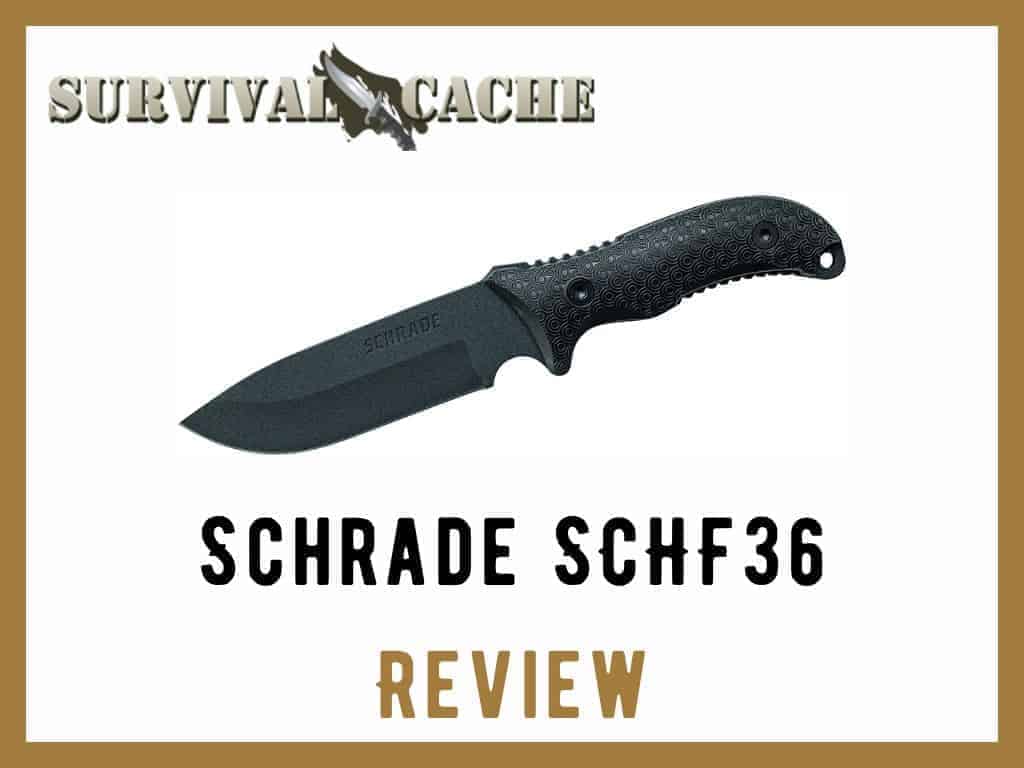 There is no knowing what you might require from your knife. You might need to trim cloth or strings, cut an apple, or dress a wound. Whatever the need, you will want to be sure that your knife will stand up to the task and perform well time after time. While looking online for a knife that does not 'over-commit' to any defining features but remains a quality knife that is made by a reputable company, I came across this little jewel. Let's take a look at the Schrade SCHF36 and find out if it is the right knife for you. We will start with some of the features of the knife.
Note: The Schrade SCHF36 was ranked as a top bushcraft knife by our team member, military veteran and prepper, Michael Major. You can read that article here.
Size and Dimensions:
The Schrade SCHF36 has a total length of 10.4 inches and a blade length of 5 inches. The knife weighs 12.3 ounces in entirety.
Construction:
The blade is made of 1095 powder coated and high carbon steel for durability. The handle is made of a durable, thermoplastic elastomer handle.
Grip:
The handle is textured with a signature 'ring-textured' design. This is an effective and necessary feature that helps to keep the knife from slipping during use.
Fixed Blade:
The blade of the Schrade SCHF36 is fixed. This means that the blade does not fold.
Full-Tang Construction:
The knife has a 'full-tang', which means that the metal that makes up the blade continues through the handle and to the butt of the knife. This makes for a more durable blade and handle while also providing great balance in the weight of the piece altogether.
Color:
This knife is black from tip to base. This is, in my opinion, very aesthetically pleasing and gives the knife a sturdy appearance.
Sheath:
The polyester sheath is complete with a lanyard and a loop of Velcro to ensure that the knife stays put in the sheath and securely on your belt or pack.
Fire Starter:
Included with the knife is also a ferro rod for starting fires. The ferro rod also has a specialized pocket on the sheath for safe and compact carrying.
Sharpening Stone:
A sharpening stone is also included with the knife.
Schrade SCHF36 Pros and Cons
Pros
Not too big or too small
Fixed blade and full-tang construction for durability.
Blade is 1095 stainless steel with a powder coating for durability. (This sucker is strong!)
Great grip and handle construction
Sheath is included
Fire starter is included
Sharpening stone is included.
Lanyard is included.
Cons
Coating does not last long.
Edge dulls easily.
Sheath is bulky.
---
What People are Saying About the Schrade SCHF36
Overall, the only real complaint that people seem to have about the Schrade SCHF36 is that the coating flakes off fairly quickly.
This is mostly an aesthetic problem, however. People who prefer knives with fixed blades love the fact that this knife is not so large that it is cumbersome. The weight and durability are excellent in this knife, and the grip is a crowd-pleaser.
The ferro rod is nice, but most people say that if a sharpening stone is important to you, it might be a good idea to buy a better one separately. I agree. It will work in a pinch, but there are better sharpeners out there. The sheath is nothing special, but people seem to think that it gets the job done adequately. There is not a whole lot to complain about with the Schrade SCHF36, and it is a great little knife for the price.
---
FAQs about the Schrade SCHF36
Q: Is the fact that the coating flakes off a problem?
A: Not necessarily. The coating, in theory, adds strength to the blade. The removal or flaking of this coating, however, does not prove to hurt the integrity of the blade. If the appearance is bothersome, the coating can be purposefully removed for a more uniform look.
Q: Why is 'full-tang' construction important?
A: A knife with a fixed blade should be well balanced, heavy, and durable. A full-tang provides all of this. The blade being a solid piece that is sinuously connected to the handle and through the butt of the knife will ensure that you do not have any place on the knife that is weaker than another.
Q: What is a ferro rod?
A: A ferro rod is a ferrous material in the shape of a small cylinder (like a pencil). The material will spark when friction from a steel blade is applied. Be sure to use the BACK of the blade to keep from dulling your knife!
---
Verdict
The Schrade SCHF36 is a super knife for the price. Even though the coating might not be the greatest, the weight, construction, and quality of the knife will not disappoint. I personally love that this knife has a fixed blade and full-tang. The fact that the blade is fixed is awesome because the size and style of this knife are usually found in folding knives.
This is a great 'crossover' style knife that will be sure to please, especially if you are not sure of the best style to fit your needs. This knife can take moderate abuse and works well as an everyday knife as well. As long as you are familiar with the sharpening and care of your knife, this little guy can withstand years of use and will be a great addition to your camping, hiking, or survival kit.
Last update on 2023-09-24 at 10:12 / Affiliate links / Images from Amazon Product Advertising API