If you are looking for a scope for an M1A and an M14, you're in the right place. Rifles like the Springfield M1A will need a reliable scope for all kinds of uses. Whether it's for hunting or target practice, the reason why a scope would be needed is to make the shots as accurate and precise as possible.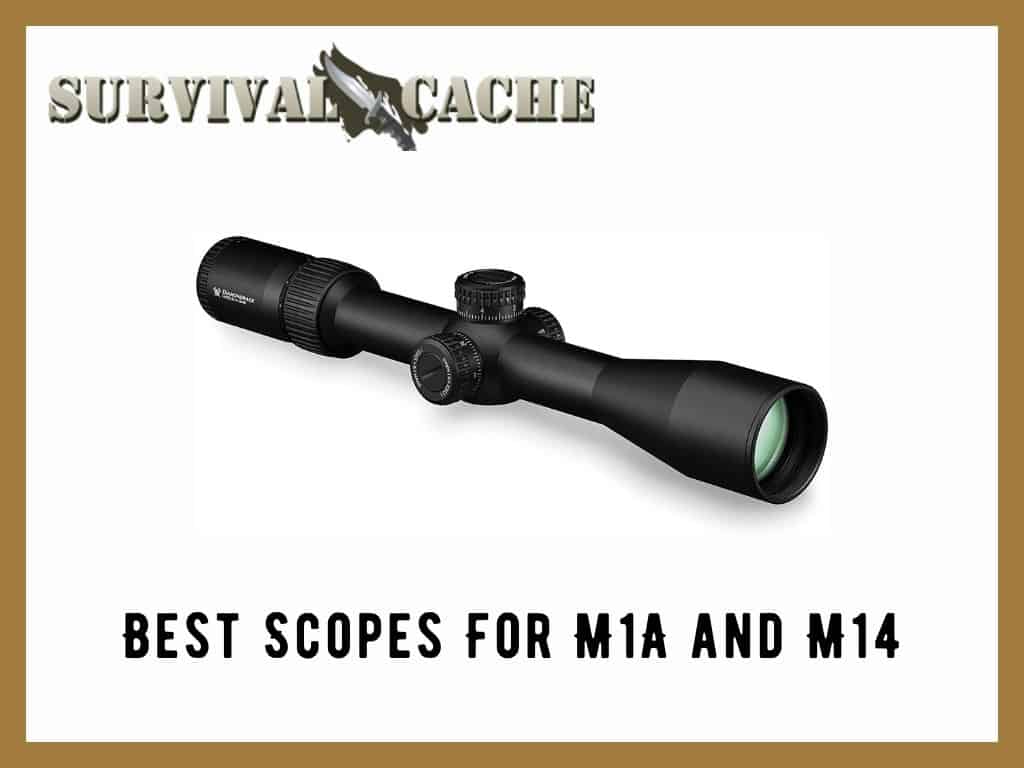 Not to mention, you can't be sure of whether or not your shots will be accurate without the use of a scope. M14 rifles fire 7.62 x 51mm ammo rounds. They were designed as battle rifles that have the ability to go the distance (500 yards and beyond).
If you are looking to hit your shots from long range during a hunt or a day at the range, keep reading. We'll take a look at the top scopes shortly. But first, let's dive into some details that will help you choose the best scope.
How To Choose a Scope For M1A and M14 Rifles
As hard as it is to choose a scope, there's always a buyer's guide that will help you make an even better choice. With that in mind, we're going to show you some of the features that will help you make a choice between one scope or another. In addition, we'll also throw in some considerations that you may want to think over before a final decision is made.
Here are some features to keep an eye on while searching for a scope:
Reticle: The reticle design and size will play a huge role in making sure your scope is on point. Your crosshairs shouldn't be too thin nor too thick. If you are a long-distance shooter, consider the idea of looking at FFP (first focal plane) scopes. They will maintain a certain perspective regardless of the magnification setting.
Eye relief: If you are able to still get a good look through the scope even with your eye being a few inches away from the eyepiece, then that's eye relief. You don't want your M14 to kick back and hit you in the eye. If you are looking for a Springfield M1A scope, then you'll want something that gives you plenty of eye relief. That's because such a rifle like the M1A (and other M14 rifles for that matter) will have some serious recoil.
Objective: The objective will play a significant role. Not only will it allow you to see more, but it will gather enough light to see your image if you are working with little light. Simply put, the larger the objective the more light it will bring in. If you see a big game target and the sun is barely up, you can be sure that you can be able to get an accurate shot before everyone else is up and at 'em and headed out to the field.
Lens coating: Most of the scopes these days will have a coating on the lenses. This is intended not only to prevent scratching, but it is also used to improve the overall image quality. It also reduces glare that is caused by the sun, which could impede your vision. Why let the sun's glare block your field of view?
Magnification: The magnification levels can play a role in making sure your target is the right one. Most M1A scout scopes that are made will have magnification levels ranging from 1x to 5x. Magnification can and will help with accuracy and precision when used.
Things To Consider
With the prominent features listed, it's time to consider some of the factors that can drive you to make a final decision. Here's what you need to ponder:
What will my rifle be used for?
The answer is simple. Hunting, target shooting, or competition shooting. Those are your top three purposes. While it may not matter as much, it can play a role in which scope will work best in any situation. Are you planning on picking off a deer at 500 yards or more?
What distance is good enough for me?
The M14 and Springfield M1A have the ability to go 500 yards and beyond. But how far do you really want to go? Some scopes will be effective when dealing with targets at 500 yards while others can allow for accurate shooting at 600 to 800 yards.
How much recoil does my rifle have?
While the M1A and M14 do have a lot of recoil, you might be able to control it using different accessories like recoil pads. But nevertheless, it's always a good idea to grab a scope that has a good amount of eye relief. The more generous the eye relief, the better. On top of that, you want a scope that can maintain its zero settings even after firing off hundreds of shots.
Heavy-hitting rifles deserve durable scopes that can get the job done while making sure that you don't need to do a lot of resetting every now and then.
Do I really need a scope?
If you are planning on taking out targets at short range, then you may not need a scope. But that would defeat the entire purpose of this buyer's guide and subsequent review. However, if you are serious about hitting your targets farther than 200 yards, then a scope will more than likely increase your odds.
---
Best Scopes For M1A and M14: My Top Picks
Now, we'll turn our attention to the best scopes for the M1A and M14. If you want an M14 with a scope, this list is a good place to start. These include my top picks that are the best available on the market (along with their respected titles of "best overall", "runner-up", and "best for the money").
Let's dive right in with the first scope on the list:
First on the list, we'll be taking a look at the Vortex Optics Diamondback Tactical FFP Riflescope. One of the things that Vortex Optics is known for is its durability. It's one of the reasons why their scopes are perhaps one of the best in the business (and our best overall choice).
This has an objective measured at 44mm. It's sizable and is just good enough for you to gather in all kinds of light when it's sunrise or sunset. Even through hundreds of rounds, this bad boy can hold zero especially when dealing with some heavy-hitting recoil.
It's easy to mount on any M1A or M14 rifle that you have. According to most of the users who bought this, they had no trouble installing this and it took them about five to ten minutes. Plus, zeroing it in was simple enough for them.
In bad weather conditions, users have also said that the zoom feature on the scope really helped them see their intended targets much better. When you are out in the field and the weather isn't cooperative, you have a scope that can be a huge help.
Pros
Very durable
Easy to mount
Simple to zero in
Can take a pounding from recoil
Great for targets 650 yards and beyond
Cons
Glass may be a little blurry
Parallax may be a bit off at times
Turrets don't always stop at hash marks
Sale
Last update on 2022-12-01 at 16:03 / Affiliate links / Images from Amazon Product Advertising API
Next is the Nikon M-Tactical Scope. To set the perfect analogy, what Vortex is to durability, Nikon is to image quality. Every Nikon scope in existence has the perfect image quality imaginable. It's crisp, high in definition, and will definitely give you the best anti-glare images bar none.
Aside from that, it has excellent eye relief making it one of the top choices for an M1A scout scope. It's built to resist water, fog, and shock from recoil. Simply put, this sucker is built like a tank.
OK, so you know about the image quality and the overall durability. But how great is it when you shoot your rifle? It can hit your targets with accuracy when situated at about 300 yards and possibly beyond that.
If you are planning on bagging yourself a nice deer or big game target, there is no denying that you'll need plenty of light to see them even in low-light conditions. The objective is large enough to do just that and still retain that perfect image quality.
Most users are not complaining about the image quality, nor are they complaining about the overall accuracy of it. It wasn't easy making a decision on who gets the nod for best overall and runner up. But at the end of the day, this scope doesn't go the distance as much as the Vortex does.
Pros
Great for hunting
Easy setup
Superior durability
Excellent image quality
Plenty of eye relief
Cons
1x magnification may not have true 1x power
May be a little too long for some users
Turrets may not lock easily
Last update on 2022-12-01 at 16:03 / Affiliate links / Images from Amazon Product Advertising API
Our final scope on the list is the Monstrum 2-7×32 AO Rifle Scope. This is our choice for those who are on a budget. And we could not have chosen a better scope for a few good reasons.
For one, it's got magnification levels ranging from 2 to 7 times. So it's decent enough for those who like to hunt or target shoot with an M1A Springfield rifle or some other M14 rifle. You can be able to magnify the scope, you can still be able to get a good accurate shot off.
If you are looking for the perfect scope that can help you land your targets right on the mark from 400 yards and beyond, you'd be hard-pressed to find a scope like this. It also has an adjustable objective, giving you the chance to give you a sharper image picture (especially in a low light setting). Not to mention, it gets rid of any issues you may have with parallax.
The body is made from high-quality 6061 aluminum. So it's pretty durable and can handle the amounts of shock produced by the recoil that M1A or M14 rifles have. Plus, it keeps the water and fog out thanks to the inclusion of the Nitrogen locked tube body that provides this scope with some longevity.
For the price that it's going for, you are paying for something that might be one hell of a steal. If you want reliability, durability, and a scope that just might outperform the other high-end models at an affordable price, the Monstrum is not the scope you want to pass up.
Pros
Excellent durability
Affordable for those on a budget
Great magnification
Performs brilliantly in low light conditions
Objective is easy to adjust
Cons
Turrets don't lock
Some of the brightness settings may be excessively bright
Focus can be a little strange at times
Sale
Last update on 2022-12-01 at 12:43 / Affiliate links / Images from Amazon Product Advertising API
---
Open Questions About Scopes For M1A/M14
What is the effective range of an M1A?
The effective range of an M1A (specifically a Springfield M1A) will range anywhere from 500 to 875 yards. These ranges are based on tests done using an M1A rifle with optics installed.
What scope does the military use on M14?
It depends on the branch. The United States Army has relied on the Leupold 3.5-10x scope while the United States Marine Corp fits their rifles with a Bender M8541 Scout Scope. The latter is the preferred scope of Marine scout snipers.
---
Verdict
The three scopes listed above are perhaps some of the best performing scopes for an M1A and M14. But at the end of the day, there has to be a winner. The Vortex Optics Diamondback takes the crown for best overall.
Because of its durability and ability to reach longer distances, there is no denying the scope's capability. Not to mention, it does have a decent amount of eye relief that can make sure that you can see the images with clarity. Still, you can pull off a good clean shot without getting your eye close to the scope itself.