In the never ending argument among internet experts on pro's and con's of the AK-47 vs the AR-15, we give you an alternative to that argument: The Battle Rifle.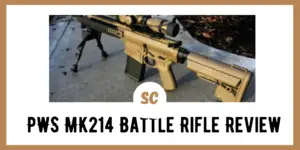 In this article, we'll break down:
The specs of this rifle
How PWS has improved upon previous models
Our experience using PWS MK214 Battle Rifle
The Battle Rifle by Primary Weapons Systems
The MK214 Battle Rifle was designed by Primary Weapons Systems (PWS) as an "urban environment platform for the designated marksman."  The MK214 may be the ultimate medium range battle rifle for survival situations. 
This rifle has the feel and precision of an AR rifle chambered in 7.62x51mm, while the internal long-stroke piston system gives it the reliability of the AK47 it was modeled after, making it an excellent survival rifle.  There have been a few changes on the most recent model but the core components are basically the same as the MK214 we are reviewing here.
The Specs:
Caliber  
7.62×51 mm NATO
Weight
8 lbs 7 oz
Overall Length
32.75 inches
Barrel Length
14 inches (16.1 inches with permanently attached FSC30)
Barrel Specs
Stainless Steel, Isonite QPQ Treated, Button Rifled, 1:10 Twist Barrel
Muzzle Velocity
2500 ft/sec
Muzzle Energy
2331 ft/lbs
Out Of The Box
We waited a long time here at SurvivalCache.com to get our hands on one of the these and when it finally arrived, we weren't disappointed.  Out of the box it was ready to go with Magpul BUIS sights, XT rail panels, 20 round PMAG, MOE stock and grip.  
Worth The Weight?
Picking it up, the rifle was considerably lighter than other rifles we've handled that are chambered in 7.62x51mm.  The MK 214 is only 8 lbs 7 ozs, unloaded!  The more current model has the Magpul BUIS 2 sights,  PWS KeyMod Rail System, and now has free floated handguards as well as an adjustable gas block (great for shooting suppressed).
Piston Driven
The PWS MK214 Battle Rifle is designed as an internal long stroke piston system.  This system is an improvement over the classic direct gas impingement operating system, AR style rifles have typically utilized.  
The PWS MK214's piston system doesn't seem to have the problems associated with the much dirtier running direct gas impingement system.  It also doesn't seem to have the carrier tilt and and bolt shearing problems associated with other piston systems. This is probably due to the single piece PWS piston/bolt carrier that moves as one unit.  It's probably also due to the PWS enhanced buffer tube, designed to eliminate carrier tilt, which increases bolt shearing in other piston systems.
 PWS has taken a completely unique approach to their battle rifle by giving it the internal function and reliability of the AK, while giving it the ergonomics, modularity, precision, and appearance of the AR.
Solid Platform
The fit between the upper and lower receiver is very tight and the  collapsible buttstock is a solid fit.  I wasn't able to to get any wiggle between pieces of the rifle.  This makes for a rock solid platform especially when going for longer range shots requiring greater accuracy.  
The Barrel
The barrel is not free floated, but it has been locked solidly into place with the proprietary rail system.  I wouldn't doubt the claims by others that it is extremely accurate with repeatable grouping out to 800 yards.  I have not been able to push the envelope yet myself to give you our input, but check back in with us later for updates.
The Experience
We got the rifle out to the range and were able to test it out.  I was amazed after sending the first round downrange at how little recoil I felt.  I would say it was comparable to what I would expect from a .223 (but with a stronger push and a less sudden kick).
 I definitely expected the MK214 to kick quite a bit more than it did.  Follow up shots were easy, even from a standing/unsupported shooting position.  I'm not sure if it was the long stroke piston, the muzzle compensator/flash hider, or the combination of the two, but it made everyone say, "Wow!"  
I would say, being able to stay on target while you are shooting for follow up shots and to see what happened with what you just shot, is a definitely plus!
Muzzle Compensator
I've read other reviews that claim the upper rail tends to get hot after shooting high volumes of fire in full auto.  Maybe the new rail system took care of that issue.  Either way, we didn't encounter that nor did we have any malfunctions or failures to fire, but only put about 500 rounds downrange and we weren't running full auto at all.  
Honestly, whenever I've had the opportunity to run any gun in full auto, unless it was a fun shoot, I never really had much use for it.  While working overseas we had the guys with the heavy guns to cover that piece of the orchestra for us (the full auto melee).  I've always been a point shoot kinda person.  I like to pick a target, pull the trigger, see what's left to shoot, and repeat until there's nothing to left worth shooting at.
Sights
The Magpul BUIS sights were fine for the test fire but I definitely want to get some optics on it and see what this Battle Rifle can do at distance.  That will have to be another article.  Right now I'm looking at trying to get ahold of a Leupold Mark 8 CQBSS 1.1-8x24mm M5B1.  
The specs on this optic seem to make the most sense for this type of weapon system (close quarters to long distance).  I'm already convinced this is a great Close Quarters Battle Rifle and heck, it's even just fun to shoot at the range with friends.  I'll be looking to test it out to distance soon and will keep you posted.
Other Great Reviews on the PWS MK214
All Photos By The SurvivalCache.com Team