There is a positive glut of aftermarket supplies for the AR-15/AR-10 platform.  I feel like perhaps there may even be too many, especially
if you're just getting introduced to the AR system. Uppers, lowers, rails, grips, lights, sights, flash suppressors, aftermarket triggers, stocks…it goes on and on.  While this situation is a positive boon for someone who knows exactly what they want, for someone who's just getting into rifle building/modifying, or even someone who has been into it his/her whole life (like your humble author), it's staggering.  Jaw-dropping.  Too much.  There, I said it.
For those of us who are looking to modify or build an "oh no!" rifle, we have a certain criteria we look for with parts we obtain for said rifles:  Simple.  Rugged.  Lightweight yet able to take abuse.  Easy to use, minimal controls that don't muck up operations under high stress.  High standards of manufacture that ensure what you purchase will work well, and continue to work well many years down the road.  This will give us the confidence that even though we may be going through high-stress times, the rifle and its components will be ready to rock without hassle, when and where you need them.
Sights Galore!
So, when talking about what may arguably be the most important added-on component of an AR (the sights), where do we turn to fulfill
the above qualities?  A quick Google search of "AR15 back up sights" turned up a ridiculous number of items to buy.  Flip up, fixed, 45 degree angled, illuminated, polymer, steel, aluminum.  They can shoot straight ahead or you can hold your rifle around a corner and use a sighting mirror.  The basic point here is that we have a bazillion options to choose from, where do we turn?
In the entry-level area, Magpul practically has the market cornered with their Gen2 MBUS sights.  They are rugged, simple, and they work pretty well for not a ton of money.  I've been running them on my personal AR for a couple years now, and they do the job. However, they were always meant to be an interim solution until I could afford a serious set of metal sights that I knew wouldn't melt or shift zero when mounted on a railed gas block, and be able to stand up to some abuse.
Also Read: Magpul MBUS Pro Iron Sight Review
Don't get me wrong;  I hold Magpul gear in the highest esteem, especially after I did a P-Mag torture test for SHTFblog.com a while ago.
But, backup sights are, to me, the primary sighting system – any optics that are on the rail are a secondary icing-on-the-cake type bonus. Optics are usually battery powered or have a higher chance of failure if the rifle is dropped, submerged, etc.  So I always make sure my rifles have heavy-duty sights permanently affixed to the rifle.  That way, if the battery on my Aimpoint Comp ML3  goes dead (after 5 years) and I don't have a spare, I can jettison the optic and keep going, knowing that I still have a viable sighting system. It's just common sense.  So I prefer my sights to be all metal and heavy-duty.
My search for upgraded sights commenced once I got my AR build done. A perusal through my Brownell's catalog and a walk through my local gun shops showed me there was some dynamite stuff out there, but I just couldn't settle on any one set. I did see while at the local shop that our local Maine boys at Windham Weaponry had just introduced their own proprietary set up flip-up all-metal, made-in-USA sights. I made a mental note to check them out.
Fast forward a few weeks, and I was able to get in touch with Windham Weaponry for a rifle for a gear review (coming soon!), and I asked them to be sure to throw a set of their new sights on the rails of the rifle. They happily obliged, taking off a set of Diamond head Sights (never liked those much anyway). They even sighted it in at 25 meters, ensuring I wouldn't have to waste ammo putting the rifle on paper. Good bunch of guys, those Windham fellas!
The Goods on the Gear
At first glance, the Windham Weaponry flip up sights are beefy, solid-looking things.  As a matter of fact, that seems to be the best
adjective for these sights: solid. The bases that mount on a standard Picatinny rail are milled from hard coat anodized 7075 aluminum, secured from the right side of the gun with a hex/allen head screw that runs into a steel locking plate, so there is no danger of threads stripping, even when seriously snugging them up. According to my digital calipers, the bases measure an even 1.255" wide and 0.707" high. They sport a long bevel up the front edge of them, that looks jaunty and minimizes snagging areas. They give the impression that a heavy, sturdy  hunk of machined metal should: this sight isn't going anywhere, and it can take what you bounce it off of.
The sights are mounted on relatively substantial "stalks" that fold down flat against the rails. They are not spring-loaded like on the No products found. ; rather, you must manually reach up and flip them up instead of hitting a lever or button to have them pop up. Once they are up, they lock into place with an audible "click" and then are held, locked in place, until you push the .520" long oval, ridged steel button that resides in the side of the bases.  A push of the button (which is under a surprising amount of spring tension – a good thing!) then releases the sight stalk to allow it to be laid back down flat on top of the rifle, giving clearance to mount optics with an unobstructed line of sight.
The front sight is a standard-profile AR-type pin that is .080" thick, square. The pin provides the sights' vertical adjustment, in the
standard AR-15 fashion; namely, you depress the locking pin (a sight adjustment tool makes this task much easier) and you turn the sight clockwise (in) to raise the point of impact, and counter-clockwise (out) to lower the point of impact. I don't know the official amount of point-of-impact (POI) adjustment each "click" of the front sight offers, but after a trip to the range, I would say it is roughly 1.5 MOA, or 1 1/2" at 100 yards, which is about standard for an AR-15 front sight.
The front sight pin is protected on either side by two rounded wings that keep the sight pin from getting bounced off things more burly than it is. They are rugged, yet only .085" thick so they don't obscure much of the target area; they even seem to frame a target to possibly help with fast acquisition of a moving target, such as a running deer.
The rear sight is windage adjustable, and it too is mounted on a thick square stalk. I really
like the rear sight design for its clean design and well thought-out adjustment controls.  I'm not a fan of big, bulky knobs that protrude from the side of the sight for windage adjustment. Windage, really, is not the adjustment you make when peering through the sights; elevation is the adjustment we will be fiddling with depending on range.  Therefore, in my mind, you fix the windage for zero and leave it the hell alone, making big clunky adjustment knobs useless.  I highly applaud the Windham Weaponry sights for not including a knob; rather, they utilize two large dime-sized steel adjustment wheels that are flat and flush with the sides of the sight.  The right-hand adjustment wheel has a slot so you can adjust the windage with a coin, a cartridge rim, or screwdriver.  The adjustments are approximately 0.5 MOA, or 1/2" at 100 yards. They are positive and held in place with a decent system; even when trying to grasp the sides of the adjustment plates to turn them by hand, they are practically impossible to move. Simple and effective.
Also Read: The Katrina Rifle
The rear sight aperture is standard fare for anyone who has experience with a standard A2 AR-15/M16 sight. There are two apertures, one wider for 0-200 yard usage, and a narrower aperture for 200+ yards. They flip back and forth positively and also lock in place with a decent system. Windage lines are engraved below the aperture with a pointer, so you can visualize your adjustments. Both sights are set up for a co-witness; my Aimpoint Comp ML3 dot sits nicely on top of the front sight pin.
Thoughts and Comparisons
Like I said, these sights don't go the way of svelte, minimalist, sexy lines. They are larger, (though not so big they take up a lot of rail real
estate), overbuilt, rugged hunks of metal that are sexy in their sheer sturdy utility. After a long range session, I can say that the sight picture is very similar to an H&K type setup with the round front sight wings, as opposed to the A2 flared-out wing sight picture. They are quick to pick up, and precise enough for long-range shots. Using a 6 o'clock hold (putting the target on TOP of the front sight pin), hitting fist-sized rocks offhand shot for shot was not a problem out to 150 yards at my local sandpit.  These sights are very comparable to standard A2 AR-15 sights, so anyone comfortable with that sight system will settle right in nicely with these Windham Weaponry sights.
But how do they stand up to the competition? Well, I'm viewing these sights as a high-quality upgrade to Magpul MBUS sights, or an excellent first choice for your budget-conscious AR. Right off the Windham Weaponry website, the front sight sells for $69.95 and the rear sight gets to be yours for $79.95.
I had a set of No products found.  (about $92 for the set) on my personal AR for
comparison's sake. As you can see by the attached photos, the Windham Weaponry sights are shorter, and therefore take up less rail space. However, the burly bases protrude width-wise out of the rail further than the No products found., but not offensively so.  The release mechanisms for the sights are exactly opposite: the Magpul sights snap up sharply (and loudly!) with the push of the sight lever, where the Windham Weaponry sights need manual labor to push into sighting position. By holding in the release button until the sight stalk is upright, the "click" of the Windham Weaponry sights locking in can be negated.
The real difference starts showing when you look through the sights. The No products found.  protection wings are chunky things, seriously obscuring the field of view around the target. The aperture-narrowing apparatus for the Magpul sights is merely a polymer flap that flips up into the existing aperture, narrowing the sight picture. If you want to leave the rear sight set up for closer shots with the wide aperture, you have an unsightly tab sticking up off the top of the sight with the Magpul rear sight; I've always hated that. While the No products found. are great in their own right and price-point, they just don't stand up well to a high-quality set of "iron" sights. I don't have a set of the new No products found.  for comparison, but I suspect that these Windham Weaponry flip-up sights will prove superior if you are the kind of person who equates solid, machined metal with quality.
At The Range
After a nice session at the range where I fine-tuned the rifle the sights sat on to my desired load, I came away with a pretty warm and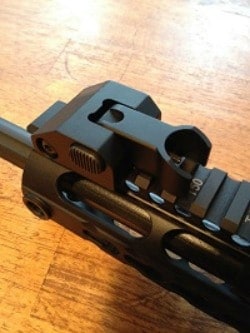 fuzzy feeling about the sights. The sight picture is fast with big, bold components that the eye can easily pick up, yet they can be used for longer-range shots (over 100 yards) with a little bit of practice and know-how.  To test how well they retained zero, I flipped them up and down 20 times each, then switched the aperture back and forth as many times. I brought the rifle to the shoulder, and made 20-ounce soda bottles dance. They retain zero as they should with no fuss.
Adjusting the sights wasn't bad either. The rear was a breeze, using the rim of a .30-06 case in the adjustment disc groove. The adjustments were crisp and stayed in place. The front sight, like all standard AR front sights, was a bit of a pain in the rear without the proper adjustment tool.  However, the nose of a 5.56mm/.223 FMJ bullet worked OK. I used a small allen wrench I had in my range bag to depress the plunger to get the sight to spin and that worked out as well.  I would definitely get an inexpensive sight adjustment tool to have in my range bag, even if you don't run these sights – chances are excellent if you have friends with ARs, someone will need it someday.
I mounted these sights on the rifle I've been using for deer hunting the past couple weekends, and they worked very well. In heavy brush or open clear-cuts, you bring the rifle up, and the sights are THERE, well-defined and good to go. I had the sights on a doe whitetail (but alas, no antlerless deer permit, so I didn't squeeze the trigger) and they stood out nicely, leaving me no doubts that they will work very well for hunting and HSLD purposes.
Conclusions
All glitz, glamor, and BS aside: these are very good sights.  They are no-nonsense, no-frills, heavy-duty pieces of gear.  After wading through the hip-deep sea of aftermarket AR sights, it's refreshing to find one that is simple, clean, and sturdy without having to guess at what might work. I don't mind the slightly added bulk they provide, and they will be replacing the No products found.  I have on my other AR rifles.  For the price point, they make the grade handily and do their job effectively.  And on a working gun, it doesn't get any better than that.
All Photos By: Drew