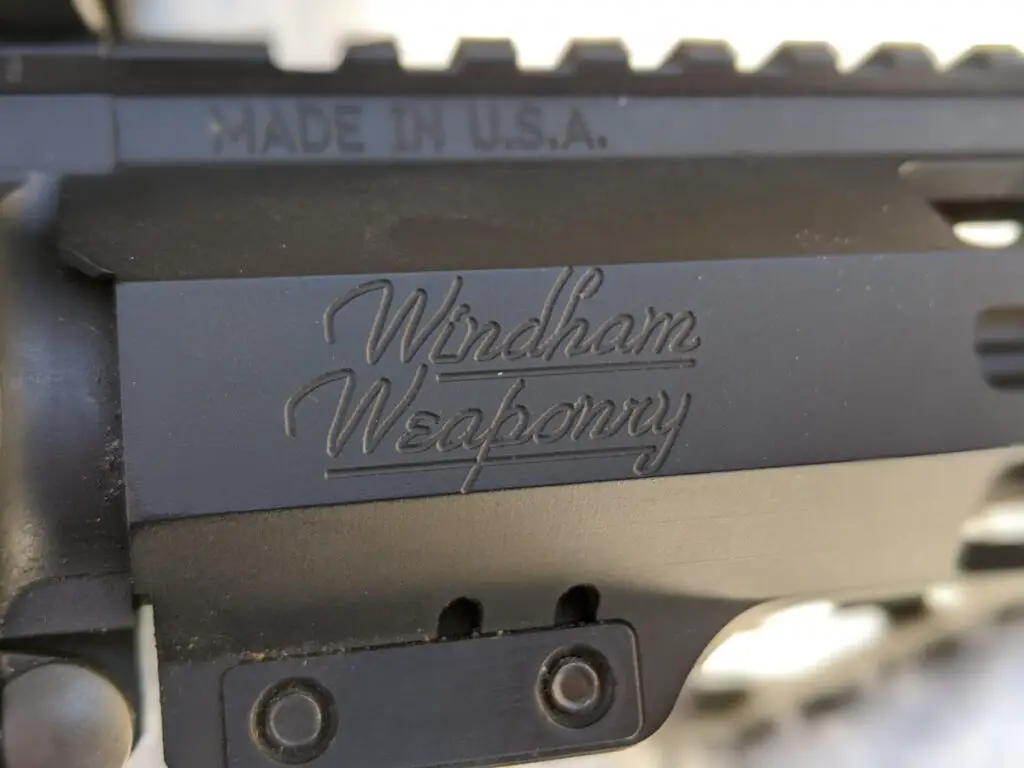 Wikipedia has the following to say about a concept called "Confirmation Bias": "the tendency to search for, interpret, favor, and recall information in a way that confirms one's preexisting beliefs or hypotheses. It is a type of cognitive bias and a systematic error of inductive reasoning. People display this bias when they gather or remember information selectively, or when they interpret it in a biased way. The effect is stronger for desired outcomes, emotionally charged issues, and for deeply entrenched beliefs." Basically, when one is looking for results or an answer, one tends to view drawn conclusions or perform research in a manner that supports a conscious or subconscious pre-existing bias. 
I'll fully admit to initially having been under the influences of a full-blown confirmation bias when I first laid my eyes on the Windham Weaponry R16FTT-9MM carbine. My first impression upon seeing Windham Weaponry's new carbine was probably similar to how might you feel handling any other Armalite-pattern rifle for the first time: "Yup, it's another AR." And that's what I thought this platform would be; yet another AR. I knew there were some interesting features, but overall, I thought the 9mm carbine would fit into the same manilla envelope that other ARs do, because I had a preconceived notion of what this little black rifle was all about. And I was pleasantly surprised to find that actually running this carbine through its paces steered me away from looking for data to support the conclusion I thought I already knew.
Pistol Caliber Magnificence
The Windham Weaponry R16FTT-9MM is a stellar piece of gear – well thought out but not over-designed to the point of lunacy. The whole package is approximately the same size as your standard M4 carbine, being about 6 ¾ lbs empty with no accessories, and just shy of 31" long with the stock collapsed all the way in. A 16 inch long medium-weight barrel (with no flash hider or brake) incorporates a 9mm-standard 1:10 rifling twist to stabilize heavier bullets for subsonic loads without compromising light-bullet accuracy. All the standard AR goodies are included: a free-floating anodized aluminum handguard, a 2" removable rail section for mounting accessories, and a full-length Picatinny rail that runs continuously from the back of the receiver all the way to the forwardmost point of the handguard. The A2-style pistol grip and 6-position telescoping CAR-style cuttstock are molded plastic, while the aluminum receivers are hard anodized in a pleasing, flawless matte black. The controls are all where they should be and operate the same as any AR would. The provided trigger is the expected Mil-Spec standard setup, and is compatible with all aftermarket AR-15 fire control systems. Nothing groundbreaking here, but no departures from the norm either – a huge benefit for training if you already run an AR-15.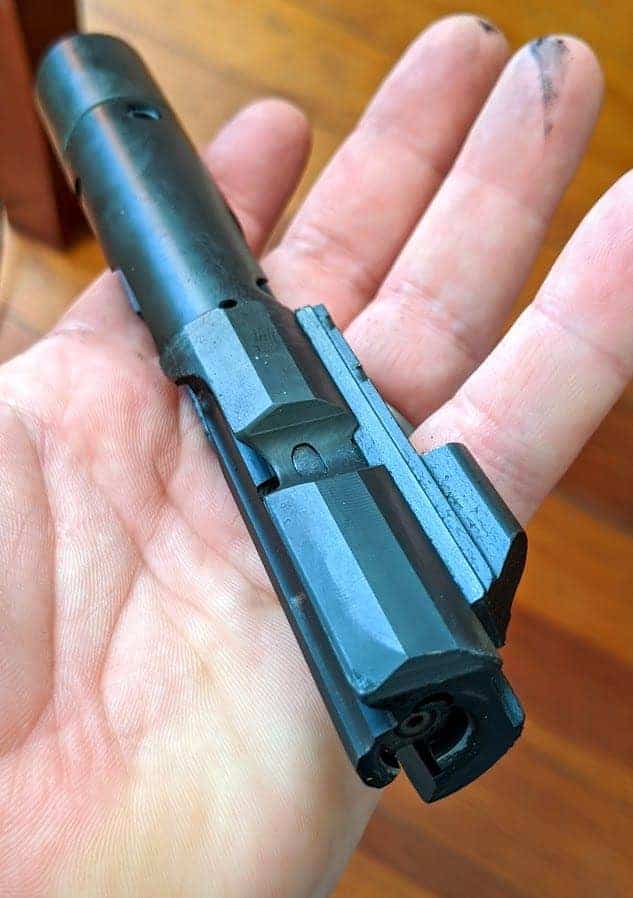 When you break the receivers apart, however, you start noticing the changes that make this Windham Weaponry rifle unique. First off, the ejector is fixed into the lower receiver via two beefy allen screws, and juts upwards from just behind the magazine well – much different (and far simpler) than the plunger ejector that lives inside standard AR-15 bolts. 
And speaking of bolts, popping the R16FTT-9MM's bolt out of its upper receiver raceway will reveal the big surprise: this gun runs as a straight blowback. That's right: no gas tubes, no gas ports or blocks, no gas keys to loosen and leak. No separate rotating bolt for a Multi-piece BCG. The gasses from the round going off in the chamber push the bolt backwards and start the process of the carbine's semi-automatic cycling; the rifle's springs and physics perform the rest of the work. The straight closed-bolt blowback system has been around for over a century now and is well-developed and dependable – and it's a great, reliable choice for the operation of this little carbine. Less moving parts than HK's roller-delayed system, no weird dissimilar metals friction like a Thompson's Blish Lock. No wildly unpredicatable accuracy from firing from an open bolt. No fuss, all simple, reliable goodness. It should even work well as a suppressed rig, too; no worrying if your gas port is correctly sized or properly gassed.
Glock Perfection in an AR package
The real crowd-pleasing aspect of the Windham Weaponry 9mm carbine is its ability to source its high-velocity meals from 9mm Glock magazines. That's right, proud Glock 17, 18, 19, 26, 34, et.al., owners can now run a high-quality AR platform carbine that feeds from magazines that are already on-hand. For SHTF planning, the utility is obvious – both your long gun and your sidearm can utilize the exact same magazines, easing your logistics strain as you pile up stacks of double-stack Glock magazines. 
Also read: Magpul PMAG27 Glock Magazine
Making magazine acquisition even easier is the fact that Magpul now offers high-quality, inexpensive 9mm Glock magazines; as a matter of fact, our subject carbine shipped with a Magpul 17-round magazine straight from Windham Weaponry. 
Since the carbine landed in my lap, I've been buying up a decidedly inconsistent mixture of polymer mags; 15-round Glock 19 and 17-round Glock 17 magazines, 33-round Glock "Giggle Sticks", along with a complement of 15, 17, and 21-round Magpul GL-9 magazines. Every single one of them locks into the magwell securely and feeds the little 9mm rounds like greased snot through the blowback action of the Windham Weaponry 9mm Carbine.
The 9mm Glock magazine compatibility is a Godsend to those wanting to design a single-caliber centerfire pistol/carbine plan; instead of trying to source the clunky Colt stick mags, SIG Sauer's proprietary $60-each MPX magazines, or even pricier HK MP5 magazines, you can walk into any Cabela's or reasonably well-stocked gun store and find rugged, proven magazines on the rack for dirt money; my last purchase was a Magpul 17-round magazine for $15.99 at Cabelas. I even found used Magpul 15-round mags at a local gun shop for $10 each. Though I don't know why someone would discard anything that has "Magpul" moulded into it, I snatched them up with glee and they function with aplomb. I bought the 33-round Glock-made mags for $25 each on sale from Brownell's.
Icing on the polymer cake: while there are several manufacturers who make 9mm AR lowers – a few of whom manufacture with Glock magazine capability – whittling down this category further is the need for a 9mm AR lower that runs on Glock mags, AND ALSO locks the bolt back when the mag runs dry. The Windham Weaponry 9mm carbine checks all the above boxes with a flawless bolt hold-open feature. A rifle that's theoretically designed for battle or competition (or maybe really intense hunting?) should absolutely lock the bolt back when the mag runs dry. Major kudos to Windham Weaponry for making sure the rifle operates as we expect an AR-platform rifle should.
Suppressor Ready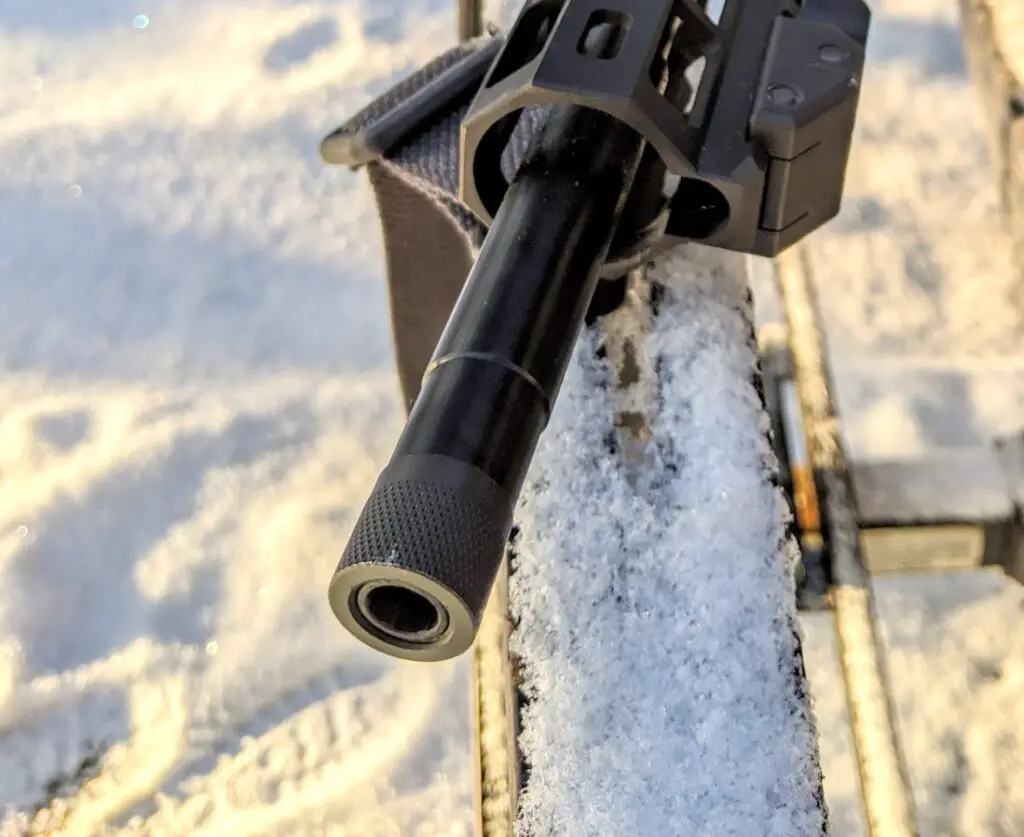 Since pistol caliber carbines are immensely popular no doubt due in part for their ability to be effectively suppressed, Windham Weaponry provided the 9mm Carbine without a muzzle device – just a knurled thread protector at the danger end of the barrel. Unscrew the thread protector to expose the muzzle device threads. Windham Weaponry's page for this particular model says these threads are ½" x 28 threads per inch – however I did note a company newsletter that stated all 9mm models are produced with ½" x 36 thread pitch. The moral of this story: if you're looking to install a suppressor on your Windham Weaponry 9mm, be sure to double check the thread pitch. 
I visited my buddy with the SIG Sauer MPX-C that I reviewed a couple years ago so I could do a 9mm carbine comparison and take advantage of the SilencerCo Octane 9HD that he obtained for the SIG. However, the muzzle thread pitches are entirely different between the two guns, so I sadly wasn't able to play with the Windham Weaponry 9mm suppressed. And with the thread adapter for an Octane 9 being about $90, I'll have to save the suppressed report (pun intended) for a later date. But the ability is there, so a tax form is in my future, I predict. I mean, it only makes sense, right? Right.
Not Bad Out Of the Box, But…
Windham Weaponry kits out the 9mm Carbine with a complement of standard AR accoutrements that are perfectly functional, but I personally feel a touch dated in this ergonomically enhanced and developed firearms worldview. The standard provided collapsible buttstock is a mildly-enhanced throwback to Colt's Vietnam-induced CAR-15/XM177 design of the 1960s, and the A2 style pistol grip is unchanged since the introduction of the M16A2 variant from the early 1980s. The black nylon sling is really just a strap with zero quick adjustability when installed between the provided QD rail mount and the telescoping buttstock.
Some may argue that these designs are perfectly adequate and functional, and they are absolutely right. However, after having my cheek pinched in some buttstock-receiver extension junctions a couple times, and wrestling with trying to retrofit a proper two-point sling on the buttstock, I just bit the bullet and purchased a black Magpul CTR buttstock and MOE pistol grip. These two simple additions added a touch of storage and a healthy serving of increased utility with the ability to properly mount a Blue Force Gear Vickers two-point sling on QD mounts fore and aft. This setup proved its worth on a carbine course and during numerous drills at the sandpit. Don't get me wrong: Windham Weaponry provides a serviceable setup out of the box – and props to them for providing a complete package – but for a few extra bucks (MOE Grip – $20, CTR Stock – $60, Blue Force Gear Sling $55) you get a pistol-caliber wonder carbine that wants for nothing in the ergonomics and utility department.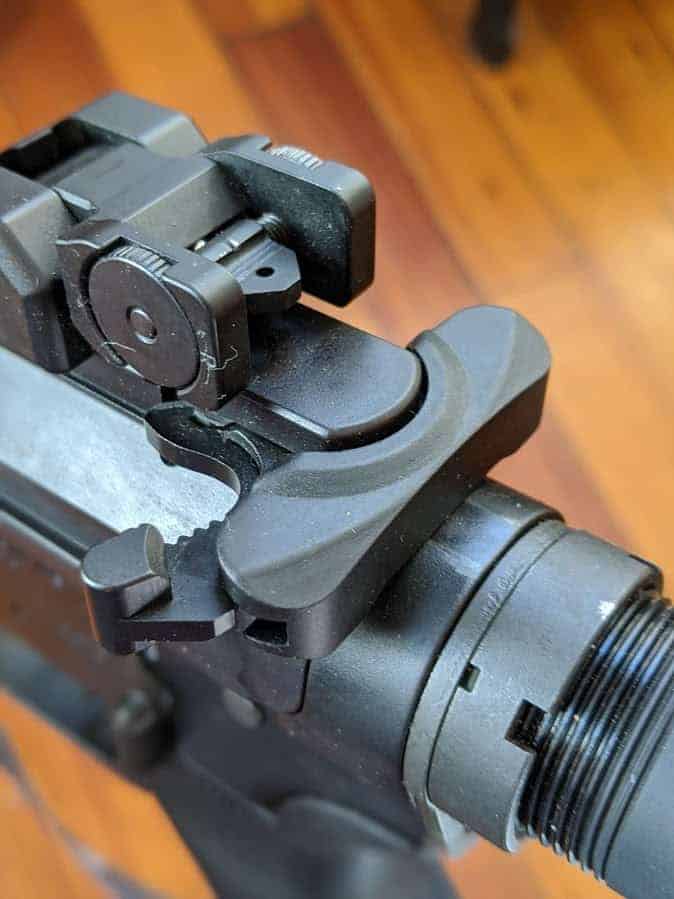 Heads up though: when I yanked the original buttstock off the 9mm carbine to find that the stock receiver is of the Commercial variety, not the Mil-Spec configuration. I checked with Windham Weaponry, and they confirmed that most of their rifles go out the door with Commercial extensions, since the .03" narrower diameter allows the use of both Commercial and Mil-Spec stocks. Just be forewarned – it may be easier to find additional colors and configurations in the Mil-Spec sizes (as the industry as mostly standardized the use of Mil-Spec components), but they will rattle and wiggle just a tiny bit when used on Commercial tubes. Fully functional, just a bit annoying, if that sort of thing bothers you. Just an FYI.
The only other change I made was to swap out the stock style charging handle for a BCM Gunfighter Mod 4 piece with a left-side extension. More on the important "why?" of that modification here in a second – and it ain't just for increased handle leverage.
You'll also need to source sights and/or an optic to run this carbine properly. I had some kicking around, thankfully – but a set of decent BUIS will be probably around $60-70 to start – and optics can range from Wal-Mart $39 cheapies to red dots and ACOGs that will make you take an unsteady knee when you pull out the wallet. The Windham Weaponry 9mm AR carbine's picatinny rail will gladly give any of them a solid home.
Yeah, But How Does It Shoot?
Ahh, here's the question I'm sure most of you are dying to know the answer to. As soon as this little beast was in my sweaty palms, I grabbed a couple boxes of ammo and headed to the sandpit to get the 9mm Carbine dialed in and ready for some real-world testing. A Vortex AMG UH-1 holographic sight was mounted on the rail along with some folding sights. I planned on dialing the rifle in for 100 yards – from previous experience with the SIG Sauer MPX I knew that was about as far away as a 9mm is happy to go.  The provided Magpul 17-round magazine was loaded up with some Winchester 124-grain FMJ ammo, and within three shots had the rifle on target at 25 yards. I went to a kneeling position, and trying for a decent group, proceeded to plunk four rounds touching with no problems whatsoever. A good start.
Related: Survival Gear Review: SIG Sauer MPX-C
A few steps back to 50 yards confirmed that I was still on paper, and an adjustment to bring the bullet impact about an inch high at 50 yards worked well. A five-shot group from the kneeling position at 50 yards measured about 1 ½" or so. I then stood, and proceeded to handily perforate a 1-liter soda bottle shot for shot at the 100-yard marker. The gun was a shooter for sure – better than I expected. 
When I was testing handloads and some other factory ammunition through the Windham Weaponry 9mm carbine, I found that resulting group size varied wildly by bullet type and weight, but all of the loads produced usable accuracy – especially when you consider that a stubby 9mm bullet ain't exactly a ballistic wonder. I settled on a handload that played nice in the W-W carbine and my Glock 19; the load pushed a 124-grain Hornady FMJ bullet at about 1,250 fps – and grouped in the 4" range at 100 yards. I think the carbine could have done a bit better with a proper magnified optic, but the Vortex's holographic reticle was incredibly fast and positive to work with – and 100-yard 4" groups from a 9mm carbine was A-OK with me. High-end defensive ammo did shoot markedly better, with Remington Golden Saber 124-grain +P loads in particular providing excellent accuracy.
The R16FTT-9MM proved to be boringly reliable. It gobbled up every nasty lead bulleted handload I made, every hollow point defense load I offered it, and every steel-cased crap Wolf load I dropped the hammer on. To this day, with probably close to 3,000 rounds through the rifle, I have yet to experience a malfunction with the gun – though I make sure to clean and lube the rifle often due to the blowback action's rapid carbon buildup.
Running the 9mm Carbine in the Real World
I recently took a carbine course through SRT Concepts here in Maine (outstanding company for training, check them out if you're in the New England Area). I checked with Peter Joyce, the instructor, ahead of time, and asked if I could run two guns at the course so I could compare a pistol caliber carbine against my normal 5.56mm AR. He liked the idea and welcomed me to run both rifles, as long as I was fully communicative with the instructors about swapping guns and following enhanced safety procedures while walking to and from the firing line with different rifles.
The carbine course was stellar, and a real eye-opener with the function, performance, and perception differences between the two calibers. On the base level, the two guns were approximately the same – my 5.56 AR even has a Windham Weaponry heavy barrel! – with collapsible Magpul stocks, 16" barrels, and identical sling setups. Optics were different, as my 5.56 rifle sports a Leupold Mk AR 1.5x-4 on a Burris PEPR mount, while I elected to run the 9mm carbine with the non-magnified Vortex AMG UH-1 holographic sight in keeping with the close-in philosophy the pistol-caliber platform promotes.
Related: Survival Gear Review: Windham Weaponry R18FSFSM-308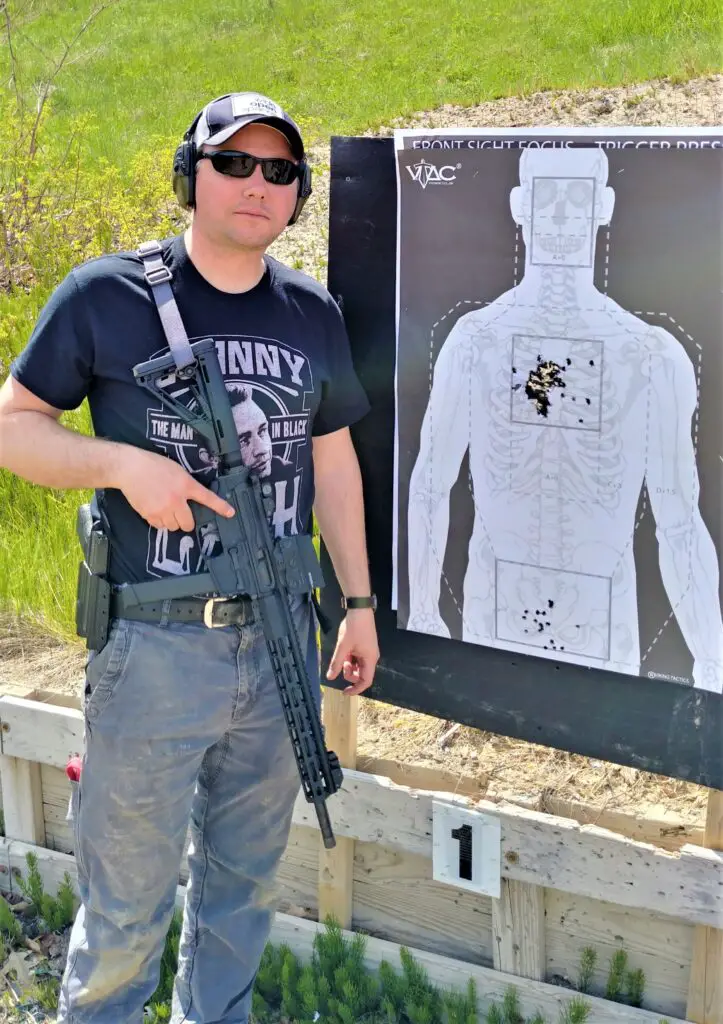 Both rifles performed flawlessly, with either carbine proving to be ridiculously accurate and perfectly capable of providing easy hits under all circumstances and shooting positions. At the 75 yard mark and beyond, I did find that the 9mm definitely didn't have the outright practical accuracy and flat trajectory that the 5.56 afforded, but hits inside the "kill" box were simple at all ranges to 100 yards with the 9mm. A "running man" drill with 90 9mm rounds at all distances from powder-burn range to 100 yards, and launching bullets from a variety of positions including prone, offhand, weak-side transition, and from behind cover with the rifle laying sideways and the buttstock mounted over the shoulder turned up a perfect score with no rounds striking outside the scoring boxes. I used a mix of Winchester "White Box" 124-grain FMJ rounds and 124-grain FMJ handloads throughout the course with no failures to function. Recoil was positively negligible and the rifle was a breeze to fire quickly and accurately. 
The guys on the line either side of me appreciated the 9mm carbine greatly. My 5.56 AR wears a Seekins Precision muzzle brake that is hugely effective at taming muzzle rise, but blasts concussively every time the rifle goes off. (I was told by my instructor that the muzzle blast was flapping my neighbor's shirt around!)  The 9mm carbine was launching 124-grain bullets at about 1,250 feet per second, making the rifle seem almost suppressed in comparison!. Reportedly the 9mm AR was much more comfortable to stand near while I was shooting. Even with no muzzle device, there were no issues with muzzle rise or blast. This is a major consideration for anyone possibly running this gun indoors – whether it be a warrant-serving police officer, or a homeowner defending his family.
The 9mm carbine's quick handling characteristics were a joy on the range, and the safety was positive and crisp – a welcome characteristic indeed, especially when working near other shooters with plenty of distraction. Knowing through haptic feedback – a nice positive "click" – that the safety was fully engaged or fully disengaged when I operated it was a Godsend.
(Very  Minor) Trouble in Paradise 
Issues? Yeah, a couple – but these were not really the gun's fault, just struggles that manifested themselves via the differences in magazine design. You see, due to the feeding angle of Glock magazines imparted by Gaston Glock's grip design, the Windham Weaponry's magazines rake backwards slightly in the magazine well and require a different insertion angle when reloading from the shoulder. Where a standard 5.56mm magazine inserts straight up into the magazine well, the 9mm magazines require you to cant your wrist forward and slant the top of the magazine slightly forward when inserting. I also had a bit of luck inserting a magazine sort of like an AK, with the top of the magazine facing my head and then rocking it upwards and into the magwell. However, this technique didn't work as well with tactical reloads when you had to juggle two magazines with one hand. 
The other issue I found was that though magazines generally dropped free when the release was pushed, the smaller, lighter 17 and 15 round pistol mags very occasionally had enough polymer-to-aluminum friction to hang up and require a yank or a shake while performing a reload from the shoulder. Not the end of the world, but another step to work through when you need the gun topped off in a hurry. I did find that this hang-up phenomenon occurred mostly when the rifle had been in a position where the magazine had some lateral pressure on it, usually from leaning against a barricade or cover. 
Training and repetition will help you through both of these issues decisively, but I found that swapping back and forth between the 9mm and 5.56 platforms had me confused when it came time for fast reloads. Keep that in mind if you like having lots of different rifles.
The other problem I'd found (actually before I took the course) centered around the 9mm carbine's blowback operating system. Every time the rifle went off, the gun cycled and hot gasses from the expended cartridge made their way back through the charging handle keyway, and blew directly on my eyes. I never noticed the problem while wearing eye protection, like I do 99.9% of the time – but the one time I didn't use eye pro, the hot gasses expelling backwards rushed into my eyes like a rowdy heat gun directed on my face. It was uncomfortable to say the least – and while dry eyes aren't fun, unburnt powder, case debris, or other carbon residue could travel with the gasses – possibly disabling your eye. Lesson one: always use eye protection. Lesson two: ditch the stock charging handle and source a replacement unit that has a built-up "wall" of material on the top of the part – this mitigates the gasses nicely. The BCM charging handle I dropped in the carbine (standard AR charging handles work just fine!) enhanced the gun's manual of arms with increased leverage for operating the bolt from the shoulder, and it deflected hot gasses nicely. 
Of all the swapped parts I changed out on the Windham Weaponry 9mm carbine, I would consider the charging handle swap the most important – a huge safety upgrade for your face and peepers. When the SHTF or that home invader kicks the door open at 2am, think you'll be wearing safety glasses? Even odds that you won't be. Keep that in mind.
Brass Tacks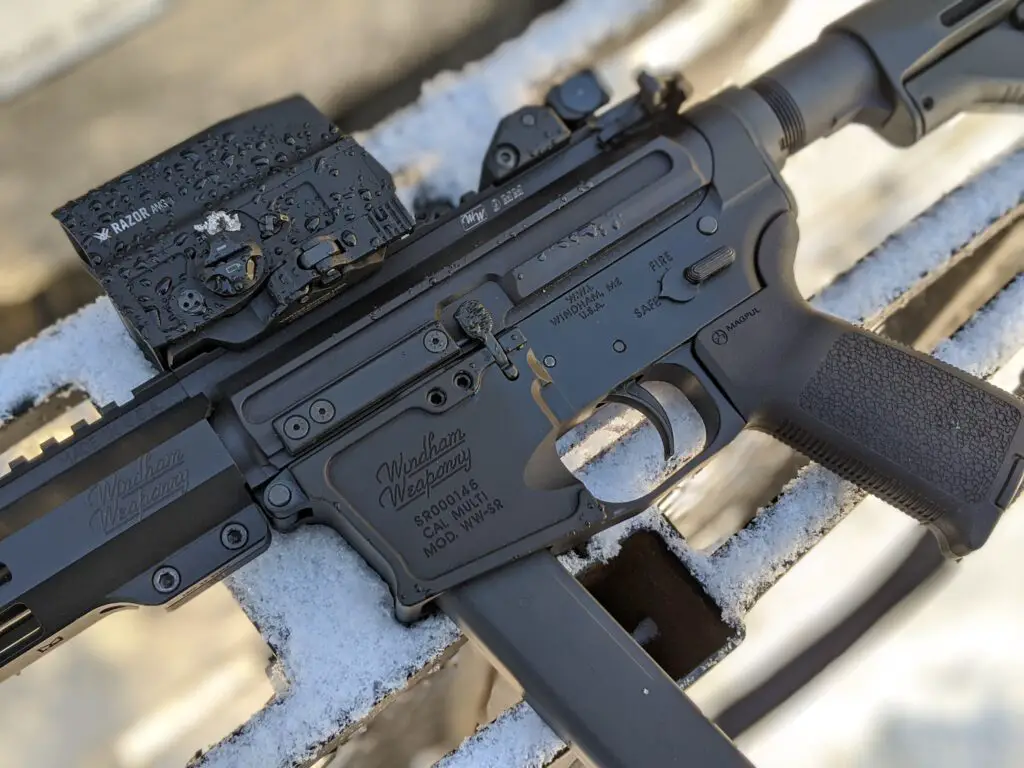 The pistol caliber carbine efficacy debate is a subject for a future article (one I'm looking forward to indeed); we're going to assume that your plans dictate that the 9mm caliber is what you want, and you're looking to take advantage of the Windham Weaponry R16FTT-9MM's ability to utilize Glock magazines. And why shouldn't you? For Survival Cache's target audience – Preppers and Survivalists – the Windham Weaponry 9mm carbine provides you with a hugely effective tool to maximize your minimalist ideals and requirements. No longer do you need to keep multiple magazine types, ammunition calibers, and other logistical and maintenance accoutrements to supply your firearms needs; the Glock-mag-fed 9mm carbine fixes this issue for you. Run one caliber through one type of magazines for both your long guns and sidearm. The low recoil, close-in effectiveness, and lightweight, quick handling would make this a stellar choice as a training rifle of primary arm for smaller-framed shooters, women, and supervised, appropriately-aged children as well.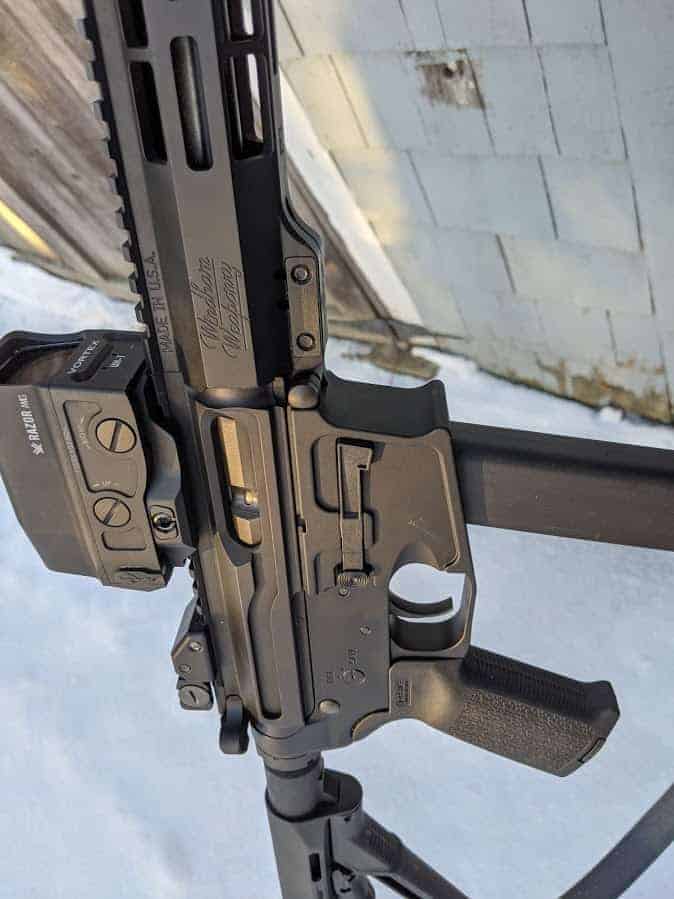 I've written before about Windham Weaponry's outstanding commitment to quality and innovation – and this R16FTT-9MM is a perfect manifestation of both of these ideals. This carbine is beautifully manufactured to a design that is exactly what a 9mm AR should be. I know I griped a tad about the accessories Windham Weaponry chose to include with the package, but the very plain and simple fact is that this carbine is 100% serviceable and ready to go out of the box once you throw a sighting system on. It's also a great starting platform to build a suppressed carbine, or even an SBR. The street price of $900-950 for the Windham Weaponry R16FTT-9MM carbine may seem a bit steep when lesser companies offer a package with ostensibly the same features, but this is a classic example of getting what you pay for. The quality, design, reliability, fit, and finish are light-years ahead of other companies' offerings, and – perhaps most importantly – Windham Weaponry's transferable warranty and customer service are outstanding in their field…which I cannot say about other companies with, well, budget-minded products. 
If you think this 9mm carbine is "Just another AR", get past your own confirmation bias and try one out. You'll realize for yourself that an AR in 9mm is an absolute platform enhancement when combined with a sidearm that uses the same feeding system. Pistol caliber carbines paired with a compatible pistol are hot right now – shooters and preppers are recognizing the versatility, effectiveness, and minimalist leanings of the concept. And there's no better combo (in my humble opinion) than a Glock 19 and a Windham Weaponry R16FTT-9MM carbine. Grab one of each (or more, that's cool too), stock up on cheap, reliable magazines and some cases of ammo, and proudly possess the best pairing of shooting tools on the market – they're ready when you are, no matter what hits the fan.