The Ruger 10/22 is one of the most popular .22 rifles in the world and a lot of people have one for small game hunting in a survival situation.
You could use a completely stock 10/22 and be just fine, but to be more prepared here are the top 7 accessories for the Ruger 10/22 in a survival situation and why I think they are important.
Best Ruger 10/22 Accessories and Upgrades: Top Picks
At a quick glance, we recommend these must-have accessories:
1. Sling
A sling is probably the most important after market accessory you could get for your 10/22, or any rifle for that matter. Any time you are doing more than plinking tin cans at the range you are going to need your hands for other things while carrying your rifle.
A sling just makes sense. Think of it as the holster for your rifle. How many pistols will you be taking into a survival situation without a holster?
Amazon has a ton of rifle slings as do most outdoor gear sites.
Check out the one below if you want a well-rated product from a quality company, Allen:
2. Scope
Check out our detailed look at the best scopes for Ruger 10/22. It's written by our firearms expert, Dennis.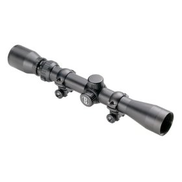 Rifle scopes are a touchy subject. There is such a huge array of options and everybody has their opinion. Some people reading this will say you don't even need a scope for a small hunting rifle, and that is a valid opinion.
I say: Buy for the use.
What is this rifle going to be used for? Small to medium hunting in a survival situation.
Do you really need a $400 scope on a $200 rifle? Personally, I don't think so, but to each his own.
A friend of mine has a Simmons Truplex .22 Mag Riflescope on his 10/22 and I think it is perfect for a survival game gun. It has adjustable power, it's durable, and is specifically made for rimfire rifles.
However what makes me choose this scope: price. If you don't know the world of gun optics, it is reasonably priced. Check out more details below of a few scopes:
A lot of shooters will look down their nose at such a scope, but for the needs of the gun you are building I think it works perfectly. It's not going to win any competitions hitting tiny holes at 100 yards, but you could definitely knock down some squirrels.
3. Magazines
With the Ruger 10/22 you have two choices for magazines. Standard 10 round rotary magazine, or an after market extended magazine. Either one is fine, it just depends on what type of set up you want.
I will say be careful about after market magazines as many of them are really bad. From what I have read and seen personally the Tactical Inc. TI25 Magazine (pictured right) with steel feed lips seems to be the best. It is adjustable so it will fit your gun exactly (that is huge), you can take it apart to clean it, and it has metal feed lips that will not get worn out.
4. Automatic Bolt Release
If you own a Ruger 10/22 you know exactly what I am talking about. If the bolt is locked back, you have to pull the bolt back and push the bolt release mechanism at the same time to chamber a round. It doesn't sound that hard, but sometimes it can be a pain.
The automatic bolt release replaces an original part on the gun and allows you to work the bolt without pressing the bolt lock mechanism (i.e. just like any other rifle).
In a survival situation, you want everything to be as simple as possible and this is just one of those things. It is a cheap part that could mean the difference between good meat for dinner or canned beans.
The first 4 on this list I would say are probably the important items you want in a Ruger 10/22 for survival situations. The following 4 are certainly not necessary, but if you are planning on using the rifle long term and on a daily basis after the SHTF, you might want to consider them. They are still simple, cheap, common-sense upgrades.
Also, if you want to camouflage your 10/22, or any other piece of gear without the pain of painting use CamoForm Camouflage Wraps.
 5. Bolt Handle

Some people (like me) feel like the bolt handle on the Ruger 10/22 is a little small. If you want something a little bigger and easier to grab check out extended bolt handle by Superior Concepts. It is longer and better shaped than the stock handle for quick and easy use.
6. Magazine Release

Just like the bolt release, Ruger 10/22 owners know that getting the standard magazine out can be a real pain sometimes because the magazine release is awkward.
A new mag release is another one of those things: You don't have to have it, but in certain situations, it would make things a lot easier.
7. Extractor

A lot of people will disagree with this idea because many have had Ruger 10/22's work flawlessly for decades without so much as a cleaning.
However, 10/22's have been known to be somewhat sluggish with extraction, especially if they are heavily used.
A nice aftermarket extractor will blow the casings out of your rifle so fast people beside you will be getting out of the way.
For the more important survival aspect, this will go a long way towards helping cure failures to eject and stovepipes, which again, in a survival situation could mean dinner.
---
Other Accessories for Ruger 10/22
Our team put together a series of guides for different types of gear and accessories. Check them out below:
---
What's On Your Ruger 10/22?
I would like to hear what aftermarket goodies our readers have on their 10/22's. Comment below and let me know what kind of cool stuff you are running, and why you think it would be useful in a survival situation.