Sturm Ruger Co. has been building fine rifles for over 70 years.  The Ruger 10/22 semi-automatic .22 LR rifle is iconic.  In fact, the Ruger 10/22 is arguably the most popular .22 LR rifle on the market.  For a rifle that is so popular and, by all accounts, works so well, why would anyone want to essentially build a whole new rifle by adding an upgraded receiver?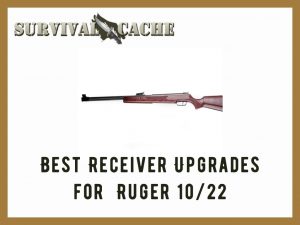 Many reasons! While the factory receiver is a fine piece of firearms equipment, it lacks certain features that many rimfire shooters want. Some of the biggest reasons that shooters want to upgrade the receiver on their Ruger 10.22 rifle include:
The looks of the rifle.  Some shooters want to stylize their Ruger 10/22 to make it a unique firearm.
Some want a different design that enhances some function of their shooting style
The lack of a Picatinny rail or rails is a primary reason many people upgrade the receiver on their 10.22 riles.
Left-handed shooters may want to change the ejection pattern of their 10/22 to accommodate their shooting side.
Many competition shooters want different features for their sport, such as larger charging handles
Whatever the reason, upgrading the receiver on your Ruger 10/22 is not like adding other accessories or upgrading other rifle parts. Before you embark on a receiver upgrade for your Ruger 10/22, you need to consider a few things.
RECEIVER
DETAILS

Volquartsen Superlite 10/22 Receiver

Picatinny rail in Matte black.

416 stainless steel.

Synthetic recoil buffer for smoother and quieter operation.

Check Price on

Brownells.com

Brownells BRN-22 Stripped Receiver

Includes the V-block and screws.

Made from 6061 T6 Aluminum.

Picatinny rail on top of the receiver.

Check Price on

Brownells.com
---
The Legal Issues – Buying an Upgraded 10/22 Receiver
Unlike every other part of a Ruger 10/22, you can't simply walk into a gun store, pick a receiver from the case, and take it to the cash register.  The receiver is the part of the rifle that has the identifying information about the gun.  In the BATF's eyes, the receiver is the gun and requires that you fill out a Form 4473.
Buying a new receiver then requires a BATF licensed gun dealer to complete the transaction.  If you order the receiver online, it will ship to a BATF licensed gun dealer to complete the transaction.  You are, in effect, building a brand new rifle.
---
Choices of the Best Ruger 10/22 Receiver Upgrades
What is it about the factory Ruger 10/22 receiver that you find lacking?  Before you decide which Ruger 10/22 upgrade receiver you want to purchase, you should decide exactly what features you want or your expectations of the upgraded rifle you plan to build.
In looking at the available Ruger 10/22 receiver upgrades on the market, I have tried to anticipate those things that might be a reason for an upgrade.  Of course, I cannot know exactly what every shooter is looking for in an upgraded rifle. However, these are some of the more popular Ruger 10/22 upgrades.
Best Basic Upgrade Receiver for your Ruger 10/22 – Brownells BRN-22 Stripped Receiver Review
Brownells has a reputation for excellence and quality products.  Brownell's huge selection of parts and supporting supplies is legendary among shooters 
The Brownells BRN-22 stripped receiver for Ruger 10/22 rifles is not a highly customized receiver with lots of additional features and options.  For the purest who wants a basic high-quality receiver to build a custom rimfire rifle, the BRN-22 is the place to start.
In addition to being compatible with your existing Ruger 10/22 rifle, The Brownell BRN-22 will match with the vast array of aftermarket barrels and other parts.  In addition, Brownell has added features that make the BRN-22 upgrade receiver attractive to even the casual shooter.
Includes the V-block and screws
Available plain or with a machines Picatinny rail on top of the receiver
Made from 6061 T6 Aluminum
Machined from a single billet
Matte black hard-coated anodized finish
Cleaning rod access hole in the rear of the receiver for easier rifle maintenance
Pros
High-quality workmanship and finish
Compatible with the Ruger proprietary v-block barrel mounting system
Looks good on the rifle
The machined Picatinny rails make adding a scope or other accessories quick and easy
Cons
May need some hand fitting to work properly with some other aftermarket parts
Brownells BRN-22 Stripped Receiver

Includes the V-block and screws.

Made from 6061 T6 Aluminum.

Picatinny rail on top of the receiver.

Check Price on

Brownells.com
All in all, if you are wanting to upgrade your Ruger 10/22 and want a basic receiver to start your rifle build, the Brownells BRN-22 receiver is a great way to begin.  For the quality of the receiver. The price is exceptional.  
Ultimate Upgrade Receiver for your Ruger 10/22 – Volquartsen Superlite 10/22 Receiver Review
For aftermarket Ruger 10.22 accessories and parts, Volquartsen is the place to shop.  You won't be frustrated with the selection of accessories, and you can count on excellent advice from the sales staff and support personnel.  
If you want to upgrade your Ruger 10/22 with the best possible receiver and your budget is healthy, the Volquartsen Superlite Receiver is one of the best you can consider.  There is no doubt that if accuracy is your goal, the Volquartsen Superlite Upgrade receiver is the way to go.
Volquartsen has a reputation for extreme quality in both machining and materials.  The features offered on the Volquartsen Superlite receiver are what you would expect from a product in this budget range.
Available in several configurations

Machined from a billet of 416 stainless steel complete with Picatinny rail in Matte black or uncoated
Machined from Aircraft-grade aluminum billets with a Picatinny Rail in matte black anodized
The aluminum versions can be purchased with an integral red dot mounting system

Machined with the Volquartsen tapered cone bushing barrel installation system, ensuring the most accurate barrel installation possible
Synthetic recoil buffer for smoother and quieter operation
Includes a v-block and retaining screws for compatibility with the Ruger v-block barrel installation system
Pros
Best fit and finish on the market
Stainless steel versions are resistant to almost everything
Compatible with factory parts or aftermarket parts
Smooth operation for maximum shooting comfort and accuracy
The synthetic buffer makes shooting much quieter
Cons
Volquartsen Superlite 10/22 Receiver

Picatinny rail in Matte black.

416 stainless steel.

Synthetic recoil buffer for smoother and quieter operation.

Check Price on

Brownells.com
If your budget can take the hit, the Volquartsen Superlite 10/22 replacement receiver is a great choice.  You can continue to customize this receiver with better barrels, bolts, and other parts to create what many would consider the ultimate 10/22 rifle.
Best Custom Receiver and Bolt Combination for your Ruger 10/22 – Tactical Solutions X-Ring Receiver Review
If you are going for a true tactical upgrade to your Ruger 10/22, Tactical Solutions should be your first stop.  Long known for its high-quality custom gun parts and accessories, Tactical Solution's reputation is unparalleled.  
The Tactical Solutions X-Ring receiver and bolt are a matched set.  These receivers and bolts are not compatible with other receivers or bolts.  Having to purchase both the bolt and the receiver does make the Tactical Solutions X-Ring a more expensive option.  However, what you get for that price is certainly worth the extra expense.  
Consider what Tactical Solutions has included in the package.
A variety of color options

Gunmetal gray
Matte black
Matte olive drab
Quicksand
Silver

Lightweight construction – bolt and receiver together weigh only one pound
Receiver milled from 6061-T6 aluminum
Picatinny rail milled on the receiver top
Left or Right hand charging bolt position
Dual guide rod system for smoother cycling
No gunsmithing needed to install
Pros
Multiple color options for a truly customized look
Aggressive looks for a real tactical visual sense
Lightweight yet strong and robust construction
Matched bolt and receiver ensure trouble-free operation
Cons
Bolt and Receiver combination is expensive
Not compatible with other bolts and accessories
The Tactical Solutions X-Ring Receivers and bolts are the most expensive option on this list.  However, the extra expense means you get a bolt and receiver combination that mate perfectly.  The Tactical Solutions design is unique and offers reliable and robust builds on a Ruger 10/22 platform.
Most Unique Upgrade Receiver for your Ruger 10/22 – Tactical Innovations Elite22 Receivers Review
Want to get away from drab black, grey, or tan receivers and spice up the look of your Ruger 10/22.  Tactical Innovations has just the thing to give your Ruger 10/22 a unique visual impression.
Tactical Innovations Elite22 upgrade receivers are available in seven colors
Matte Black
Stainless Clear
Blue
Olive Drab
Purple
Red
Non-Anodized
In addition, Tactical Innovations offers a complete line of accessories and parts in the same color options, including barrels, trigger assemblies, and handguards.  The possibilities are almost unlimited, and you can certainly build the most unique looking Ruger 10/22 at the range.
There is no skimping on the features with the Tactical Innovations replacement receivers either.
CNC machined from a single billet of 6061-T6 aluminum
Finished receivers weigh only 8.3 ounces
Rear receiver cleaning hole for chamber to muzzle cleaning without damaging the receiver
Integrally machined full-length Picatinny rail
Hard anodized finishes protect the receiver in harsh conditions
Bright, lasting colors for true customization
Laser engraving for precise, clean, and sharp etching
Compatible with standard Ruger 10/22 parts and most aftermarket custom parts.
Pros
Great Service and quick shipping
Visually exciting and makes for a unique 10/22 build
Excellent machine work.  Clean and precise
Great quality at a great price
Cons
None, except Tactical Innovations has trouble keeping these in stock in all the colors
You can certainly build a striking 10/22 style rifle using Tactical Innovations parts. You can build a rifle in a solid color or create a striking combination of colors.  You won't need to worry about the operation or quality of the parts.  You can, of course, opt for a standard matte black finish and go the traditional route.  You will still get a well-constructed and finished upgraded receiver for your Ruger 10/22.
The new Kidd on the Block in Ruger 10/22 Upgrade Receivers – Kidd Innovative Design Review
Mary and Tony Kidd started Kidd Innovative Design in 2000 and brought their famous Kidd 10/22 trigger to the marketplace.  Since then, this small Texas company has introduced a wide variety of aftermarket parts of all sorts of rifles, including the Ruger 10/22.
The Kidd's have built a company whose focus is on quality and tasteful design.  The accuracy evidences the quality and attention to detail that their parts bring to the Ruger 10/22 platform.  Kidd built 10/22 platforms routinely outshoot much more expensive rifles.
The Kidd Ruger 10/22 upgrade receiver is feature-rich.
10/22 style aftermarket receiver with slip fit construction
Hard anodized finish
Machined from billet aluminum
Includes a rear access cleaning hole
Option accessories include

V-block barrel kit
Rear tang
Takedown screw
Bolt buffer
Pins

Comes complete with a specialized interchangeable scope base installed
Pros
Available with a wide array of options to make your custom build easier
It fits standard Ruger stocks and is compatible with many standard Ruger parts
Custom threaded takedown screw available
Custom buffer lessens felt recoil
Rear tang design has mated fittings to ensure rigidity
Cons
Many features that come standard with other receivers are options with the Kidd design
You won't find a higher quality of machining or construction on any aftermarket receiver for your Ruger 10/22 upgrade.  However, for the Kidd design's best performance, you should opt for the complete Kidd package which makes this a more expensive option than others on our list.
---
My Take on the Ruger 10/22 Receiver Upgrade Experience
I am a fan of the Ruger 10/22.  There are Ruger 10/22's in my gun safe, including a takedown model.  Me, my sons, and my grandsons are all Ruger 10/22 owners and shooters.  
What you won't find is a customized Ruger 10/22 with upgraded barrels, receivers, or triggers.  For me, the Ruger 10/22 is as close as I have gotten to the perfect off the shelf rimfire rifle.  I have not found any reason to tinker with what I get out of the box
I am a plinker and weekend target shooter with my Ruger 10/22.  Was I more interested in precision shooting, I would probably be much more apt to start customizing a Ruger 10/22.  That sort of rimfire shooting is not where I am currently.
Which Would I Pick?
Was I to leap into a custom Ruger 10.22 build, my choice for the receiver around which to build my rifle would be the Volquartsen Superlite 10/22 receiver.  In my mind, the Volquartsen reputation and experience puts them ahead of the curve.  Any custom build for a specialized rifle deserves the finest parts available.  In my opinion, that is the Volquartsen receiver.
---
Making a Great Rifle Better?
In the end, you must decide.  Upgrading a Ruger 10/22 can be a fun and sometimes challenging project.  The options and choices are so wide that it can be overwhelming to make the decision.  I hope that this article has given you some insight into choosing a replacement receiver for your Ruger 10/22.
If you have suggestions, ideas, or experiences you would like to share, please use the comments sections below.  Shoot well and be safe.