Technically, the M4 doesn't exist in the civilian world.  The M4 is a variant on the M16 and is not available to civilian purchasers.  The basis of a true M4 is the M16A4.  The M4 utilizes a 14.5-inch barrel and usually offers full automatic fire capability.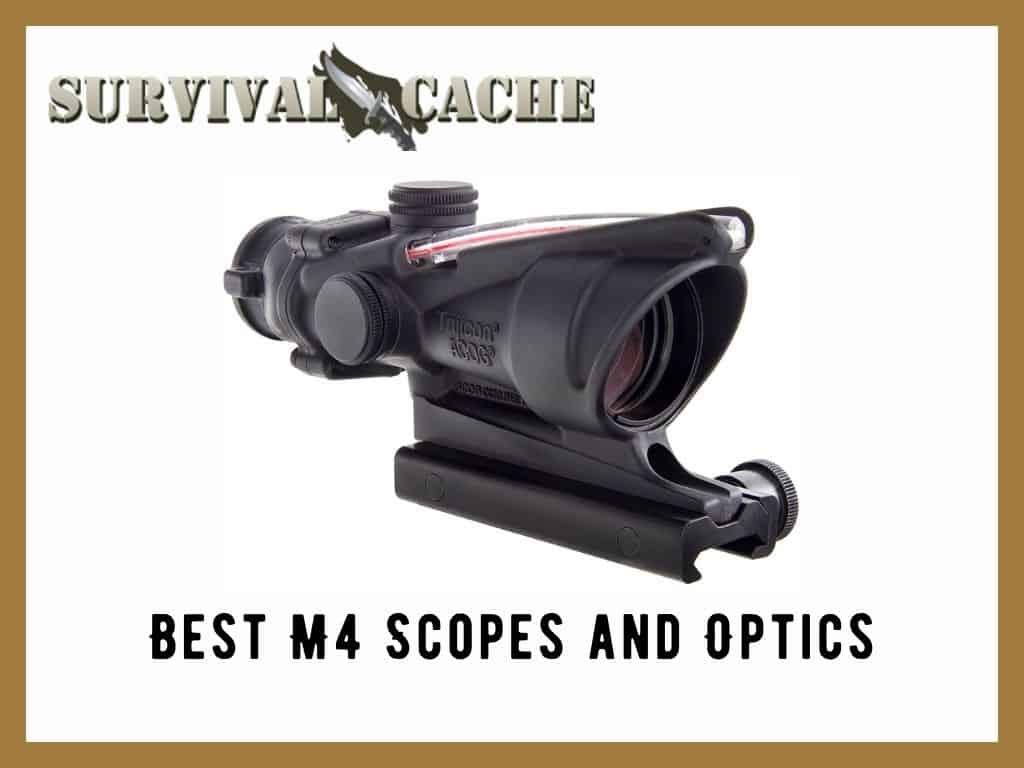 So, in truth, civilian shooters aren't shooting a true M4.  At best, legal shooters are running an AR-15 platform with a short barrel NFA tax stamp.  This platform is, by legal necessity, a semi-automatic firearm.  So, you must realize that very few people are shopping for a scope for an M4. 
However, you can get an AR-15 platform that mirrors the functionality of an M4.  Short, compact, and quick are the hallmarks of an M4. Consequently, the scope or optic you chose for your M4 look-alike should mirror those characteristics.
---
Best M4 Scopes: My Picks
There should be no question in anyone's mind about the best of the best optic for an M4-style rifle.  The Trijicon ACOG is world-renowned as a combat optic.  The Trijicon Acog features the "Bindon Aiming Concept.  With a 4X magnification and ultimate close-range capability, the ACOG is a proven combat quality weapon. 
If you aren't familiar with the Trijicon ACOG, it is worth looking at the features available on this optic.
Battery-free illuminated optics
Designed for both eyes open aiming
Proven combat track record
Shock-resistant and waterproof
Bullet drop compensating reticle
4X magnification
Medium range scope effective to 600 yards
Eye relief – 1. 5 inches
Field of View – 36.8 feet at 100 yards
The reticle types available: Chevron, Crosshair, Horseshoe Dot
Two available reticle colors: red and green
Drop compensating reticles available for .223/5.56 or .300 Blackout
Trijicon now offers the 4×32 ACOG with an LED illuminated reticle that allows adjustable intensity and over 12,000 hours of battery life on a single AA battery.
Pros
Approved for military use
Battery-free
Accurate and durable
Reliable
Cons
If you want to build an M4 style rifle that emulates the role the M4 plays with the military, then a Trijicon ACOG certainly makes sense.  To get a rifle close to a true M4, you will probably spend enough on the rifle to justify a Trijicon ACOG cost.
However, some scopes and optics offer a more reasonable price and almost the same quality and features as a Trijicon ACOG. 
Number one on my list of scopes suitable for an M4-style rifle is the Vortex Optics StrikeFire 2 Red Dot Sight.  If you haven't gathered from my other posts and reviews, I am a Vortex Optics fan.  I don't think you can do much better than a Vortex Optic for features, clarity, and quality.
The Vortex StrikeFire is the optic that chose to mount on my M4-style rifle.  My rifle is a 10.5 inch suppressed .300 Blackout.  (Yes.  I have tax stamps on both the rifle and the suppressor.)  This little gun is accurate and quick.  I wanted an optic that matched those characteristics.
The Vortex Optics StrikeFire 2 fits that bill.  Feature-wise it is at the top of the combat-style optics.  Price-wise, the StrikeFire is within the budget of almost any shooter. 
Mount type – Cantilevered ring mount with lower 1/3 co-witness
Magnification – 1x
Objective lens diameter – 30mm
Dot size – 4 MOA
Eye relief – unlimited
Adjustment per click – ½ MOA
Travel per turret rotation – 25 MOA
Maximum elevation adjustment – 100 MOA
Maximum windage elevation – 100 MOA
Parallax Free
Weight 7.2 ounces
Length overall – 5.8 inches
What you get in the box

One cantilever scope mount

Battery life – 80,000 hours at setting 6
Red or Green dot options
Fully coated optics of maximum light transmission
Pros
Great scope for a reasonable price
Easy to zero and holds true
Adjustments are easy to make
Good battery life
Cons
No magnification
A bit on the heavy side
The Vortex StrikeFire 2 comes complete with a cantilever mount, and lens covers speak well of Vortex Optics customer service focus.  The best reflection of their attitude is the Lifetime no questions asked warranty.
Runner-Up – Best Scope for an M4-Style Rifle – Aimpoint PRO
Second, on my list of the best scopes for your M4-style rifle is the Aimpoint PRO optic.  The Aimpoint Pro is another red dot entry to the list.  Aimpoint builds great optics and has a reputation for high-quality optics built to withstand extreme use. 
The one thing that consistently keeps the Aimpoint out of the top spot on my optics lists is the price.  At twice the Vortex StrikeFire optic price, I don't think Aimpoint is that much better.  However, some disagree.   You can make your judgment based on the features of the Aimpoint PRO optic.
Up to three years of use on a single battery
2 MOA red dot
In-service date and battery change date reminders
Quick and accurate target acquisition
Night vision compatible
Magnifier compatible
Waterproof to 150 feet
Threaded front lens opening for use with ARD
Front and rear flip covers included
Transparent rear flip cover allows both eyes-open uses even with the front cover closed
All caps come with retainer straps
Modular mount system for use with various styles of rifles
Magnification – 1X
Fully coated optics
Unlimited eye relief
Battery – 3v lithium type 2L76
Length overall – 4.5 inches
Weight 7.8 ounces
Pros
Military-grade optic
Great battery life
Clarity and light transmission unsurpassed
Sharp edges on the 2 MOA dot
Cons
The Aimpoint doesn't miss a feature.  The clear rear flip cap is unique, and the idea of using the scope with both eyes open, even with the front cap in place, is novel.  I don't know how useable the feature is, but it offers a different aiming concept.  Aimpoint builds quality equipment, and if you want the best optic for your M4-style rifle and your budget has some stretch, this might be the optic for you.
The Best Reticle Scope for M4-Style Rifles – Vortex Optics Spitfire
Some shooters prefer a more conventional style reticle.  Red dots are great for close in and medium-range shooting, but an etched reticle is the ticket if you want to go out further.  Vortex builds a scope that is as quick as any red dot scope and can take you out to further distances. 
Most scopes with a traditional style reticle are the length needed to make the whole system work properly.  Vortex has designed the Spitfire scope using prism technology to overcome this length problem.  The Vortex Spitfire scope gives all the performance and features of a more traditional scope in a package, often half the size.
The small size and lightweight make the Vortex Spitfire a great pairing with an M4-style rifle.  The Spitfire scope doesn't lack any of the features offered on other Vortex scopes
Custom BDC bullet drop compensation reticle
Range to 500 yards
Glass etched reticle on the prism for unmatched clarity and ruggedness
Illuminated for best reticle vision or use without illumination
Multi-mount capable
3X magnification
Red or Green Dot options
Eye relief – 2.8 inches
Field of view – 31.5 feet at 100 yards
Adjustment per click – ½ MOA
Maximum windage adjustment – 120 MOA
Maximum elevation adjustment – 120 MOA
Parallax setting – 100 yards
Overall length – 5.5 inches
Weight – 15.4 ounces
Battery – CR 2032
 3,000-hour battery life at the lowest setting
What comes in the box?

0ne Vortex Spitfire Optic
Pros
Crisp images and clear glass
Great CQB scope
The illuminated reticle is great and useable even if the battery dies
Best features and optics for the price
Cons
Heavy
Not compatible with some magnifiers
Not Military grade
If you prefer a reticle over a red dot, the Vortex Spitfire is a perfect optic to add to your M4-style rifle.  IT meets all the requirements and then some.  Small and compact with great optics and a conventional style reticle make a package with a price that almost any shooter can fit into their budget.
The Best Holographic Sight for Your M4-Style Rifle – EOTech HWS EXPS3
The military M4 is meant for close quarters combat.  The short length, lighter weight, and quicker handling allow maneuvering in tight situations such as the interior of houses or other small and tight quarters.   If you anticipate this kind of action with your M4-style rifle, then the other types of scopes and optics may not fit your application.
The EOTech HWS EXPS3 came off the drawing board with these types of situations in mind.  Both eyes open is the method most holographic sight users prefer.  The EOTech holographic sight allows both eyes open shooting while delivering fast and accurate target acquisition.   
The features of the EOTECH ESPS3 certainly attest to its background as a tested and respected combat and military-approved weapons sight.
Length – 3.8 inches
Weight – 11.2 ounces
Water-resistant to 33 feet
Mount – Weaver or Mil-Std 1913 rail
Illumination – 20 daylight settings and ten additional NVG settings
Battery – 1 CR123 battery
Battery life – 1,000 continuous hours at setting 12
Made in the USA
Ten year limited warranty
Three reticle options 1 Dot reticle, two dot reticle, and four dot reticle
Pros
Quick connect lever action for easy assembly and disassembly
Quick target acquisition and co-witness sights
Great battery life and performance
Night vision compatible
Military accepted optic
Cons
Some problems with glare on the lens
Holographic sights are different animals from any other scope or optic.  Some people have trouble adjusting to using a holographic sight.  There is also the cost factor.  EOTech sights are not the least expensive sights on the market.  Technology is expensive and EOTech tends to be technology-driven.
Best Reflex Sight for Your M4-Style Rifle – Vortex Venom
The cheaper alternative to a holographic sight is a reflex sight.  Rather than project a hologram with the aiming point or reticle like a holographic sight, a reflex sight projects the reticle's image onto a glass lens.   Using a reflex sight is like using a holographic sight and offers some of the same benefits at less cost.
Vortex again gets my nod as the best reflex sight for your M4-style rifle.  The Vortex Venom sight is small, lightweight, and tough.  I mount a Vortex Venom on my AR-15 pistol for these very reasons.  My AR-15 pistol rides in my truck behind the seat and takes its fair share of abuse.  The Vortex Venom sight has never let me down.
For close-in shooting in confined spaces, a reflex sight offers the same advantages as a holographic sight.  You get quick target acquisition with both eyes open shooting styles.  Plus, the low profile and small size make operating in tight quarters much easier. 
Overall Length – 1.9 inches
Height – 1.02 inches
Weight – 1.1 ounce
Mount – Weaver or Picatinny
Magnification – 1X
Dot – Red 3 MOA
Eye Relief – unlimited
Adjustment per click – 1 MOA
Maximum elevation adjustment – 130 MOA
Maximum windage adjustment – 100 MOA
Parallax free
Battery life – up to 30,000 hours on the lower settings
Included in the box
Vortex Optics No Questions Asked Warranty
Pros
Lightweight and compact
Sharp, bright red dot
Auto brightness settings for ease of use
Battery changes don't require dismounting the sight
Cons
Not the most rugged sight you can mount on a rifle
If you need to keep your M4-style rifle low profile and sleek and you don't anticipate shooting at extreme ranges, the Vortex Venom red dot may be your answer.  For an M4-style platform or an AR pistol configuration, the Vortex Venom is an ideal choice.
---
To Wrap Things Up
To conclude this look at the best rifle scopes for an M4-style rifle, I have to say that my choice is the Vortex StrikeFire 2.  The StrikeFire 2 offers the flexibility to work in close or to take your rifle out to moderate to long-range with confidence. 
Shooting my .300 Blackout SBR with custom loads, I keep my rifle zeroed at 50 yards and at 100 yards.  The ballistics of the round I shoot passes center target at both distances.  I think you can see the advantages of this kind of scope and bullet performance.
I hope this look at my choices for your M4 rifle's best scopes has helped you better understand the options for mounting an optic on your rifle.  If you have questions, experiences, or suggestions, please use the comments section below.  We love to hear from our readers.  Good shooting and be safe.