Recently, companies have contacted the SurvivalCache team to offer a ton of free survival gear. We thought it would be a good idea to do a roundup post and give our readers the option to take advantage of these free items.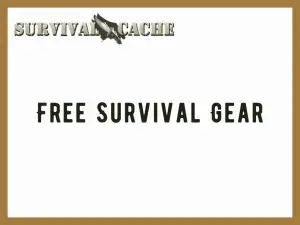 The only catch with these products is that you usually have to pay the cost of shipping and handling. Most companies do this because they hope that you will purchase more survival products or digital services from them that will cover their cost of the item; however, there is no pressure to do so! Enjoy the free survival gear and it to your bug out bag.
Our team has compiled this ultimate list of free survival gear so if you are tight on money but still want to be prepped, you are in luck today. We've ordered the list by category to make it easy to browse.
If you want first-access to this type of gear, make sure to join our list where we send out such deals. Click here to join our gear email list.
Free Survival Gear By Category
Note: List updated on May 18, 2020
Free Grab Bag
Free Survival Fire Starters
Free Tactical Gear
Survival Cards (Pocket)
Free Flashlights
Miscellaneous Survival Gear
Survival Books
We always get contacted by companies to offer free gear and coupons to our avid subscribers. Join below to get access.