As much as I like to be practical with my tactical, there is some room for fun, especially when color options are a required choice. And nothing comes closer to tactical color fun than playing with Magpul's M-LOK Rail Covers.
Magpul M-LOK Rail Covers, type 2 to be specific, are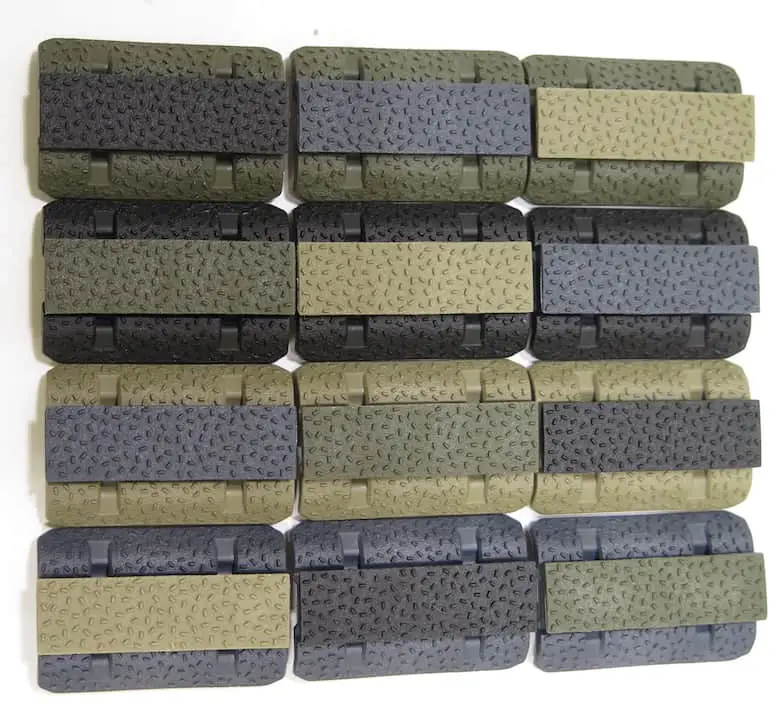 textured polymer squares that snap into M-LOK holes on most aluminium M-LOK handguard rails. There are limitations in that the Magpul M-LOK Rail  Covers do not fit properly with Magpul MOE M-LOK, nor the Magpul SL and No products found.  foregrips. The Magpul M-LOK Rail Covers lock into place with a second rectangular plug that provides a near seamless surface of contoured textured grip surface. And I've found that just a bit of grinding on the center section pillar can make the rail cover fit where a gas block limits the clearance.
The Magpul M-LOK Rail Covers sit barely over 1/8th inch above the rail, and use a snag-free design that covers the rail considerably more than most other options. At about two bucks a rail section, adding some custom color to your AR has never been as affordable or functional.
Technically, Magpul makes five different colors including black, flat dark earth, grey, olive drab green, and pink. Since each piece is actually two pieces, and an average handguard can take five covers in a row, that's five times five times five or 125 different rail combinations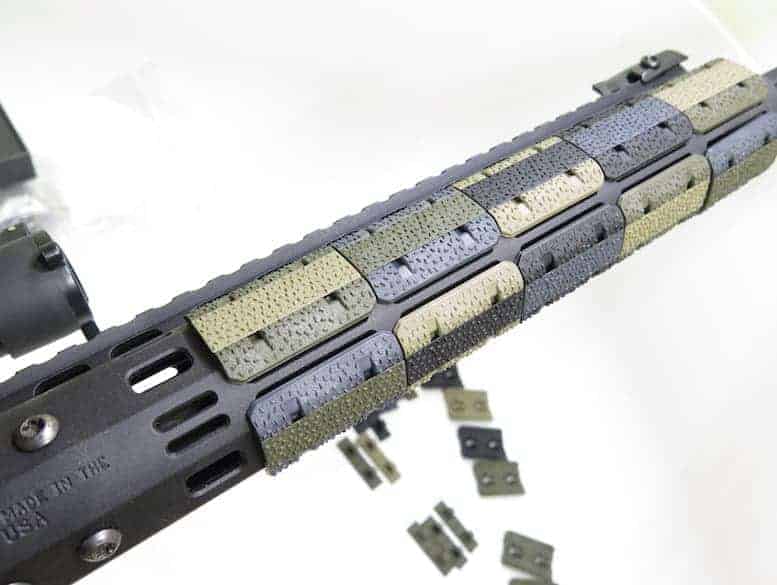 possible. Thus the Lego comparison. For my "needs" i avoided the pink and focused on the remaining four colors which left me four times four times five or 80 different possible combinations. And with three rail sides to cover, that would expand the available rail cover color combinations across my rifle to 240.
Also read: Survival Gear Review: Magpul MBUS Pro Offset Sights
With all those choices, I first needed to add some system to my thinking. By laying out the and inserts, I could organize my choices into comse comparisons. Some additional factors I considered included contrast, other colors already present on the AR, and my love of certain tactical colors.
After a solid half-hour of mixing and matching, I decided on a set of rail cover colors. Moving from the staging area to the rifle, I quickly realized I needed some specialized tools to rapidly remove the rail covers to avoid settling for a color combination out of laziness.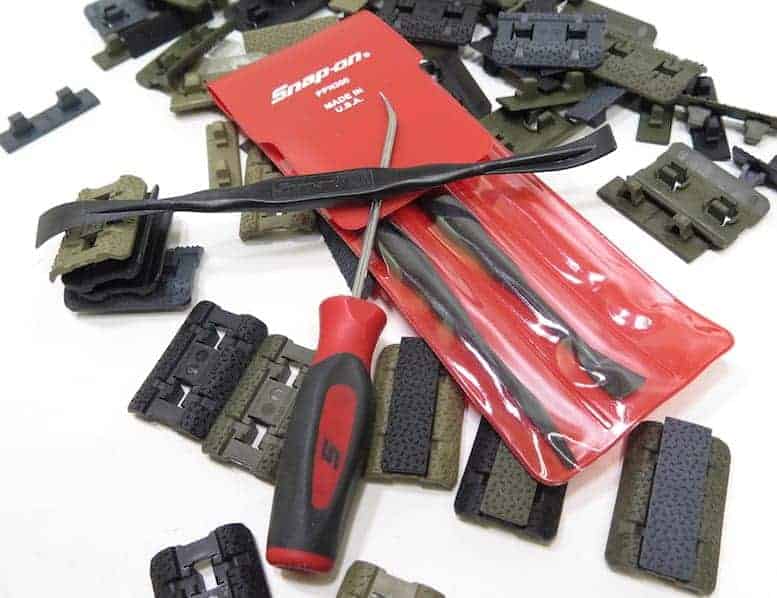 I found that a Snap On angled pick and a Snap On nylon smoothing pry bar worked wonders for rapidly removing the rail covers with no risk of scuffing to cover or handguard. Of course, being Magpul, the design of the M-LOK Rail Covers allows easy adjustment with nothing more than the tip of a 5.56mm bullet. .223 rounds work just as well, but when safely home, the Snap On tools work better, in my humble opinion.
The Magpul M-LOK Rail Covers come in packages of six for a total weight per six of under one ounce. So covering three M-LOK rail sections with five panels each will only add 2.3 ounces to your rifle, yet customize it in a breathtaking way that's sure to both make you smile and make your gun nearly invisible through custom camouflage. Nearly.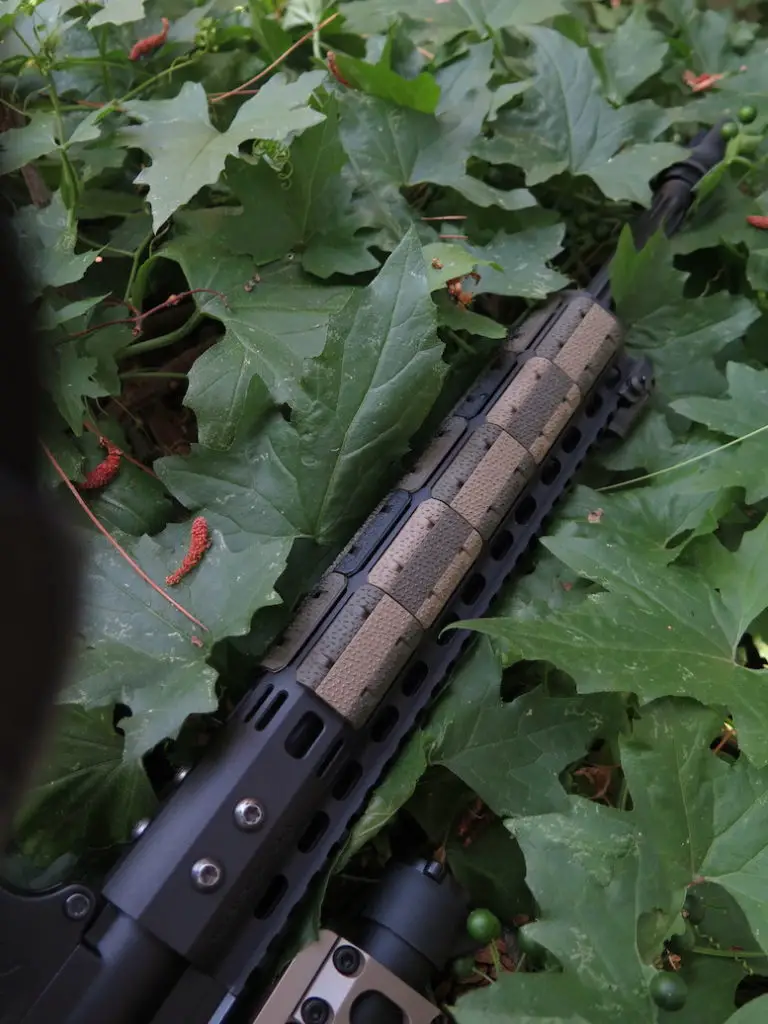 I mixed and matched variations and thought about the pros and cons of that particular color scheme. After an hour of trial and error, mostly trial, I settled on a couple designs. From there I took the combination into the wild to see how it fared. Frankly, it seems like pretty much any combination of the Magpul's M-LOK Rail Covers is a win-win.
Like Legos, it's fun to play around with different color combinations, and Magpul, whether intended or not, provided an effective rail cover solution that goes so far beyond traditional rail covers that you might just rethink your handguard in order to use the Magpul M-LOK Rail Covers.
All photos by the author