If only the speed and dexterity of camera tripods could extend to rifle stability. Ahh, but there is a saddle-like apparatus that snipers have been using for years. But the three drawbacks of the saddles include price (good ones exceed $300), weight (good ones hover round one pound), and the saddles completely consume the tripod head thus preventing it from quick use with other attachments including spotting scopes , cameras, rangefinders, and the like. Enter the Magpul Magpul M-LOK Tripod Adaptor, a tremendous solution that solved all three problems in one ounce-and-a-half $50 plate that seamlessly integrates the rifle into a stable support platform that is common across photography, and it follows the massive number of photo-oriented stability options.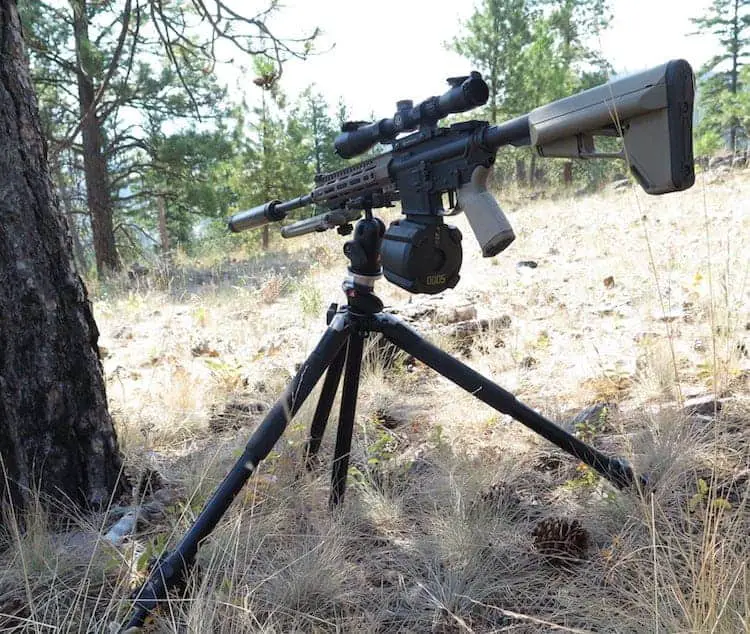 Stable shooting platforms are not rare. From sticks and sandbags, to fence posts and pickup truck hoods, standard rifles smoothly slide around providing the shooter an optimum position. Then came the popular bench rests like the Caldwell Lead Sled . Now I love my Lead Sled for traditional rifle stocks, but the AR15 with its plethora of handguard configurations and accessories, tactical stocks, and especially the magwell filled with a stick up to a foot long. Further the stock-to-handguard alignment of an AR platform rifle tends to make it sit quite high in traditional rests. But what if you could just snap your AR into a tripod with the ease and security of a DSLR with large telephoto lens? Obviously you can since that is the point of this article. Enter the Magpul M-LOK Tripod Adaptor.
 Also Read: Back to Basics – The KISS AR-15
Bolting onto the underbelly of your handguard, the Magpul M-LOK Tripod Adaptor is barely apparent until it's needed. In fact it makes are reasonable good handhold upgrade although not as efficient as Magpul's own AFG.
The CNC machined aluminium plate is designed to integrate with the popular Manfrotto RC2 and Q2 interfaces. The small footprint of the plate provides ample strength to the system. With the average balance point of a typical AR15 somewhere around the magwell, the Magpul M-LOK Tripod Adaptor, mounted just forward of the magwell, safely and secures an AR platform rifle up to 10 pounds, in my estimation anyway. And that's based on a quality tripod with an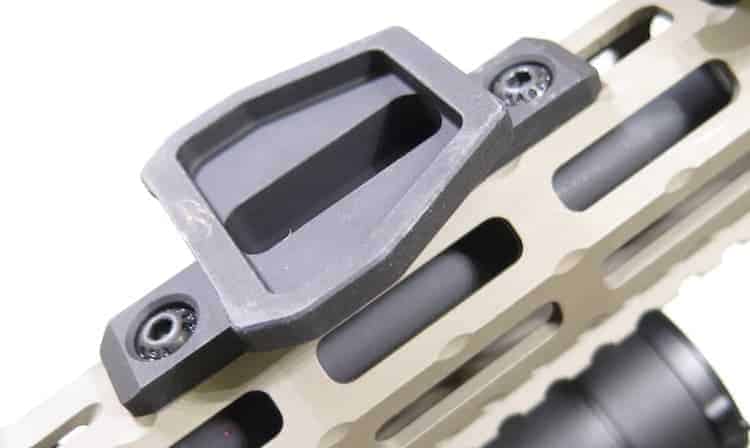 equally quality tripod head.
And speaking of tripod heads, a popular choice for the Magpul M-LOK Tripod Adaptor is a ball head tripod head , in specific one of Manfrotto's heavy duty choices. A quality ball head allows both freedom of movement and adjustable drag giving a fluid (but not literally fluid as with fluid-head video tripod heads) motion.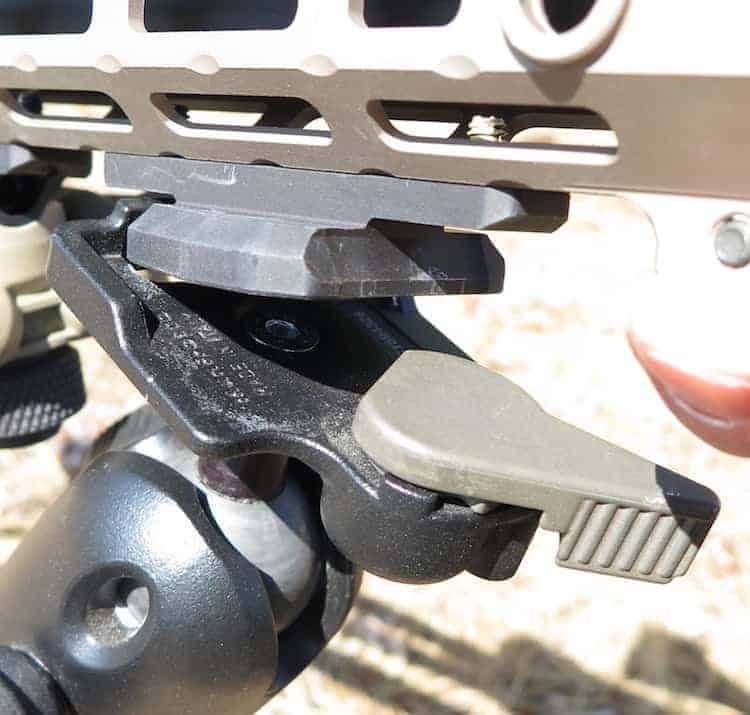 One of the amazing aspects of using a Magpul M-LOK Tripod Adaptor and tripod support is the extreme diversity of shooting positions, heights, and angles. Basically, any direction a camera on a tripod can point at, an AR15 can as well.
Depending on the particular tripod, from ground level to seven feet plus is possible, and pretty much any angle that allows the rifle to remain balance is possible as well. Many quality (and I mean quality) tripods have legs that can extend far beyond the usual 66 degrees or so. And speaking of tripod legs, I fully recommend metal or carbon fiber over anything plastic. And of the metal, I suggest round aluminium over rectangular or channeled aluminium. Of course you can use whatever you like, but it will be a rude awakening when you start popping off shots only to have your lightweight tripod collapse, twist or bend.
Related: Survival Cache Podcast: The AR-15 Part 1
For those with more extensive needs, Magpul makes solutions for a popular railed tripod mount that not only mates with more advanced tripod heads, but slides back and forth for additional balance preferences. Magpul's Dovetail Adapter chassis rail for RSS and ARCA tripod head interfaces is the next step for those with greater stability needs. If the future for rifle tripod adapters looks bright, Magpul just makes it blindingly bright.