Scout scopes and scout rifles continue to grow in popularity.  As much as we like the AR platform, in many ways, the scout rifle concept is a much better choice for an all-around multi-use rifle.  The combination of a proper rifle and scope is a struggle for many shooters.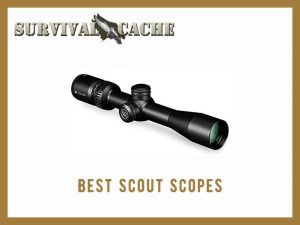 Unfortunately, many of us don't have the option to take any rifle scope we want to test to the field.  We must be happy with a quick view through the scope in a store and then hope that when mounted on our rifle, it works for at least part of what we need.
Gathering as much information as possible is one way to help make sure that we get what we want in a scout scope.  Hopefully, this article will give you insight into what is available on the market and what features may be important to you.
What is a Scout Rifle?
The scout rifle concept came from the brain of Col. Jeff Cooper.   Cooper, a recognized shooting expert, envisioned a weapons system that would fulfill several needs.   The rifle should be short enough and light enough to carry long distances.  This rifle should also be suitable for combat situations requiring movement and firepower.
From a survival standpoint, the rifle had to serve equally as a hunting firearm and a defensive firearm.  The outgrowth of this vision is what we now know as the Scout Rifle.  Several different companies build scout rifle models. The most popular caliber for scout rifle platforms is the .308 caliber (NATO 7.62 x 51). 
An Optic to Match the Rifle
Once these rifles became mainstream, shooters began to look for optics to match the capabilities of these scout rifles.  At the time, scopes with the range and magnification capabilities were long, heavy, and delicate.  Optics manufacturers soon recognized a new market.  The result was scopes that more closely matched the capabilities of the scout rifles and the needs of scout rifle shooters.
Typically, scout scopes are shorter than their long-range counterparts.  These scout scopes allow shooters to acquire targets quickly and to maintain peripheral vision.  The eye relief on these scopes is usually longer than traditional long-range scopes.  In keeping with Cooper's philosophy, scout rifle scopes are lower-profile and lighter than traditional long-range scopes.
Before we jump into individual product reviews, here are our top 3 picks:
---
The Best Scout Rifle Scopes – What is Available?
So, what does the optics industry have to offer someone shopping for a scout scope?  We looked at the most popular scout scopes on the market and found what we think are the best choices. There are hundreds of rifle scopes on the market that may fill your needs.  These are our picks for the best scout rifle scopes.
Vortex Optics are some of the most popular rifle and pistol optics available in the market.  Vortex optics has not overlooked the scout rifle scope.  The wide line-up of Vortex rifle optics has many scopes that fit the bill for a scout rifle scope.  In the middle of the range is the Vortex Optics Crossfire II 2- 7x 32 rifle scope.
Comparing the features offered on the Crossfire II against our features to look for, it is quickly apparent that the Vortex Optics CrossfireII scope is a near-perfect fit.
Magnification – 2-7x32X
Objective Lens Diameter – 32mm
Eye Relief – 9.45 inches
Field of View – 42 – 12.6 feet at 100 yards
Tube size – 1 inch
Capped turrets
Adjustment per click – ¼ MOA
Maximum elevation adjustment – 60 MOA
Maximum windage adjustment – 60 MOA
Parallax setting – 100 yards
Length 11.52 inches
Weight 14.3 ounces
O-ring sealed construction and nitrogen filled for fog proof operation
Anti-reflective lens coatings
Reticle – Second focal plane
Reticle Style – Vortex Optical Dead-Hold BDS9MOA) reticle
Warranty – Vortex Lifetime Warranty
Pros
The eye relief is generous and should be listed at 8 to 12 inches for most shooters
Consistent to well above 600 yards.  That's the longest range I must test on
Excellent fit and finish.  Just what I expect from Vortex
Best scout rifle optics I have found for the price.
Cons
The flip-up covers that come with the scope are junk.  Buy some good aftermarket lens caps
Further reading:
We did a more detailed deep-dive into the Vortex Crossfire here.
If Jeff Cooper had designed a scope, it could very well have been the Burris Scout Riflescope 2-7x32mm.  This cope meets the requirements that Col Cooper put forth when he envisioned the scout rifle.  The Burris Scout scope is simple, sleek, and almost elegant in its design.  Incorporate that with the Burris reputation for high-quality optics and the result is almost a work of art.
Running down the features of the Burris Scout Rifle scopes leaves no misunderstanding about the quality of Burris Optics.
Magnification – 2-7 zoom
Turret style – capped
Objective lens diameter – 39mm
Tube size – 1 inch
Field of View – 23 – 8 feet at 100 yards
Eye relief – 9.2 – 12 inches
Click Adjustment – ¼ inch at 100 yards
Maximum elevation adjustment – 66 inches at 100 yards
Maximum windage adjustment – 66 inches at 100 yards
Length – 9.7 inches
Weight – 13.0 ounces
Reticle Type – Burris Ballistic-Plex reticle
Finger adjustable low profile turrets
Multi-coated lenses
Double internal spring-tension system maintains zero despite shock and vibration
Waterproof
Nitrogen-filled body
Burris Forever Warranty
Pros
Consistent and repeatable performance. 
Mounts low on the rifle
The generous eye relief makes this scope comfortable and easy to shoot with my scout rifle
Fast and accurate.  It's almost like it isn't there when you look at the target
Cons
If you don't use the right rings, you can never get the scope to Zero
There are arguments for mounting a fixed power scope to your scout rifle.  They are simpler and less likely to sustain damage than telescopic sights that have internal mechanisms.  If you follow the Cooper admonitions to keep things simple with a scout rifle, then a fixed magnification scope makes sense.
The Leupold FX-II Scout Scope fills this niche perfectly.  Elegant and sleek, the Leupold FX-II is a smooth and low profile design that keeps the outside of the scope body free of snags.  The turrets are low yet amazingly easy to operate if necessary.
No one argues Leupolds quality.   Looking at the features of the Leupold FX-II optic attests to what shooters have become accustomed to expecting from Leupold scopes.
Eye Relief – 9.3 inches
Weigh – 7.50 ounces
Field of View at 100 yards – 22 feet
Overall Length – 10.10 inches
Objective lends diameter – 1.10 inches
Maximum elevation adjustments – 110 MOA
Maximum windage adjustment – 110 MOA
Windage and Elevation Adjustments – ¼ MOA per click
Waterproof and Fog proof
Twilight Management System for extra light gathering for longer shooting times
Glare reduction coatings on all lenses
Pros
Works great on lever action guns as well as scout style rifles
Tough as nails and holds up to the largest caliber of rifle
Clear glass and elegant design
The eye relief is perfect for my scout rifle
Cons
No diopter adjustment, so I must wear my glasses to shoot
There is something to be said for illuminated reticle rifles.  The older I get, the more I appreciate the benefits of having the red or green illumination on the reticle in a rifle scope.  Many shooters always find an illuminated reticle a benefit.  Despite the need for battery changes, illuminated reticle scout scopes do have a place with some shooters.
If you prefer an illuminated reticle, the choice in our book is the UTG 2-7×44 30mm Scout Scope.  I will say that this scope is not the lightest optic on our list.  The electronics and a battery are behind some of this weight gain, but overall, this scope is just beefy.  The UTG scope has the strength and durability to take punishment.
Feature-wise, UTG doesn't skimp.  The UTG Scout Scope has all the features you would expect from the finest optics makers.
Magnification – 2 – 7X
Tube Size – 30mm
Objective lens diameter – 44mm
Field of View at 100 yards – 32 feet to 10 feet
Eye Relief – 9.5 to 11 inches
Adjustment per click – ¼' at 100 yards
Overall length – 292mm
Weight – 25.4 ounces
Parallax setting – 10 yards – infinity
Battery – CR2032
UTG True Strength Platform
Nitrogen filled and sealed
Shockproof
Waterproof
Fogproof
EX-TAP illumination controls
Red or Green reticle colors
36 multi-color mode operation
Zero-locking turrets
6 MIL-DOT etched Tactical Range Estimating Reticle
Side Wheel parallax adjustment
Integrated sunshade
Includes rings and lens caps
Pros
This is a complete kit.  It comes with rings, lens covers, tools, and extra batteries!
Solid and well built.  Obviously designed for being out in the bush
Much better glass than I anticipated based on the cost of the scope
The illuminated reticle is perfect for low light situations.  Enough adjustments to keep it at just the right intensity
Cons
This scope is heavy and very busy on top of my rifle.
5. Ultimate Scout Rifle Scope –
No products found.
No products found.
If you are looking for the best possible scout rifle scope and your budget is not a consideration, then you want to include as many features as possible in a platform that has a reputation for quality and durability.  The same sorts of qualifications are important if you anticipate carrying your scout rifle into combat situations.  If your life is dependent on the optic, you want something proven.
Trijicon has that kind of reputation.  Trijicon scopes have been going into hostile environments for years and have proven themselves over and over.  The Trijicon TR24 1-4×24 Dual Illuminated Riflescope is not different.  Add Trijicon's background and reputation to a riflescope that works well on any scout rifle and you have a winning combination.
Length – 10.3 inches
Width – 2 inches
Height   2 inches
Weight – 14.4 ounces
Magnification – 1-4X
Objective Lens – 24mm
Tube Size – 30mm
Reticle Color – Black with Amber Triangle
Illumination source – Fiber optics and tritium
Windage and elevation adjustments – 1/4MOA per click
Maximum windage and elevation travel – 90 MOA
Field of View – 94.2 feet at 100 yards
Diopter adjustment of quick focus
Repositionable Magnification Lever
Pros
AN illuminated optic with no batteries solves a whole host of problems
A tough optic that you can trust under any circumstances
Fast to get on target and accurate as well
Easy to zero and holds no matter what the scope goes through
Cons
The eye relief may be a little short, but it works
---
Scout Scopes – The Best Features to Go For
Consider Magnification – Magnification in a scope mounted on any large-caliber rifle is a consideration.  The .308 caliber that is so popular for scout rifles can be considered a 1,000-yard rifle in the hands of some shooters.   A scope that can handle those ranges needs to match the abilities of the shooter.  For the most part, I suggest a variable magnification of 2 – 7X.
Eye Relief – Traditional long-range scopes have eye-relief in the range of 3.5 to 4 inches.  These scopes usually mount over the receiver of the rifle.  Scout scopes are usually mounted ahead of the receiver.  This forward mounting demands eye relief in the range of 7 to 9 inches.
Weight – Remember that the scout rifle concept incorporates movement.  The rifle is easy to transport and quick to use.  You would not want to burden your scout rifle with a scope that inhibits its transportability and its lightweight. 
Size – Scout rifle scopes should fit the rifle to which they are mounted.  Scout rifles are, by nature, shorter, lighter, and more maneuverable than their standard rifle counterparts.  The scope that you put on a scout rifle should match those requirements.  Scout scopes are smaller, more compact, and have a lower profile than standard long-range scopes.
Reticle – Reticles are a much more personal choice.  You may be an MOA reticle type, or a simple crosshair may be more your style.  There are also the issues of first focal plane and lighting on reticles.  You should think carefully about these choices to be sure of the features you want.
---
Scout Rifles and Scopes – How Jeff Cooper Envisioned It
No matter what brand or model of scout rifle you choose, the next most important choice is the optic that goes on top.  Col. Jeff Cooper envisioned a rifle and scope combination that remained true to his vision.   Compact, powerful, and dependable were the watchwords.
My choice scope for mounting on a scout rifle would have to be the Vortex Crossfire.
In my opinion, it offers the best combination of price and features of any on my list.  You must understand that choosing a scope is a very personal decision.  The scope must fit you as well as the rifle fits.  Keep that in mind with my recommendations.
I hope this article has given your insight into scout rifle scopes and helps you make the best decision for your situation.  There is no overreaching right choice.  The right choice is a balance of rifle, optic, and shooter. If you found this article helpful or you have comments, please use the sections below to share.  Your knowledge, experiences, and questions help the entire community, and we welcome them.