A shovel by any other name, i.e. entrenching tool, folding shovel, tactical shovel, hiking shovel, camping shovel, trenching tool, e tool, is still a shovel and its primary purpose is for digging. They can be a mighty handy tool to have in your pack or the back of a vehicle. (They are in all my vehicles.) It can aid in building shelter, provide a dry platform for starting a fire, and help you dig your way through sand, dirt, or snow.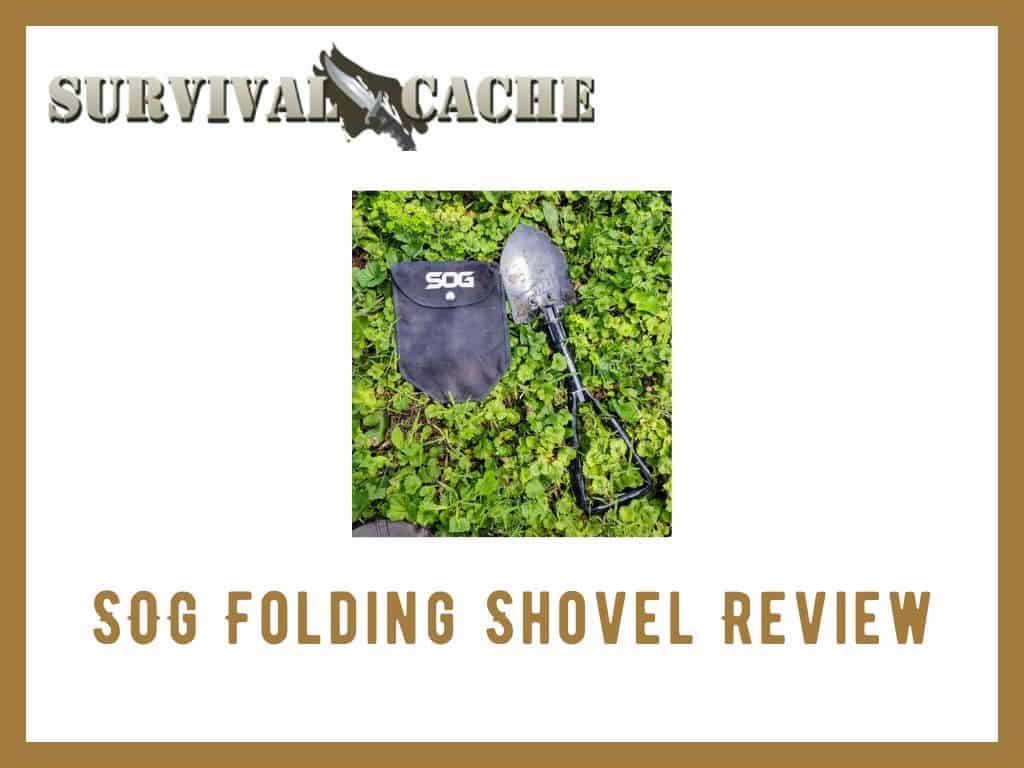 In today's constantly changing environment of survival tools, most survival shovels today pack a lot of extra features into them. Such as a saw, knife, camp ax, and many more tools. These tools can be useful in their own right but they are also on the higher end of the price range. 
For this article, I will be reviewing the SOG Folding Shovel. While this shovel might not have as many of the extra tools as other survival shovels, it is compact, lightweight, and best of all very affordable. With all of that in mind, let's see what this shovel has to offer and how it holds up.  
Last update on 2023-12-01 at 13:02 / Affiliate links / Images from Amazon Product Advertising API
SOG Folding Survival Shovel Review
As usual, I like to start off my reviews with the specifications and features of the product. Below are the specifications taken from the SOG website.
Overall Length
18.25″
Finish
Black powder coat
Country of Origin
China
Edge Type
Straight
Handle Color
Black
Sheath Color
Black
Sheath Attachment Type
Belt loop
Product Weight
24.50 ounces
Blade Steel Type
High carbon steel
Handle Material
High carbon steel
Sheath Included
Yes
Sheath Material
Ballistic nylon
Sheath Closure Type
Hook and loop
Features
Made from tempered steel the shovel head can be used as a shovel or it can rotate down 90 degrees to form a hoe or pick. The side of the shovel head features partial saw teeth for ripping through material or sawing into wood. The foldable handle is constructed from carbon steel.
In The Field 
This particular shovel I have had for several years now and it was one of the first shovels I added to my packs and in my vehicle. 
I like the size and weight of this tool. When I have carried it in my vehicle it is small enough to slide snugly under a seat. The times I have put it inside my pack it is small enough that it does not take up much space. but with the loop on the ballistic sheath, it can be easily attached to the outside of most packs or even be carried on a belt.
The Shovel
After removing the shovel from the pouch, the handle and the shovel head easily unfold. Between the shovel head and the handle is a plastic collar that when turned, tightens down the handle and the shovelhead into the desired position.  
There is no grip to speak of on the handle, it is very smooth and becomes slick when wet. But due to the triangular shape, the handle is comfortable to use and easy to hold onto
Because this shovel is so short, I must bend over very low or rest on my knees to use it. I have primarily used this shovel to dig in soft and semisoft soil and sand, and as a snow shovel. The only hard material I used it against was to break through a few inches of surface ice on a pond, which it had no problem with. 
Fire
When it comes to campfires I have used this shovel for a few tasks. If it was hard to find a dry spot, I used the shovel head as a base for getting a fire going. The shovel also makes it easy to scoop up a pile of hot embers when I need to transfer fire from one spot to another. 
The Hoe
By loosening the collar hardware, the shovelhead can be rotated ninety degrees downward to form a hoe. This tool helps to quickly push or pull loose material. When a hole starts to get deep, the hoe will make it easier to pull soil out and when need be, fill the hole back in
There have been a few occasions where I have used the hoe to assist ascending or descending steep terrain. I have used it to grab a small tree that was out of reach or to dig into the ground to keep myself from slipping. Please note that this is NOT a recommended use for the SOG Shovel and it not meant to be a climbing aid.
The Pick
Opposite the shovel head is a pick tool that comes in handy for punching holes in materials and chipping away at harder surfaces. Something to note about the pick is that it does not resemble a traditional pick. It is not rounded, solid, nor does the end come to a sharp point. The end is rather blunt and the body of the pick is what I would call fluted. An open channel runs down the middle of it. 
I have never used the pick on rocks specifically but I have grazed many of them while digging through soil. Like the shovel, the hardest material I have used the pick on was to break up surface ice on a pond. Through using the pick on some of those harder materials, it has not shown any outward damage. 
The Saw Teeth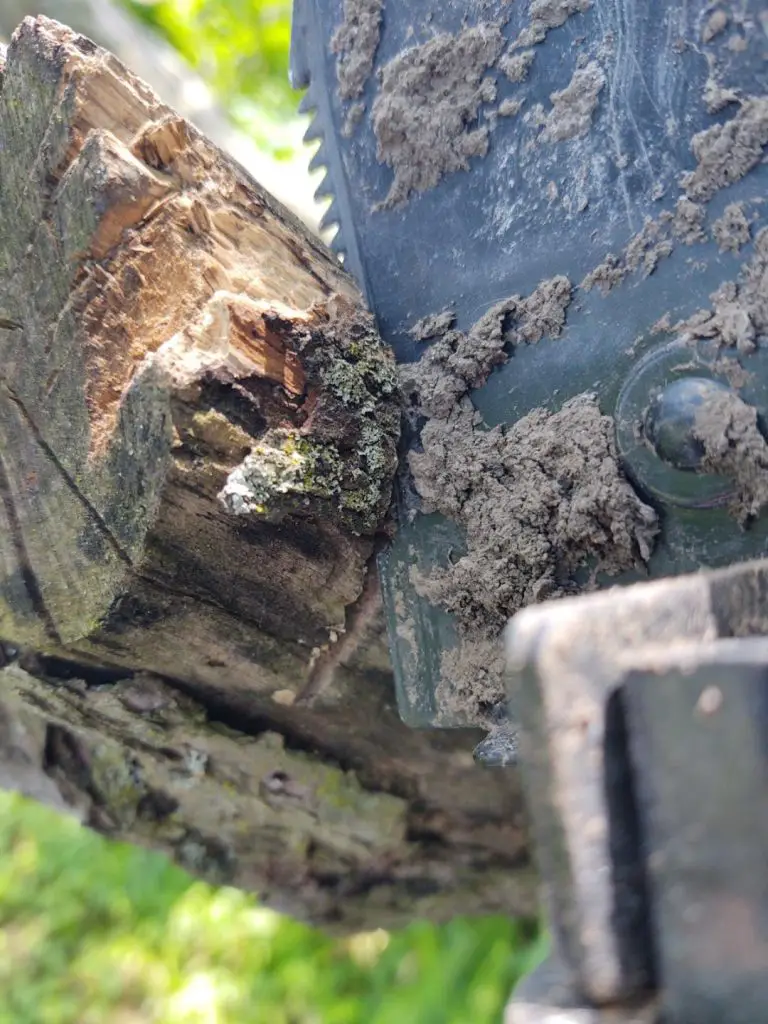 You might think that the saw teeth could be used for processing wood, and you wouldn't be wrong. But the length of the saw is just several inches long, which makes the cut stroke very short. This limits the size of wood that can be cut and it is a bit tiresome to use. The teeth work decent on dry wood but they tend to bind up when cutting through green material. 
Given how lightweight the shovel is and how the folded down pick can be used as a thicker handle, the grip is quite comfortable when using the saw. 
The saw does work well for scraping against the wood to make wood shavings and tinder. Another use for them is ripping through softer natural materials such as sod, roots, and green vegetation.
Size
If you look at SOG's website, I think that it's kind of funny that they say this entrenching tool takes up the same space as a stack of paper plates when it is folded, and by looking at the picture above you can tell that this entrenching tool is quite small.
My Shovel's Pictures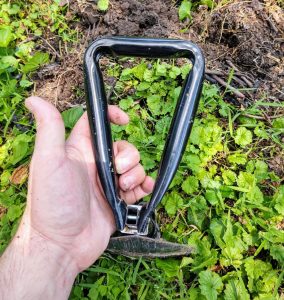 ---
My Pros and Cons
Pros
Lightweight weighs 24.5 ounces
Compact, folds down to 10 inches 
Comfortable triangle handle 
Sawteeth can be used on wood in a pinch
Affordable
Cons
Plastic locking hardware between the shovel and handle
Smaller than a typical entrenching tool
The short handle can take more effort to use 
After a few years of use, it has started to show rust in spots.
FAQs
Can the entrenching tool be used as a weapon?
Anything can be used as a weapon and in the past, an entrenching tool has been used as such.
Is the entrenching tool good for chopping?
I didn't do any chopping with this shovel but I have heard accounts of people sharpening the sides of folding shovel heads so that they are more effective at slashing through underbrush.
Is this entrenching tool good for camping?
Because it is so small when folded, durable, and versatile, putting this entrenching tool with your camping supplies is a good idea
Does the SOG Entrenching Tool come in other colors?
No, it only comes in black.
Does this shovel make a good snow shovel?
As an everyday snow shovel, I would not want to use this. It is quite short which means you will have to get down on the ground and shovel close to you. Also, the blade is not very wide, but it does work in a pinch.
---
Verdict
If you are looking for a shovel to add to your vehicle kit or pack but are unsure where to start, I would recommend this shovel. As far as entrenching tools go it is certainly on the small side. But that is also what I like about it. It is so compact that sometimes I forget I have it in my bag. Its small size notwithstanding, it moves materials like it is supposed to and the price really cannot be beaten. I would give this tool 5 stars.
Last update on 2023-12-01 at 13:02 / Affiliate links / Images from Amazon Product Advertising API