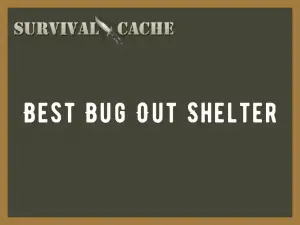 Yea! Another backpack post.  Well, I wish I could apologize, but I love this stuff.  If your packs are like mine, they are constantly evolving and being scrutinized.
My G.H.B. that has been in service for about a year, is about to be pushed aside for a bigger and more adaptable unit that can be pushed into the I.N.C.H. bag ("I'm Never Coming Home") realm.  I am going to try and keep the weight the same, but it needs to be able to carry a better bug out shelter and a sleep system when needed or wanted.  Which brings us to our discussion.
Best Bug Out Shelter: Types and Top Picks
Lightweight vs. Comfort
"Travel light, freeze at night".  I first heard this particular phrase from John Mosby.  Don't know who started it, but it is based in truth.  Shelter, clothing, and your sleep system make up the bulk of your weight and space capacity.  So it makes sense to really analyze your gear and be honest as to your needs.
Are you going to be out for 1 or 10 days or open ended?  What is the weather like in your area?  Everyone's situation is different, so there is no silver bullet and everyone has a different tolerance to discomfort.  So when choosing a shelter remember to consider what you are wearing and what kind of sleep system you carry, they all combine to keep you cozy.
Tents
Tents are comfy, but can be heavy and bulky, especially if it is for 3 people. There are some great offerings in the lightweight realm, they can be costly and sometimes on the fragile side.
I would consider a tent weighing 5lbs or less to be your goal.  Anything heavier and I would hope it is for a large group and you can share the pain.  Consider teepee style floorless units.  Easy to set up, lighter, more space, and you can wear your muddy boots in there and cook too.
I have a Black Diamond Mega Light Tent that I love.  It weighs about 3 lbs, 8' square. 6' interior height , and not too brightly colored.  It is a lot of tent for the weight and sheds wind, rain and snow easily.  In some buggy climates most people can't fathom not having a screened-in tent.  I get it.  Keep this idea in mind though, if you are enclosed in a typical tent, you can't see out and in a bug-out scenario that is a security risk. 
If you are traveling with others it is less risky, since there should be a lookout/sentry/patrol aspect and you should be sleeping in shifts.  If you are alone…
Last update on 2023-12-04 at 02:23 / Affiliate links / Images from Amazon Product Advertising API
Also Read: Jarhead's Bug Out Bag
If you must have a tent, I think it breaks down into 2 main categories, freestanding and not.  Most freestanding tents are 2, 3 or 4 pole in design with corresponding increases in weight and strength.
They are great in the respect that you can unstack them, move them to a better spot, and hold them up in the air and shake out the dirt.  Non-freestanding units tend to be lighter and are usually designed around 2 poles, one at each end of the tent, forming a hooped front entry style (except for those teepee styled ones).
They must be staked out, unlike the freestanding units.  Tents may be the standard in recreational endeavors, but in a true survival situation they may be a boat anchor or death trap. Did I mention that most tents are made of materials that flame up or melt around a fire.  One last positive thing about tents, in really cold windy weather, a good tent can be worth its weight in gold.
Tarps
Tarps come in every conceivable size, color, and material.  The ability to set them up in gobs of configurations makes them the winner in weight and concealment.  They can block rain, snow, sun and wind.
I have recently acquired an addiction to military poncho shelters called Zeltbahn's.  Oh man can you lose yourself in this rabbit hole.  Most are canvas which weighs more per square yard, but are far more durable than nylon or rubberized old school military units, which I do happen to really like.
I have Russian and Polish versions that are virtually identical.  Recently Sportsmansguide had the Russians ones for $13.50 each, they are currently out of them but keep your eyes open, they are a steal. My collection also includes Hungarian ponchos with a cool camo pattern and a couple of East German or Czech, the jury is still out, in a rain camo.  The rain camo items are rectangular vs. the pie slice shape of most Zeltbahn's.  The advantage of these military poncho/tarps is that they are canvas and are very tough.  That alone should make them worth a look.
Also Read: 4 Types of Base Camps
I set one of the Rooskie units up and left it set up outside for a month.  It has been rainy, windy, with days of hot dry weather, so it experienced all but snow.  After an exceptionally hard rain, the underside was dry, no seeping or weeping.  This has made it to my very short list of TEOTWAWKI shelters. In the multi-use category, poncho/tarps are right up there with your fixed blade.
Back to tarps,  nothing beats a silnylon tarp for pack weight reduction.  There are lots of cottage industry American made units out there and that is a great thing.  They are pretty strong for their weight, but the downsides are major for extended survival scenarios.  If they rip, don't bother with duct tape, silnylon requires a special repair tape.  Sewing up a tether point is less than ideal also due to the nature of the material.  In reality few materials are easy to repair long term except for, wait for it, canvas.
I include US military style poncho's in this category.  They are excellent options for your pack.  Few items have the multi-use capabilities of this popular item.  The ripstop ones are excellent due to their lighter weight than older models.  Now before anyone starts typing up their blood pressure, those older issue rubberized ponchos are great, but they weigh over twice as much.  If you go the poncho option make sure it has strong grommets on the corners and midline for a better shelter.  If it makes any difference, a poncho is my shelter of choice for my lighter GHB.
Sale
Last update on 2023-12-04 at 02:23 / Affiliate links / Images from Amazon Product Advertising API
Hammocks
I really like the hammock option.  Get off the ground in wet and buggy places.  Lightweight, comfortable, and multi-use.  There's that word again.  Mesh style units can be used to fish with and tarp style ones can gather water or other foods or act as an over head tarp.  Paired with a tarp, you have a versatile shelter.  There are many different styles of hammocks out there.
The latest incarnation is a clone of older jungle hammocks.  Screened sleeping area with a roof made with modern lightweight materials.  The only downsides that I can think of is you need 2 strong points to tie to and in cold to mild temps the air moving under you can make for a chilly night.
Last update on 2023-12-04 at 02:23 / Affiliate links / Images from Amazon Product Advertising API
Bushcraft
Don't forget learning to make shelter out of available natural materials. I will not go into building of shelters, because that is another post entirely.  Remember that building takes time, calories and knowledge, so that is why we buy stuff.
Bug Out Shelter in My Bag
My survival packs have ponchos, U.S. military.  I love the Zeltbahn's and would not hesitate to replace my current poncho for one of them.  Right now tents are for camping, even though I have many great light sturdy options, I can't get past the 'can't see out' thing.  You can remove the rainfly on good weather days and see through the mesh, so maybe I'm being a snob.
The next thing to creep into my pack is a hammock.  The tents that are staged to go first are Black Diamond Mega and my prized Woodland camo Bibler 2 man.  Todd Bibler made a few of these to try and get a military contract, that fell through, at least that is the rumor, but I met a former employee and bought his, score!  Sorry had to brag about that one, I have yet to see another one.
Here is a list of recommended products:
SHELTER
DETAILS

It weighs about 3 lbs, 8' square, 6' interior height, and not too brightly colored

A roomy 57 inches of useable height

Providing 81 square feet of covered floor space

Check Price on

Amazon.com

Material: 210T high density Rip-Stop Polyester with polyurethane coated fabric

Includes waist drawstring which offers an extra 16 inches of adjustability

3000mm water resistance

Check Price on

Amazon.com

400-pound capacity

210T nylon fabric

Lifetime warranty

Check Price on

Amazon.com
Also Read: 3 Things All Bug Out Bags Need
Wrap Up
When choosing your bug out shelter for that pack that just might be your 'home' for a while, make an informed decision.  Be honest with yourself about the weight you can carry, day in, day out.  Can your choice hold up to less than optimal conditions?  Can you repair it on the trail?  Is it multi-functional?  There is no silver bullet to answer this question.  Every situation is different, every person has different perceptions of need, that can really affect their attitude in a stressful situation.  Current times can be scary if you are paying attention.  Being prepared can reduce that scary feeling.  Get your kit squared away then help a friend get their pack ready.