As a bushcrafter, you probably already understand the importance of a proper backpack. When you intend to carry everything you need to survive in the bush for a week, a month, or even longer, you depend on your bushcraft backpack to carry that gear and keep it organized. 
If you aren't familiar with bushcrafting, you are probably wondering what is bushcrafting.  Many people confuse bushcrafting with the popular sports of hiking and backpacking.  There are some subtle differences, and I hope to explain these differences clearly.  I want to give you an understanding of these differences to make the importance of selecting the best bushcraft backpack clearer.
My understanding of the terms bushcrafting, hiking, and backpacking may not fit everyone's definition, but, based on my experience, I think each of these terms identifies a slightly different concept and mindset of those who participate in these outdoor activities.
Before diving deep, if you are in a hurry, here are my top picks for a backpack:
Our Favorite Bag

10.6 gal/40L storage capacity. Weighs 2.4 lbs.

10 seperate waterproof compartments

View Latest Price
Everday Tactical Backpack

Lightweight and durable

15 seperate waterproof compartments

View Latest Price
I will be reviewing the top backpacks that I have used and recommend. Check it out:
---
Best Bushcraft Backpack: My Recommendations
These are my picks for bushcraft backpacks that I would recommend to anyone, novice or seasoned, who want to purchase a bushcraft backpack. 
1. Best Bushcraft Backpack – EVATAC Combat Bag Review
A compromise between cost, quality, usability, and looks, leads us to the EVATAC Combat Bag. A versatile bag that can hold all your gear for a bug-out situation, or even for everyday carry for your go-bag.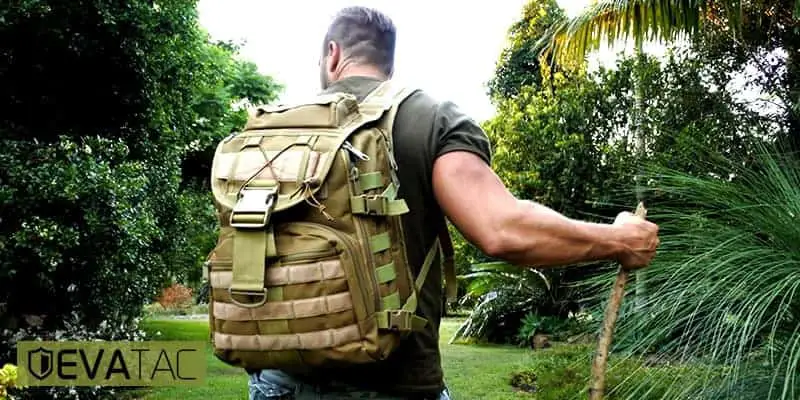 The bag is made out of 600D polyester, which is an extremely durable and tough material. In short, it won't rip on you! It is really easy to adjust the straps on the go and has a locking mechanism around your chest for extra security. The bag has 10 waterproof compartments (10 is typically a lot for any backpack so this is a huge plus!).
It also comes equipped with MOLLE storage, which was developed by the U.S. military so that they can strap on more equipment around the bag for more carry. The bag comes in a khaki military color and weighs on 2.4 pounds. This is the IDEAL backpack you should have in your arsenal.
Hands-On Pictures
Here are pictures of Bryan Lynch's (team member) EVATAC bag:
Hands-on Video
Check out the hands-on video by Bryan Lynch, part of the SurvivalCache team:
Pros:
Lightweight and durable
Size: 19 inches by 12.5 inches by 8.5 inches
The capacity of 10.6 gallons (or in other words, 40 liters)
Has 10 compartments including laptop/tablet holder (or can be used for critical documents)
SurvivalCache.com Exclusive Discount: EVATAC has provided our visitors with a special offer. For a limited time, these are on a liquidation sale! EVATAC ordered way too many and they want to sell them quickly. Get the discount by going here, or clicking below as well.
Our Favorite Bag

10.6 gal/40L storage capacity. Weighs 2.4 lbs.

10 seperate waterproof compartments

View Latest Price
A more detailed review by our team member, Bryan Lynch, can be found here.
Eberlestock is a premier maker of backpacks and bags.  Their innovative designs and industry-leading research and development have brought some of the best backpacks available to the market place.  The quality and attention to detail that goes into these backpacks is nothing less than amazing. 
The Eberlestock V90 Battleship doesn't miss many of the checkboxes on my list of looked for features
Robust and Durable
Lightweight for its size
Huge 6050 cubic inches (100L) of storage space
Adjustable internal frame
Fold-out attached rain cover
PALS webbing for attaching external pouches
Wide heavily padded waistbelt
Side hydration pockets allow carrying two water bladders
You have to practice restraint when you are loading this backpack.  The huge 100L interior compartment and the PALS attachment systems will tempt you to load everything you have and maybe go buy more.  You can easily overload this pack to your own detriment.
There is also the issue of price.  The Eberlestock V90 Battleship backpack is the most expensive bushcraft backpack on my list.  That is why it is my Ultimate Pick for a Bushcraft backpack.  When I decide to replace my current bushcraft backpack, the Eberlestock is at the top of my wish list.
Pros
Fully adjustable internal frame
The comfortable harness makes adjusting the load for your body easy.
Massive cargo capacity
Tough and dependable construction and materials
Cons
Eberlestock Battleship Pack Dry Earth
Includes full rain cover, which stows in a pocket on the bottom of the pack.
Compatible with either WXP3L or WX2L hydration bladders (carry up to two bladders, one on each side...
Last update on 2023-09-25 at 21:12 / Affiliate links / Images from Amazon Product Advertising API
You can find quality and dependability in a bushcraft backpack at an affordable price.  Teton Sports builds a complete line of outdoor soft gear that is very popular among backpackers, bushcrafters, and campers.  From a bushcrafters point of view, the Teton Sports Explorer 4000 is a top-quality backpack that can fulfill all your bushcraft needs at an affordable price.
The list of features reinforces my opinion that the Teton Sports Explorer 4000 is the best budget bushcraft backpack available.  Evidently, so do a lot of other people.  This backpack is a #1 seller on Amazon. 
Internal Frame
3400cubic inch (65L) capacity
Multi-position torso adjustment on the internal frame makes it easy to size this backpack to almost anyone.
Padded waist belt
Extra compression straps for carrying a tent or sleeping bag
Weather guard zippers
Separate sleeping bag compartment
Hydration ready
Includes a rainfly
The size of the Teton Sports Explorer 4000 backpack makes it ideal for smaller-framed individuals or even older children.  The size is still a generous 65L and can carry a lot of gear, especially with the extra compression straps.
The durability of the materials might be an issue here.  If you use the Teton Sports Explorer 4000 hard and take it into extremely rough conditions, it may show the wear and tear more rapidly than some other bushcraft backpacks.  However, it will get the job done without major failures.
Pros
Easily adjustable to fit almost any body size
Comfortable to carry even with a full load
Rides well when adjusted properly and doesn't cause excess fatigue
Great price for the features and quality
Cons
Probably not the best pick for extreme conditions or hard use
Last update on 2023-09-25 at 21:12 / Affiliate links / Images from Amazon Product Advertising API
ALPS is a great company and, more importantly, all of their gear is made in the United States.  This Utah based organization builds products for every facet of the outdoor sporting community.  If you want tough, dependable gear, ALPS should be on your shopping list.
The ALPS Outdoors Commander Bushcraft Backpack is a winner in my book.  It not only has the features that I look for, but it does it with style.  This is, in my opinion, one of the best looking bushcraft backpacks available.  It is sleek and clean.  That translates to fewer things to snag when traversing brushy country.
1680D ballistic nylon construction
External frame design adds versatility
Designed for hunters with special pockets for spotting scopes and a weapon carry system
Removable front pocket
Extra-large lower door with a #10 zipper
Internal horizontal divider
4000 cubic inches (66L)
Total weight with frame – 9lbs. 10 oz.
One feature I really like about this external frame pack is the easy means of removing the pack from the frame.  This allows you to use the frame alone to transport firewood, harvested game, or anything else that you need to move in and out of camp easily. 
This is not a budget backpack.  It is not as expensive as the Eberlestock.  However, for the features and the versatility of this backpack, it certainly deserves its place on my list of the best bushcraft backpacks as the best overall.
Pros
High quality made in the USA backpack
Great carrying capacity
Detachable external frame for more versatility
Sleek, clean design
Cons
ALPS OutdoorZ Extreme Commander X + Pack
Made of 1680D nylon ballistic and robic nylon fabrics for maximum, unmatched strength; Dual aluminum...
Removable waist belt includes pockets, anti-sway straps, and accommodates clip-style holsters; Rifle...
Last update on 2023-09-25 at 21:12 / Affiliate links / Images from Amazon Product Advertising API
I am a bit nostalgic about my next pick.  The ALICE system was the US military issue load-bearing system for many years.  It served our personal military well.  I used an ALICE pack for many years as my personal bushcraft pack.  The whole ALICE system (All-purpose Lightweight Individual Carrying Equipment) was a modular system that had many components that could be combined to create a custom system.
Technically, the ALICE field back without the external frame and some additional components is more of a rucksack than a true backpack.  However, it provides a great carrying capacity with the tough durability required for any equipment that goes into combat.
Heavy-duty mil-spec construction
3200 cubic inch (54L)
Additional Outside pockets for more carry capacity
Adjustable straps
For weekend trips where the distances traveled are minimal, the ALICE field pack is a great choice.  The ALICE system is no longer issue equipment for the US military.  The ALICE system continues to be popular with many outdoor enthusiasts and is readily available.  Some manufacturers continue to produce these rucksacks for the civilian market.
All of the other components, including the external frames, are found through many online retailers.  Many sellers of the ALICE gear offer kit bundles that include the frame, additional attachment equipment, and a padded waist belt. 
Pros
One of the most versatile load-bearing system available
Top-quality construction and materials
Can carry an amazing
amount of gear
Cheap!
Cons
Beware of companies online selling cheap knock-offs that don't have the mil-spec quality.
Last update on 2023-09-25 at 21:12 / Affiliate links / Images from Amazon Product Advertising API
Back to the US Military. Another bushcraft backpack that I own is the Marine Cop ILBE Main Rucksack Backpack.  This gear was the successor to the ALICE gear and many of these backpacks remain in service today.  Like the ALICE equipment, the ILBE is a modular system that can be combined in many different ways depending on the mission.
In addition to the EVATAC, I also carry an ILBE that I purchased used in 2010.  I have carried it many times and it continues to perform just as I expect.  This is tough gear and has taken some punishment over the years that have carried it.  The military specifications more than meet my expectations for a bushcraft backpack.
75L main compartment
PALS attachment system on the exterior for more carrying ability
725D Cordura material
Hydration system compatible
Internal frame
Fully adjustable harness
Wide padded waist belt
The modular design adds versatility
The ILBE system is so popular with civilian outdoor enthusiasts that several companies are now manufacturing new ILBE system to the same military specifications as the original.  These new systems are relatively expensive.  My suggestion is to try and find a good used ILBE main rucksack.  You have to be careful when buying used online, but it can be well worth the effort.
My main problem over the years has been a propensity to overload my OLBE system.  The system was designed to be able to carry 120 lbs of gear.   This is far more than I am able to carry comfortably, so I always have to lighten my loadout.  If you need a huge pack with a large capacity, the ILBE is your system.
Here are pictures of my personal IBLE backpack:
Pros
Tough and durable
Maximum loadout capabilities
Comfortable when properly loaded and adjusted
As good as any bushcraft backpack on the market
Cons
New systems can be expensive
Be wary if you are buying used or surplus equipment.
Last update on 2023-09-25 at 21:22 / Affiliate links / Images from Amazon Product Advertising API
---
Bushcrafting vs Hiking vs Backpacking
Each of these involves being in the outdoors, going places, and seeing new things.  That is the great part about all of them.  I have enjoyed all of these activities, but, in the end, bushcrafting is my favorite for several reasons.  First, I want to explain the differences I see in each of these.
Hiking
More people hike than you might realize.  Walking is a popular exercise and thousands of people participate in some form or fashion every day.  The Oxford dictionary defines hiking as:
The activity of going for long walks, especially in the country or woods.

Oxford Dictionary
By this definition, hiking is relatively short term, usually doesn't involve overnight, and probably doesn't require you to carry more than the minimal amount of gear in a small day pack.  If you stretch the definition, all those people walking around the inside of the local shopping mall early each morning with their waist packs are hikers.
Backpacking
Backpackers are an intrepid lot.   Most of the devoted backpackers I know have a philosophy about backpacking that is more geared toward the actually moving about the countryside than anything else.  Backpackers, by and large, are more interested in getting from point A to point B.  The Cambridge Dictionary offers this definition.
The activity of walking from place to place in wildplaces, carrying the things you need in a backpack and camping at night.

Cambridge Dictionary
This is the distinction I see.  Backpackers are more about the going, the moving from place to place.  This explains their interest in lightweight gear, quick and easy setup and tear down, and the mentality of moving from place to place on an almost daily basis when backpacking.
Bushcrafting
Bushcrafters have a slightly different set of goals than backpackers.  They share the concepts of carrying everything you need and walking to a destination.  It is there that, I believe, the similarities end.  Bushcrafters have a journey in mind and are seeking a destination.  My own definition of bushcrafting is,
Being in the wilderness and practicing that arts and skills of survival with the materials that nature provides and the tools that you have at hand.

Dennis H.
Bushcrafters are not about the movement or the destination.  They are about the experience.  The trek into the woods with your bushcraft backpack may not be more than one hundred yards from where you leave your vehicle, or it may involve a two day walk deep into pristine wilderness.  It is the mindset that is the difference.
---
What I Look for in a Bushcraft Backpack
My checklist of what I look for in selecting a bushcraft backpack is short, but you need to understand the reasoning behind some of my checkpoints.
Durability
I tend to want to go places that are what would be termed "off the beaten track."  I want to go where there is a possibility that no one else has ever been much less camped and explored.  This means traversing some rough, often densely overgrown terrain.  Moving through these kinds of obstacles can expose my bushcraft backpack to all sorts of abuse.  I want my bushcraft backpack to be able to resist these obstacles.
Fit
Bushcrafting is not as much about the journey as it is about the destination.  However, you still have to get where you are going, and you want the time you are moving to be as comfortable as possible.  Your bushcraft backpack must fit correctly and have the right adjustments to allow you to place the load correctly.
Weight
While weight is always a factor when you are purchasing any kind of load-bearing equipment,  I am always willing to make a trade-off in the weight of my bushcraft backpack for more durability and stability.  The few ounces more that a bushcraft backpack may cost is little to give up if it means that backpack won't fail at a crucial time.
Size
This is the Goldilocks conundrum.  Not too big, not too little, just right.  Those are the by-words for me.  A bushcraft backpack that is too small keeps you from taking what may be a piece of critical gear.  Too large a bushcraft backpack and you may find that you want to take so much that you can't lift it much less carry it for any distance.  That just-right bushcraft backpack lets you take what you need, comfortably, and self-limits your loadout to keep it manageable.
Cost
I include cost because, for most of us, it is a factor that must be considered.  I can tell you based on my experience when I owned a sporting goods store that you can spend as much money as you want on a backpack.  The goal is to find all the features you want at a price that fits your budget.
---
Take it to the Woods
Those are my picks for the best bushcraft backpacks and a look at what I carry myself. I hope that this article has given you some insight into bushcrafting, how to select a good bushcraft backpack and a little glimpse into my own thinking and choices about equipment.
If you have comments, experiences or suggestions, please share them in the comments below.  We love to hear from you.  I am constantly learning and adding to my knowledge and experience, so please, share.
Our Favorite Bag

10.6 gal/40L storage capacity. Weighs 2.4 lbs.

10 seperate waterproof compartments

View Latest Price