Without water us humans will expire in about three days, but even with fresh clear water close at hand it is the unseen creepy crawlies that lurk within that we need to be concerned about. A good water filter is an essential component to our survival preps and when we are on the move it is imperative that our filter be simple, lightweight, and effective. My search for a wilderness survival water filter ended with the purchase of the Sawyer Mini Water Filter, and after several years I am still very pleased with my decision.
It is true that boiling water is the only sure fire way to kill every living microorganism in contaminated water but as we all know it is not always practicable or possible to boil. Which is where a good survival filter comes in. In North America the primary concern is bacteria and protozoa with viruses being rarely found in our water sources. If the filter is to be used for overseas travel, where viral contamination is probable, then the Sawyer Mini would not be my choice, instead a filter that also removes viruses would be most appropriate.
Sale
Last update on 2023-09-25 at 12:12 / Affiliate links / Images from Amazon Product Advertising API
Sawyer Mini Water Filter Review
This little filter could not be more foolproof. There is a giant white arrow indicating the direction of water flow from the end the water pouch screws onto (the dirty end) and the end that the straw attaches to (the clean end). There is also a cap on the clean end to keep any contaminants out.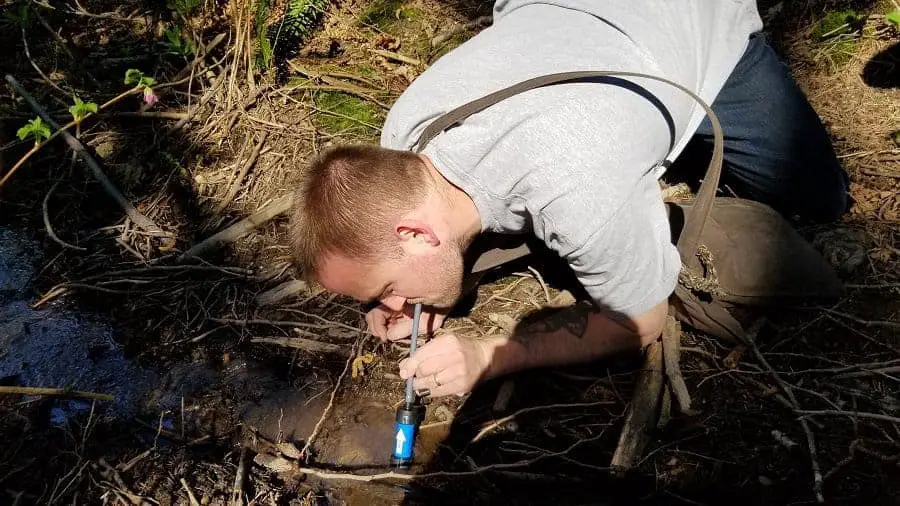 When you purchase this filter you get the filter itself, a 16 ounce water pouch, straw, and a back flushing syringe. I have never felt a need to carry the syringe with me into the woods instead just back flushing and sanitizing between outings.
How it works
The Sawyer Mini is a hollow fibre filter. What this means is that the water passes through a series of hollow fibre tubes with pores no larger than 0.1 microns in diameter. While the molecules of water can easily pass through these pores, anything over 0.1 microns in size will be denied entry. This means that this little filter will remove 99.9999% of all bacteria, protozoa and 100% of micro plastics.
The Sawyer Mini can clean up to 100,000 Gallons of water and can be cleaned and sanitized repeatedly using the included back flushing syringe. The ability to flush and clean the filter means that in theory the filter could be used for an indefinite amount of time. Back flushing the filter also restores the flow rate that can be diminished by bacteria and debris clogging the pores.
Well Thought Out Versatility
The filter comes with a collapsible water pouch that screws onto the 'dirty' end of the filter. You can either drink straight from the 'clean' end of the filter or squeeze water from the bag through the filter an into a clean water vessel. The filter also comes with a straw in case you wish to drink directly from a water source, simply attach the straw to the clean end submerge the dirty end of the filter into the water source and suck clean filtered water through the straw. There is also the added feature that this filter can be screwed onto most standard water or soda bottles that have a standard 28mm thread. With an added accessory (sold separately) the Sawyer Mini can be used inline with most hydration bladders.
Lightweight in a Tiny Package
The Mini is a lot of filtration in a 2 ounce package. The filter itself is about 5 1/2" long and about 1 1/2" in diameter, wrapped up with the collapsible pouch with the straw the whole package measures in at about 6" long and about 2 1/2" in diameter. This is a filter system that I guarantee you will not even notice you are carrying.
What it Removes
The Sawyer Mini removes 99.9999% of all bacteria (Salmonella, Cholera, and E.coli), 99.9999% of all protozoa (Giardia and Cryptosporidium) and all micro plastics. It does not remove viruses, chemicals, or heavy metals.
---
Pros and Cons of Sawyer Mini Water Filter
Pros
Lightweight
Packs down small
Filters 99.9999% of bacteria and protozoa
Can screw on to standard water bottles
Can be used inline with hydration bladders (with accessory sold separately)
Can be used to drink straight from water source
Back flushing extends filter life span to almost indefinite
Cons
Does not filter viruses, heavy metals, or chemicals
If the filter freezes the expansion of the water inside the hollow fibres may cause a rupture
Included water bag is difficult to fill unless completely submerged
Flow rate is pretty slow
What do customers Say?
Of the over ten thousand reviews on Amazon the customer sentiment is mostly positive with the majority of the complaints being a result of the filter's slow flow rate and some minor quality control issues such as faulty o-rings or water bags. For the vast majority of customers reviews I've read it seems most people are quite happy with their purchase.
Sale
Last update on 2023-09-25 at 12:12 / Affiliate links / Images from Amazon Product Advertising API
Video Review
---
My Experience with the Sawyer Mini Water Filter
I've been using this filter for years but I took it out to a nearby creek to take some pictures. Check them out below:
Sale
Last update on 2023-09-25 at 12:12 / Affiliate links / Images from Amazon Product Advertising API
I really like the simplicity of this filter system as well as the ability to back flush contaminants out of it between trips. Being able to screw a standard water bottle to the filter provides a wider array of options which when it comes to my survival gear is a very significant consideration. I have not tested the inline capability with a hydration bladder as I do not own one but this feature is definitely a bonus.
I always avoid filtering visibly dirty water so I can not comment on the Mini's ability to turn cloudy, turbid or muddy water clear. What I can say is that on the clean end of the filter I've always gotten fresh clear and clean tasting water and after several years I've never gotten ill. One of my gripes is that the included 16 ounce pouch is a little small for my liking and is difficult to completely fill unless it is submerged in water.
When trying to fill water bottles the process can take a long time but for me it is a small sacrifice to avoid Beaver Fever. Another issue I have with this filter is it's inability to survive being frozen. If the filter is wet and freezes the expanding water may rupture the hollow fibres rendering the filter ineffective. To remedy this I simply transport the filter inside my sleeping bag or in a jacket pocket to keep it form being exposed to sub freezing temperatures.
---
FAQs about the Sawyer Mini Water Filter
How is the Filter Used?
To use the filter, fill the provided water pouch with dirty water and screw on the 'dirty' end of the filter. You can now either drink straight through the filter using the straw or squeeze the pouch to push the water through the filter and into a clean water bottle. Alternatively, you can attach the straw to the clean end and submerge the dirty end of the filter into the water source where you can suck the water through the filter directly.
Instead of the water pouch you can also use a standard water bottle to use for the dirty water. One important point of note is that because this filter is so small it can be difficult to avoid cross-contamination between the clean and dirty ends. As long as you make sure to keep any contaminated water clear of the clean end then you should have no problems.
How Long Will The Sawyer Filter Last?
The Sawyer Mini will filter up to 100,000 gallons of water and since it can be backflushed the lifespan of this filter is almost indefinite. Back flushing also will restore the filter's flow rate which will diminish as the pores get clogged with dirt and microorganisms. To backflush the filter use the provided syringe filled with clean filtered water and push it on to the nipple at the 'clean' end of the filter. Push the plunger on the syringe forcefully to push clean water backward through the filter pushing contaminants and debris out.
How Do You Sanitize the Filter?
To sanitize the filter just back flush as normal but follow up with a fragrance free bleach solution of one cap full per quart of clean water. Allow to air dry before using again. It is good practice to sanitize after each trip and before long term storage.
---
Verdict
I carry this filter with me because I love the fact that it is lightweight, tiny, and simple. I've never been concerned with heavy metals, chemicals or viruses in the areas I roam, so this little filter is ideal for me. The risk of freezing is always on my mind which is why I take precautions against it and to date I've never had an issue and have not fallen ill so as far as I can tell my Sawyer Mini is functioning as designed. With all factors being considered my review is that the Sawyer Mini Water Filter is a great choice for a survival water filter for the simple reason that with a little user maintenance the filter will pretty much last forever.
Sale
Last update on 2023-09-25 at 12:12 / Affiliate links / Images from Amazon Product Advertising API