We know what you're thinking.  What a silly question.  Anyway what possible difference does it make in
the long run?   Well, go to your closet right now and ask yourself then, why exactly do you have so many different kinds of shoes and boots?  Ha, caught you.
By Dr. John J. Woods, a contributing author to SHTFBlog & Survival Cache
In this modern age we have people wearing hiking boots that don't hike and athletic shoes when they never get off the couch.  Even tennis players do not wear tennis shoes any more.  Cowboy boots are in vogue worn by folks that wouldn't know a cow from a cow pie.  It's all the nature of fashion these days.  So long as it looks good, what else is there?
Related: Snow Shoes – A Survival Necessity In Deep Snow
Well, how about the concepts of comfort, fit, and function?  Those who work hard and play hard know well enough that footwear has to match the task at hand with fashion aside way down the list if on it at all.  So, what kinds of shoes and boots should preppers be buying and wearing?
Footwear for Soft Prepper Work
How active are you and what prepper tasks do you undertake on a daily basis that might require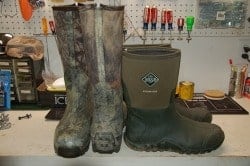 considerable walking, running, hiking, or climbing?  Maybe it is a mix of these prepper job tasks.  If your prepper plans and movements demand a lot of time outside, then you will need sturdy, well made shoes with soles that have soft soil or mud terrain gripping capabilities.  You don't want to be slipping and sliding.
For ankle support, check out high top shoes or low top boots with thick enough sides for support that lace up.  You will want a shoe/boot that can be tightened up around the ankles for full support especially on the ankle bone points.  With laces you can vary the tension as needed.
If you Bug In, then comfortable light shoes or boots will work.  These can be slip on, or even Velcro strap latch which is popular with older folks.  Comfy house shoes are great to shuffle around the house, but at least get the types than can be worn outside if necessary in the grass, dirt, or on wet, snowy days.  Forget cheap fabric construction with light fake material soles.  Keep to leather with non-slip rubberized soles.
Footwear for Hard Prepper Work
If your Bug Out is a camping mode or a remote site on the rough side, then you are going to want heavy
duty boots for most outside activities like perimeter patrolling, hunting, scouting, or defensive actions.  Start by checking out lines of hunting related boots as these can serve well for cutting wood, working gardens, building projects, fencing, and other tough outside jobs.  You'll want lace up, waterproof and insulated versions if the weather is wet and cold.
Also Read: Survival Footwear
Again, strongly consider leather as the base boot material.  Nylon or synthetic uppers can work if weatherproof and thick enough to provide side support.  Look for Vibram lug soles for long lasting wear and a tread pattern to handle mud and rocks.
Other Popular Options
If you find yourself deep in the muck, then you may want to have a couple of pairs of different kinds of slip on high top Muck boots.  These have rubber bottoms and neoprene shaft tops.  They are very comfortable, waterproof, and can be bought with cold weather insulation.
Military boots new or surplus may have application for many prepper activities.  Obviously if they were suitable for combat, they ought to serve in survival mode.  Most of these are mid-top, lace up boots that are lightweight but usually very durable.
Footwear Support Gear
Quality boots and shoes demand proper maintenance like anything else.  Wet or sweat soaked boots need to be slowly dried overnight.  If electricity is available have boot dryers.  If there is no power, then open up the boots to air out and let them dry near moderate heat, not sitting next to the fire.  Have some boot cleaning kits with brushes and leather waxes.  Get several sets of backup laces, too.  And a tube of Shoe Goo for footwear repairs.   Whatever footwear you get for prepper/survival duties, make certain they fit.  If in doubt, go a size up.  Then figure out what socks are best for all day wear in varying environments and work conditions.
Obviously this leaves a wide berth of options, but don't skimp on footwear.  Forget the one dollars shoes, flip flops, open-toed sandals, and slippers.

Visit Sponsors of SurvivalCache.com