If you plan on spending any extended period of time out in the wilderness, whether it be for backpacking, hiking or just a small camping trip, it would always be recommended to arrive equipped with a well-constructed survival axe. Choosing the right kind of survival axe can be the difference between carrying out tasks with ease, or becoming very frustrated along the way. In a pinch, it would also mean the difference between you surviving or not.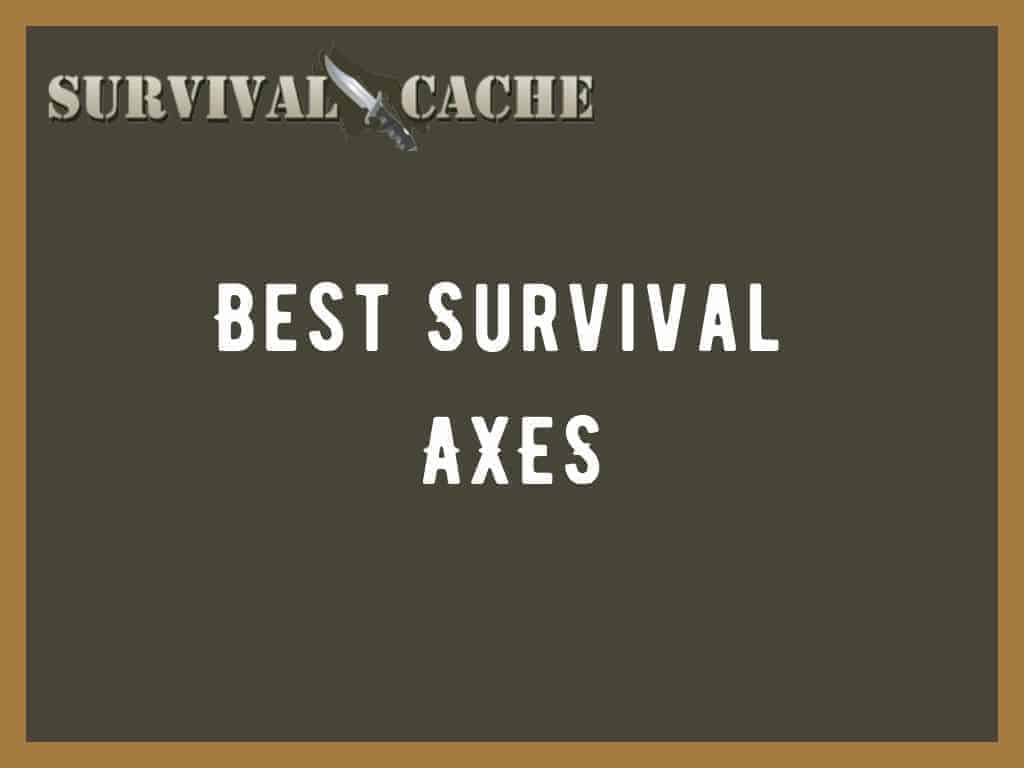 As an avid hiker, I always keep my survival axe hooked up to my hiking backpack. It can bring peace of mind to know that you have a tool on you that can be used as a survival knife, fire starter, weapon, etc. Overall, survival axes are there to provide you with the necessary abilities to survive out in the wilderness.
In this review, we'll be going over the best survival axes available to you today, as well as what features and aspects you should be looking for when purchasing an axe.
Before that, let's look over the top picks at a glance:
AXES
DETAILS

Adjustable length for different purposes / environments.

Built-in tubes to store items and save space.

Comes with extra survival gear.

Check Price on

Amazon.com

Lightweight, making it portable and more versatile out in the wilderness.

Rubberized grip and handle that resists damage.

Excellent power-to-weight ratio.

Check Price on

Amazon.com

High-quality steel construction can last a lifetime with care.

Patented Shock Reduction Grip keeps your hands from becoming too sore.

Lightweight for easy travel and portability.

Check Price on

Amazon.com
---
Best Survival Axes: My Top 5 Picks
To give you an idea of the best survival axes available to you today, i've compiled a list of 5 survival axes that are known to be well-constructed, reliable, and able to get most tasks done. These survival axes may differ in price and style, but regardless still provide customers with a tool that is essential for surviving the outdoors.
In all, the versatility of the IUNIO Camping Axe is what gives it the number one spot on my list. One of the most impressive features of this camping axe is it's adjustable length. Adjusting the length to your axe can be very helpful when working in a small environment, where you still need to be able to swing. This feature is also very useful for making it more compact for travel. At full length, the handle is 16". This survival axe is suitable for many tasks, such as navigating the wilderness, building a shelter, splitting small logs, preparing kindling, breaking windows, etc.
This axe features a hammer pole, which can be very useful for setting up camp at night. Purchasing this survival will also include a carrying bag, a compass, an emergency whistle, and a few other pieces of survival equipment. It is designed with high-carbon steel, along with aluminum alloy, which helps it to withstand unfavorable conditions out in the wilderness.
Pros
Adjustable length for different purposes / environments
Built-in tubes to store items and save space
Comes with extra survival gear
Cons
Head reported to become loose after intense chopping
Sale
Last update on 2023-09-25 at 13:22 / Affiliate links / Images from Amazon Product Advertising API
Fiskars was created in a village called Fiskars in Finland, way back in the mid 1600's. Since then, they've been supplying customers with quality survival axes suitable for various purposes. The Fiskars X7 is one of the lighter survival axes you can find, weighing in at 1 lb 6 oz. The most prominent feature on this survival axe is its FiberComp handle. The FiberComp handle is rubberized, and extends up to over halfway up the handle. This grip is great in both quality and durability, and won't allow your hand to slip off while chopping, even in wet conditions. The handle is hollow, as well, which allows more weight to be distributed to the head of the axe.
The Fiskars X7 axe swings like a baseball bat, thanks to its power-to-weight ratio. This engineered design was made to allow users to feasibly chop small logs and wood, as well as perform other survival tasks. The blades of Fiskar axes are always created with their own proprietary grinding technique that provides better contact and cutting. The blades also feature a low-friction coating.
Here are personal pictures of our team member's Fiskars X7:
Pros
Lightweight, making it portable and more versatile out in the wilderness
Rubberized grip and handle that resists damage
Excellent power-to-weight ratio
Cons
Reports of blade chipping after the first few uses of chopping wood
Edge retention can decrease
Last update on 2023-09-25 at 15:43 / Affiliate links / Images from Amazon Product Advertising API
Check out our more detailed hands-on review of the Fiskars X7.
What mainly separates this survival axe from others is that it is constructed with solid steel, as opposed to carbon and aluminum alloy. The high quality steel gives you enhanced strength, and can last you a lifetime. The Estwing Camper's Axe is hand sharpened and polished, giving it a more personal feel, compared to those that are pumped out in masses. This survival axe comes equipped with Estwing's own patented Shock Reduction Grip. This grip is proven to reduce vibration upon impact by up to about 70%. If your hands aren't hurting, you'll be able to carry out tasks more easily.
Weighing in at only 7 oz, this is one of the lightest survival axes you will find on the market. It's lightweight makes it much more portable and easy to carry around with you. The tasks of chopping wood, cutting firewood and kindling can all be done with this axe. Its lightweight may reduce its ability to cut through very tough bark and objects. If you are looking for more size, this survival axe can also be purchased at a 26" length. Through a drop forging and tempering process, these survival axes are built to be durable throughout time.
Pros
High-quality steel construction can last a lifetime with care
Patented Shock Reduction Grip keeps your hands from becoming too sore
Lightweight for easy travel and portability
Cons
Too light to chop heavy and tough materials
Reports of handle becoming bent
Sale
Last update on 2023-09-25 at 13:22 / Affiliate links / Images from Amazon Product Advertising API
The Schrade SCAXE2 is a little under a foot in length, weighs 1 lb 6 oz. Separating itself from the crowd, this survival axe from Schrade has a titanium coated stainless-steel head. The titanium in conjunction with the stainless-steel gives the head of the axe increased strength and durability. The grip of this axe is very comfortable, and can be used for extensive periods of time. The flexibilizer handle is glass fiber filled, and comes with a TPR rubber grip. Chopping down lots of wood can be performed without worrying about hurting your hands, or having it slip away while chopping.
You can easily carry this survival axe on you while out in the wilderness with the black thermoplastic belt sheath that comes with it. Its size and weight also makes it relatively easy to pack up. The textured hammer pole on the end of the axe can be used for hammering down spikes to pitch your tent, or set up shelter. If needed, you can implement the use of the ferro rod that comes stored inside of the shaft.
Pros
Ferro rod fire starter stored inside the handle can be used in a pinch
Rubber grip gives excellent control on swinging and chopping
Included sheath is made of kydex, and will not rot over time
Cons
Head may chip a bit easily
Report of head coming off after hammer usage
Sale
Last update on 2023-09-25 at 13:22 / Affiliate links / Images from Amazon Product Advertising API
The SOG Tactical Tomahawk brings to you a survival axe that is reliable, durable, and affordable. Constructed with 420 stainless-steel, this axe is built for tough tasks, and can chop through wood and logs with consistent functionality. Measuring in at a bit over 15 inches in total length, this SOG survival axe features a slim build, and keeps most of the weight at the head, which allows for smooth and accurate swings. The handle of this axe is created with more can than most others; it has glass-reinforced nylon which encases a full tang, and is wrapped in paracord meant to give it even more of an enhanced grip.
The 3" blade comes ultra-sharp, ready to cut through whatever comes its way. Weighing only 19.5 oz, this SOG axe is surprisingly lighter than most other survival axes of its type. The inside of the handle features a built-in ferro rod fire starter, which can be used at the campsite, or in a sticky situation out in the deep woods. The purchase of this survival axe comes with a ballistic nylon sheath that can be looped to your belt or backpack, giving you easy access.
Pros
Lightweight but still effective at chopping hardwood
Built-in ferro rod fire starter
Cons
Handle may become slick in wet conditions
Sale
Last update on 2023-09-25 at 13:22 / Affiliate links / Images from Amazon Product Advertising API
---
Types Of Survival Axes
The terms 'hatchet' and 'tomahawk' are often interchangeably used to describe different types of survival axes. Traditional 'axes' are a bit longer than survival axes, which is a big reason as to why they are called hatchets, instead. Most of these survival axe types can be used for the same purposes, but some are more geared toward certain purposes than others.
Hatchet
General survival axes are most commonly called 'hatchets'. These are typically rather small in size, and can often be looped on a belt or stored on a bag. In a pinch, they are great for self defense, but can also be used for smaller wood chopping jobs, such as kindling and limbing trees.
Check out our detailed buying guide on hatchets.
Splitting Maul
This type of survival axe does exactly what its name says; 'split' wood. A splitting maul acts as a hammer and an axe, and can be used to split logs for your campsite fire. This type of axe is very good at showcasing its wood-splitting function, but may not be as versatile as other hatchets due their difference in size.
Forest Axe
The forest axe is a type of survival axe that tries to combine the best aspects of wood-splitting axes and portability of a hatchet. They are not as big as other splitting / felling axes, but can still chop wood with ease. The importance of a forest axe could truly be felt in a situation where you need both wood-splitting ability, and self defense / basic survival ability.
---
Survival Axe Buyer's Guide: Features and Need To Knows
It's imperative to know what aspects and features of survival axes are most important to you before buying one and setting off into the woods. Varying survival axes can differ in design and functionality, and being unaware of these differences can lead to problems while out in the wilderness. Be sure to look out for these aspects when looking for a survival axe to purchase.
Features To Look For in an Axe
Good Grip
A bad grip on your survival axe may be noticeable right from the get-go, but sometimes, it may take some use out in the field to notice it. Survival axes will get wet at one point or another, whether it be from sweat on your hand, rain, snow, humidity. Despite this, a good grip on a survival axe will not allow your hand to slip off. Wood or rubber handles can often give the best grip.
Sharpness
After extensive use, it's inevitable that the sharpness of your survival axe may decrease, and this can depend on the job it performs. Nonetheless, good survival axe blades will wear out at a lesser rate than lower-quality ones. If your axe is primarily being used to split wood, you'll need to sharpen the blade more often than not.
Size and Weight
In general, the heavier the axe is, the more easily it will be able to cut through wood. But, if the axe you're using is quite heavy, this can tire you out more quickly. As a principle, any axe less than 2 – 2 ½ lbs is considered too light for most serious and heavy-duty job tasks. Lighter hatchets are preferred by most for their portability, but they can leave some to be desired in terms of wood-chopping ability. 
Weight Distribution / Balance
If your survival axe is not balanced properly, then you will likely not be able to perform certain tasks as efficiently. It's very important that the head of the axe is the heaviest; this will give you a better chop and swing. You can determine the balance of a survival axe by picking it up, swinging it around, and seeing how it feels. Even though this is impossible to do while shopping online, you can still find plenty of reviews for popular survival axes all over the internet.
Hammer / Spike Poll
On the opposite end of the blade of the axe, the 'poll' can be found, which can be used as another tool for different purposes. Normally, there are either hammer poles, or spike poles. Hammer poles are used in replacement for a hammer; with it, you can set the spikes for your tent, set up camp, etc. With the spike pole, you can use it for digging, and even self defense in a sticky situation. Spike polls are a bit more dangerous to carry around, given the spike end. Knowing which type of poll is more suitable for you is a very important aspect.
Things To Consider in an Axe
Your Budget
The good news is that survival axes, even some of the ones from more renowned brands, can be pretty cost-effective. Typically, survival axes can cost anywhere from around $25 – $70 and up. Of course, the more features a axe has, and the better quality it is, the more it will end up costing. Knowing what features and aspects are most important to you can help you to find a survival axe within your price range.
Your Needs
If you just happen to be going out to an established campsite just for the next night or two to hangout and relax, then perhaps you don't need to be equipped with the best survival axe available. On the other hand, if you are going out bushwacking, it's imperative that you have a versatile and portable survival axe to assist you out in the wilderness.
---
FAQs about Survival Axes
What's The Difference Between Hatchets and Axes?
The sizes of axes and hatchets are the main difference between them, even though they can almost be indistinguishable in some cases. Whereas hatchets can be around 12" in length, axes can reach up to 22" and beyond in length. An axe will typically be heavier than a hatchet, and will be more suited to chop down wood and trees. A hatchet will be more feasible to transport and carry around while out in the wilderness.
Check out our reviews of the best survival hatchets to get a better sense of product offerings and which one is ideal for your needs.
What Are The Most Important Features of an Axe?
Many survival axes out there will be efficient at performing the same jobs. Regardless, some may be of better quality than others and can help you get things done more easily. When looking for an axe, always look out for the grip on the handle, the weight distribution, the construction of the blade, and which type of pole it has on the end.
Which Type Of Axe Is Best For Me?
Knowing what you plan on doing with a given axe will help you figure out which is best. If you only plan to be at an established campsite for a bit, then perhaps you'd be okay with a slightly larger axe meant for chopping wood. If you plan to set out in the woods for a backpacking/bushwacking trip, it would be wise to equip yourself with a portable and reliable smaller survival axe/hatchet, which can be used for multiple tasks.
---
Verdict
Now that you're aware of the best survival axes available to you, you should have no problem in picking out the one that's right for you as soon as possible. Overall, the IUNIO Camping Axe has my number one pick for it's unmatched versatility, but all of the other candidates are very suitable for performing as an effective survival tool.
Always be aware of your needs before selecting a survival axe. As soon as you get yours, get out there and try it out!