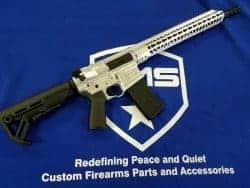 Just the idea of having a custom rifle built to your own specifications is enticing.  In fact, having anything created on our own behalf for personal use is rather satisfying.  For the prepper looking for something a little more special than a stock weapon, a firearm from a custom machine and gun manufacturing build shop is the way to go. Sure you can pull completely utilitarian products right off the shelf and in most cases they perform well.  Sometimes not.  
By Dr. John J. Woods, a contributing author to SHTFBlog & Survival Cache
Ever bought a new pair of tactical pants or a jacket at the store or mail order, then after a few times of wearing it, the garment just does not feel exactly right?  Back in the closet it goes. Maybe later, you'll sell it at a garage sale.  In fact, how many pieces of gear do you have collecting dust right now that just did not work out as expected?
The Custom Concept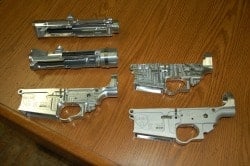 Ever attended a really big knife show?  Looking at all the blades hand shaped and hewn by small shop custom steel smiths is exhilarating.  Then examine those individualized handle panels of exotic woods, or high strength synthetics, all shapes, all colors, palm swells, fits and finishes.  Owning a new custom made knife is special.  Using them is even more special.  
Read Also: The SOG Pillar Knife
It is the same with having a custom firearm built to your own specifications.  There is usually a general platform, design, configurations, and materials, but many of the final details are left to the customer.  Options are the element of customizing the firearm to the customer.  That is the purpose after all of having a custom made gun.  It is tailored to just you and virtually nobody else.  
BMS's Custom Manufactured Rifles
Bryant's Machine Shop in Jackson, Mississippi creates specialized rifles from solid billets of aluminum or other materials.   This is not a factory assembly line rifle by any means of the imagination.  It is not a back room sweat shop either where assorted export parts are assembled in dim light to produce a finished rifle.  Quite the contrary as a matter of fact. BMS's equipment is the best state-of-the-art CNC machines available on the market today.  They design and manufacture a lot of custom parts and pieces for a lot of different industries and purposes all in house.  For our interest, they also manufacture some of the finest AR platform rifles made as well as other rifles, rimfires, and now suppressors.  
They offer the complete package for sport shooting, hunting, and defensive work.  All of these purposes should appeal to preppers and survivalists of all survival core values.  
BMS has been manufacturing custom AR-15 type rifles for several years and can offer an amazing array of customer specific demands for that one-of-a-kind special rifle.  They can also custom build a more standard rifle built in the precision care mode for an exceptional firearm.  
BMS AR-15s can be customized with any number of features including different barrel types, styles, and lengths, various types of forearms, flattop rail configurations, pistol grips and stocks, and other hardware accessories.  Custom colors and coating finishes are also a trademark of BMS.  I suspect if you can think of it, they can figure out a way to do it.  
Related: How to Pick the Best Personal Protection Firearm
BMS can even supply optical options from conventional optical scopes, red dots, electronic sights as well as night vision and thermal units for night hunting operations.  You just have to contact BMS to explore all the varieties of customizations they can do with an AR rifle.  
BMS's New Build
For survivalists wanting to add a substantial increase in firepower to their prepping arsenal, BMS is now building AR-10 units chambered for the .308 Winchester or the 7.62 NATO.  The .308 of course amps up considerably more terminal ballistics on target, thus allowing shooters to reach out to touch longer range targets with greater target impact.  Bryant's new AR-10 is configured from 7075 billet aluminum for both the upper and lower units.  
The set up includes a 556 barrel, a Velocity 3 pound trigger, a Strike Industries stock, Magpul pistol grip, and an extended charging handle for easier reach and operation.  The slim line type handguard can be offered with either M-Lok or KeyMod accessories attachment modes.  
If the idea of having a custom AR-15 or AR-10 built for you sounds intriguing, then contact BMS for details.  Pricing depends on which rifle is ordered and the features specified.  All you need on your end is a licensed FFL for the local transfer shipment.
Save
Save
Save
Save
Get Exclusive Survival Articles!
Subscribe and get survival prep, gear reviews, and guides sent to your inbox.
Thank you for subscribing.
Something went wrong.