Water is essential for life, which is why we should all have a water filter on hand. When it comes to getting water on the move there are multiple options available to us. While boiling is still the gold standard for rendering water safe to drink it is, however, not always practical. What we need is a filter that is simple, lightweight, and foolproof. On the surface the LifeStraw seems to fit that description nicely.
Having personally carried around a LifeStraw in my haversack kit for years I can say that it fits a pretty specific role in my survival preps. This is a role that will become pretty clear as you read through this LifeStraw water filter review.
Last update on 2023-09-24 at 03:23 / Affiliate links / Images from Amazon Product Advertising API
LifeStraw Personal Water Filter Review
The LifeStraw is about as easy as it gets for water filtration. Simply stick the wide end into the water source and suck clean fresh water through the other end. The LifeStraw is shipped sealed in a bag to keep it safe and sanitary which is good for keeping as a part of a longer-term stockpile. It also has a lanyard included in case you want to wear it around your neck.
Appearance
The LifeStraw is a 9 inch long tube with a wide end (the dirty end) and the opposite end having a small orifice in which to drink from. Both ends have included caps which are attached to the straw in order to avoid having them lost. Visual instructions are printed on the side of the straw as a reminder to prime the LifeStraw before use.
How Does LifeStraw Work
LifeStraw uses a hollow fibre membrane to filter the contaminates from the water source. Dirty water is sucked up through the pores in the hollow fibres, and since the pores are 0.02 microns in diameter nothing larger can make it through. The clean water ends up on one side of the membrane with the dirty water trapped on the other.
What it Removes
LifeStraw's 0.02 micron pores are able to filter out 99.9999% of bacteria and 99.9% of protozoa as well as 99% of micro plastics. It will however, not filter chemicals, heavy metals, or viruses. The filter will clean about 1000 gallons of water depending on how dirty the water is.
Simple
Aside from needing to remember to prime the filter, this is such a simple filter system that it would be ideal to give to a child as a part of an emergency kit. It also allows for a youngster to get water from any source without having to collect it in a container or have to operate a pump or squeeze style system. With one or two practice runs any child would have the operation of the LifeStraw down pat and if a child can do it then any adult should have no problem.
---
LifeStraw Water Filter Pros and Cons
Pros
Lightweight and small 9″ x 1″ and only 2 ounces
0.02 micron filtered
Filters 99.9999% of bacteria and 99.9% of protozoa.
Filters 99% of microplastics
Good for 1000 gallons
No expiration date
Cons
Filter must be primed before use
Can not filter into a container
Does not filter viruses, heavy metals, or chemicals
What Customers Have to Say
Most customers who have purchased a LifeStraw seem generally happy with their choice. The main complaints appear to be that the filter clogs or that the flow rate is too low. It seems that most of the complaints may be due to user error or failure to understand what this filter was intended for.
Several negative reviews seems to indicate that after testing the LifeStraw at home before heading out into the bush the filter failed to operate in the field. I have not had this issue personally and I would suggest that as long as the filter is properly backflushed and dried it should operate as designed.
Last update on 2023-09-24 at 03:23 / Affiliate links / Images from Amazon Product Advertising API
---
Personal Experience with the LifeStraw Water Filter
My LifeStraw lives in my haversack kit and its only job is to be a last-ditch emergency backup. I've fortunately only used it a few times and never in a true 'survival' situation and found it to be easy to use and seemed to work quite well. I noticed a plastic taste in the water which I found to be unpleasant but it disappeared after a few uses. The flow rate always seemed to be more than sufficient to get my fill of water while on the move.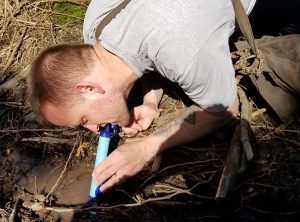 One issue I have with straw filters like this is that it is almost impossible to accurately gauge how much water I've been drinking. Not a big deal I just like to know how many liters of H2O I've got downrange. One workaround I've found is that once a water bottle is empty you can simply fill it with dirty water and drink out of it with the LifeStraw.
As far as cleaning and maintenance I blow air back trough the straw after every use and employ my own technique for clearing the water and gunk out of it. I have found that if you blow air back through the filter and then suck air through the filter followed by blowing air through again. This alternating of sucking and blowing seems to clear out more water and debris than just blowing back through. I also like to give the filter a good shake as well. When back home I make sure to dry the filter out really good before storing in back in my haversack.
Also, make sure to check out Sawyer Mini Water Filter review, as it's a close competitor to the LifeStraw.
---
FAQs About the LifeStraw Filter
How is the LifeStraw Used?
Using the LifeStraw is very simple. First the filter must be 'primed' by uncapping and submerging the bottom end into the water source for at least 20 seconds. After the filter is primed the user will uncap the top end and sip forcefully about 5 times drawing water though the membranes and getting the water flowing. After drinking it is good practice to blow air back through the filter clearing some contaminants and preventing the filter from clogging.
Always cap both ends when not in use to maintain the cleanliness of the LifeStraw.
What is the Shelf Life of a LifeStraw?
The LifeStraw has no expiration date and if cared for and stored either unopened or always dry there is no reason that a LifeStraw would not last a lifetime. It is however only rated to filter about 1000 gallons but this number will be reduced if especially filthy water is being filtered.
LifeStraw is inexpensive enough that it could be considered a disposable item where you have it in your kit unopened and use it when needed and just throw it away after you get home.
How To Clean a LifeStraw?
Aside from back flushing by blowing air back through the filter there is not really any good way to clean the LifeStraw. I always like to shake any water out of the end of the filter after blowing air back through. The best thing to do is to cap both ends when not in use and make absolutely sure that no cross-contamination occurs between the two ends of the straw.
How do you Prime a LifeStraw?
To prime a LifeStraw, remove the cap on the end of the straw that is put into the water source. Allow the end of the straw to sit in the water for a minute. Now, uncap the other end and begin making draws through the mouthpiece. It may take a few attempts before water is pulled through the filter and to the mouthpiece.   
How do you Backflush a LifeStraw?
To back backflush a LifeStraw, simply blow through the mouthpiece several times until most of the water has come out of the filter's end.  
What does a LifeStraw Not Filter?
A LifeStraw's filter is sized at 0.2 microns which will remove almost all bacteria and protozoa. If a contaminate does not fall within those parameters, then it most likely does not filter it out.
Does a LifeStraw Filter Salt Water?
Unfortunately, a LifeStraw will do nothing to prevent salt from passing through the filter.
Can You Drink Sea Water Through a LifeStraw?
The filter in a LifeStraw will not remove salt from water. Therefore, the straw cannot be used to drink seawater.
Can You Drink Toilet Water Through a LifeStraw?
In homes that maintain a cleaning schedule, toilet water is not as dirty as we think. Bacteria found in fecal matter that may be present in a toilet should be caught in the filter.
However, there is the possibility of viruses being found in toilet water not to mention any residue leftover from cleaning supplies. When possible, it is best to avoid drinking toilet water or do so at your own risk.
Is LifeStraw made in China?
LifeStraws are manufactured by Vestergaard Frandsen which is based in Switzerland.
What is Better than a LifeStraw?
A filter that utilizes reverse osmosis has smaller pores than .2 microns and thus can filter out more contaminants than a LifeStraw.
---
Verdict
There is little that is wrong with the LifeStraw, instead there are several "inconveniences". The fact that the filter must be primed and that the only way to get the clean water is to suck through the filter are not a flaws because that is it's intended design.
I carry mine in my haversack kit which is a good spot for a straw filter like the LifeStraw. This filter is best suited to either occasional use or as a last resort and I believe is a great option for children. In my opinion the LifeStraw is great for bug out bags, day packs hunting kits and any other kit where you may not want or need to carry your primary water filter system but still foresee the probability of needing one.