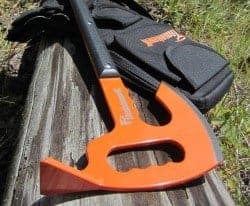 A handful of edge is a beautiful thing. The convergence of steel is one of the most useful things in a survivalist's kit. It is the tool that builds all other tools. It is the tool that makes shelter, prepares food, and provides defense. So it's no surprise that a variety of steel edges are in the bug out loadout. But within that variety are found the problems of weight, of cost, of space, and of necessary performance. With smaller tools the problems are minor, but with bigger heavier tools, carrying more than one is usually out of the question.
By Doc Montana, a Contributing Author of Survival Cache and SHTFBlog
Enter the Timahawk. By combining several tools into one heavily evolved design, Tim Ralston has made a bit of survival history with his pair of self-named Timahawks. The shorter version called the Tactical Timahawk has made an appearance here, but the longer handled full-size Timahawk still needs an introduction.
Ralston's Masterpiece
At 64 ounces, the Timahawk is a formidable piece of hardware on its own. Four pounds of striking steel with every end a business end makes for a highly adaptable tool. But let's take a closer look at the edges of the Timahawk. The most obvious feature is the broadhead axe face with full beard. A bearded axe was a popular design back in the medieval era when an axe was the Colt Peacemaker of the time.
Related: The Tactical Timahawk
Having a beard on an axe pushes the tool more more towards being a weapon. The beard provided a protected handgrip as well as a hook that was used to strip away a foe's shield or weapon. I find the beard works as advertised as well as making for a strong hook for various camp duties like holding up a lantern and remaining accessible but out of reach of the little ones. The beard also generates a much larger cutting surface without the extra weight of a fully cheeked axe head.
Face Plant
The overall cutting surface of the axe is about six inches in a straight line. Three and a half of those inches are the beard leaving plenty of strength onboard for serious chopping. Bending or breaking quarter-inch thick 4130 steel not only exceeds normal use of the Timahawk, but also exceeds normal human strength.  Opposite the sharp crescent and beard is an adz which is nothing more than a stone-age carving tool that is simply a short blade turned sideways. It works great for digging, scraping, and a lever for breaching. The two-inch wide adz is not much of a weapon compared an axe proper, but it will certainly do damage. The adz can also be somewhat sacrificial surface when you need to strike steel-dulling materials like rocks, brick and metal.
Read Also: Fail to Prepare Fail to Live
Two well-defined hand placement points with finger grooves are forged into the design. A vertical grip is found behind the axe-face beard, and another similar handhold is on the top of the axe head halfway between the bit and the adz. Basically the two grips are 90 degrees rotated from each other, while the traditional main handle grip of the Timahawk is just downstream from the beard grip.
The main gripping surface on the Timahawk is actually two scales of 18-inch long recycled hard black plastic held in place by four evenly spaced stainless steel screws. The scales ovalize the flat metal backbone of the Timahawk making the handle about 1.25 inches wide, by about one inch thick.
Pry Baby
Rounding out the southern end of the Timahawk is a two-and-a-quarter inch wide combination prybar face/nail puller. The tailend of the Timahawk flairs out an additional half-inch on each side looking similar to a chisel or moulding pry bar. As a weapon, this far end has some advantages over the adz even though they are of similar size. Remember those gripping handles? Well with one fist wrapped around the top handle and the other on the plastic scales, you can operate the sharpened nail puller with precision and the full force of your body. Like a pry bar from hell.  I actually have a prybar I carry on some wheeled adventures. It is a 24 inch Snap On pry bar. It works for for opening and moving stuck or heavy things, and some rough engine mechanicing. Having a serious pry bar along for ride is always a good thing, but a single dedicated pry bar is a another heavy piece of gear. So combining tools, while a violation of "two is one and one is none," you can also look at it as "one is two and two is good."
Here To Help
Luckily the bright orange powder coat gives the impression that the Timahawk is here to do good. No skulls, or barbed wire, or lightening bolts. Just good old American made EMS camouflage. Nothing to see here so move along.
With three sharp ends, the Timahawk ships in a completely encasing padded nylon case. A full-length zipper opens and closes the works, while three different sized pockets cover one entire face of the case. The opposite side contains an 11-inch MOLLE ladder with four included snap attachment strips of webbing. Two carry-strap attachment D-loops are sewn in at the top and bottom of the case separated by about 22 inches. Of course, a 1.5 inch shoulder strap is included.
Save
Save
Save
Save