The knife world has really exploded over the last decade or two. The number of choices available and choosing where to start looking can be mind-boggling. Especially for knives priced under $100, it is tough to know which is best.
Recently, I did a quick online search for "survival knives" and the search engine brought up a whopping 40 million results. 
By searching for "survival knives under $100" I narrowed the search down to a mere 3 million results. 
I should be able to read through those results before finishing my first cup of coffee…
Now, I have used many knives in my life, but I have in no way come close to experiencing all of them. In fact, I would not even say what I have experienced is a drop in the bucket. But I have used a few. 
So, to make your knife browsing a little less stressful I wanted to share with you some of my favorite survival knives that can be picked up for under $100. Let's see what knives made the cut…sorry about the pun but I had to. 
Best Survival Knives Under $100: My 6 Hands-On Reviews
I do not think any survival knife list would be complete without some kind of Swiss Army Knife on it. 
It was the first knife I used extensively in the outdoors as a kid and I know many others with similar stories. 
A Swiss Army Knife is the iconic red pocket knife that became one of the most popular multi-tools of all time.
Depending on the model it can come with just a few tools or many.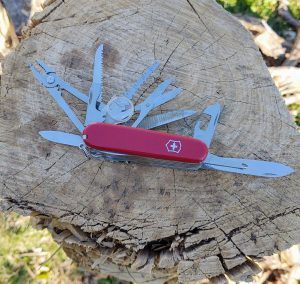 One of the most popular models, and my personal favorite, is the Swiss Champ. From a small and large cutting blade to scissors, screwdrivers, and a magnifying glass, it features 33 tools in total.
I cannot think of much that I have not used this knife for. With it I have opened packages, made wooden stakes, carved wooden spoons, started fires, adjusted hardware and even trimmed my beard!
 With a swiss champ in my pocket there really isn't much that I am not prepared to tackle!
Specifications at a glance:
33 tools
Stainless steel
Made in Sweden
2.45" blade 
Knife dimensions are 3.6" long, and 1.3" high
Weighs in at 6.5oz 
Different colors available
Sale
Last update on 2023-11-29 at 03:22 / Affiliate links / Images from Amazon Product Advertising API
Morakniv is a Swedish company that has built a reputation for creating quality cutting tools at affordable prices. 
The Companion model is so popular that even if you do not own one, I would venture a guess that you have heard of it or seen one. 
It is the cheapest knife on the list, but its price is by no means an indicator of its value. 
This lightweight knife comes with either a high carbon or stainless steel blade and a rubberized grip on the handle. 
It has a Scandi grind which is extremely useful due to its strength, versatility in cutting tasks, and ease of sharpening. 
While this is typically thought of as a fish knife, I have used it for cleaning all sorts of wild game, fish, and processing wood for various projects. 
I highly suggest picking up a Morakniv Companion if you do not have one. Especially since they can be picked up for the same price as a couple of cups of fancy coffee. 
Specifications at a glance:
Blade made from 12C27 stainless steel or high carbon steel 
Blade length 4.1" 
Blade thickness 0.1"
Overall length 8.6"
Weighs in at 4.1oz
Come with a plastic sheath 
Many different colors to choose from!
Last update on 2023-11-29 at 04:52 / Affiliate links / Images from Amazon Product Advertising API
Check out my more detailed review of the Mora Companion here.
Since we already know about Morakniv I'll just get right into this model.
The Bushcraft is the beefier big brother to the Companion. It has all the great features of its little brother in a larger frame that comes with a black protective coating on the blade. This is definitely one of the best survival knifes under $100.
It features a thicker spine that can hold up to baton cutting wood, which many people seem to enjoy doing.
This knife also comes as a kit which is in part why I like it. Other than the knife, the sheath comes with an integrated Swedish made fire steel and diamond knife sharpener. 
Having an all-inclusive kit like this make you that much more prepared for starting a fire and keeping your knife sharp!
Specifications at a glance:
Blade length 4.3"
Blade thickness 0.126"
Overall length 9.1"
Weighs in at 5.4 oz
The blade is made from high carbon steel
Scandi grind 
Plastic sheath with integrated diamond sharpener and fire steel
Fire steel rated for 7,000 strikes
Sale
Last update on 2023-11-29 at 12:42 / Affiliate links / Images from Amazon Product Advertising API
Check out my more detailed Morakniv Bushcraft knife here.
Ka-Bar is famously known for its fighting knife that was adopted by the United States Marine Corps over four decades ago. 
As good as that knife is it has been covered a lot so I decided to go with the Heavy Duty Warthog.
This knife is fairly new to me but from the moment I received it, it has turned into one of my favorites.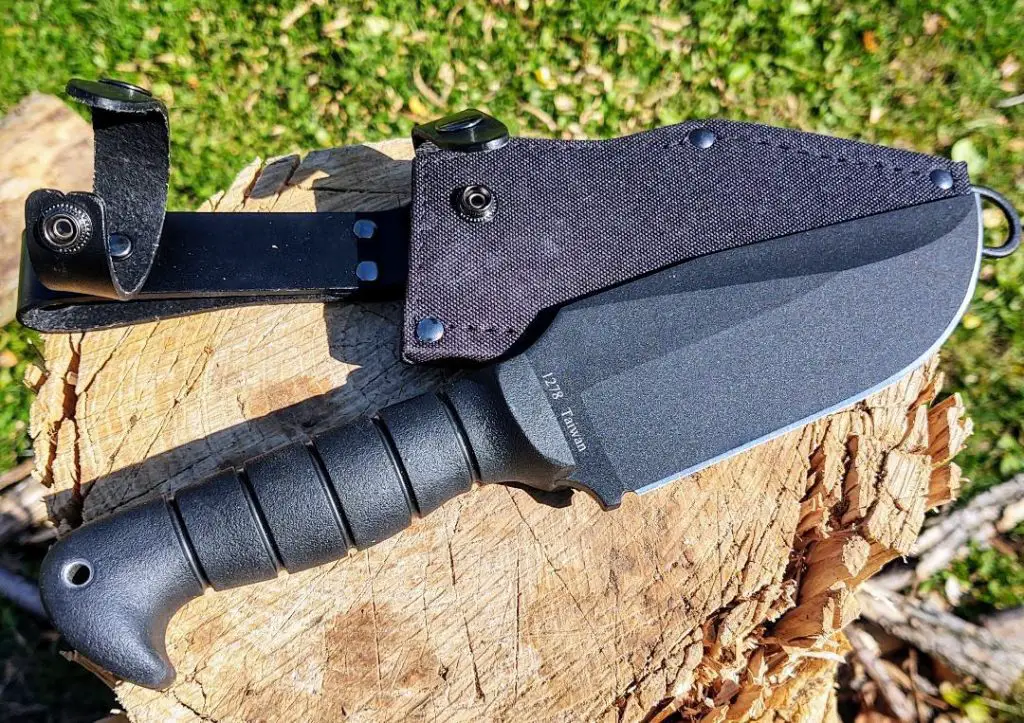 The Warthog is a heavy hitter with a large sweeping belly and cutting surface. So far, I have only used it in processing wood and it has done that job exceedingly well. 
The one downfall off this knife is the cheap sheath it comes with. But I can overlook the sheath considering how much knife you get for its price point.
Specifications at a Glance 
Blade length 6 ¾"
Overall length 12 ¼"
Made from 1095 carbon steel 
Black Kraton G handle 
Comes with a black nylon sheath 
Sale
Last update on 2023-11-29 at 04:52 / Affiliate links / Images from Amazon Product Advertising API
I did a more detailed review of the Kabar Warthog here,
I know, I know I keep doubling up on knife companies, but Ka-Bar has a lot of great knives.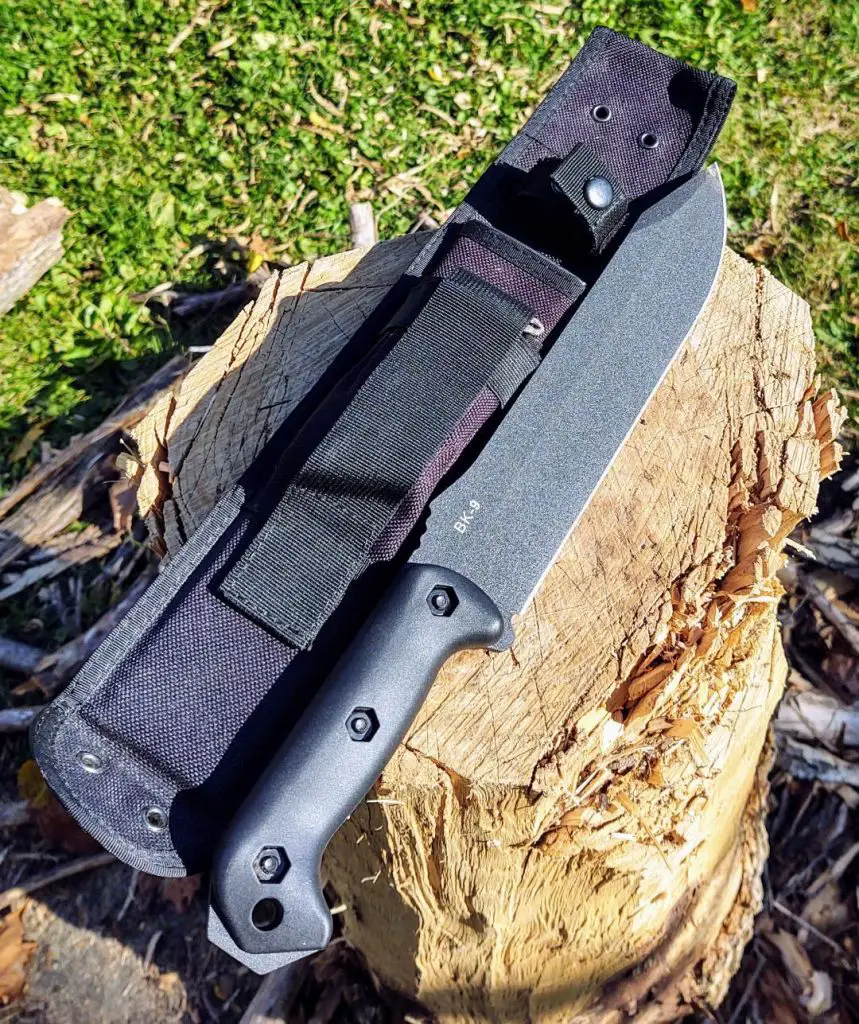 The next Ka-Bar I chose was the BK9 Combat Bowie. Now, this knife might be a bit impractical to some because it is a combat bowie and its rather large size. And to be honest, it is a guilty pleasure because I like it so much. 
But the BK9 is another heavy hitter that is great at clearing brush, chopping wood, and I guess has its place should you ever stumble upon a combat situation.  
Specifications at a glance:
Made from 1095 Cro-Van steel 
Blade length 9" with a clip point
Overall length 14 ¾" 
Weighs in at 1.05 pounds
Comes with a nylon sheath
Sale
Last update on 2023-11-29 at 03:13 / Affiliate links / Images from Amazon Product Advertising API
Check out my more detailed review of the Kabar BK9 here.
To me, Buck Knives instills in me the image of a classic hunting knife. Maybe that is because it was the first real hunting knife given to me or that they remain such popular knives. 
The 120 has an ergonomic handle that make is incredible comfortable to hold. The large clip point makes certain aspects of cleaning game much easier.
I have owned this knife for over a decade now and it has never failed me.
 It comes with a high-quality leather sheath that protects the knife while keeping it readily available and secure on a beltline. 
Specifications at a Glance
7 3/8" blade with a clip point
Overall length 12"
Weighs in at 8.3oz  
420HC Steel blade 
Pommel and finger guard made from aluminum
Comes with a leather sheath that includes a snap fastener and a belt loop
Sale
Last update on 2023-11-29 at 03:22 / Affiliate links / Images from Amazon Product Advertising API
---
Features To Look For in a Survival Knife Under $100
When it comes to outdoor and survival knives there definitely some features you are going to want to keep an eye out for.
You may be able to find all of these in a knife under the $100 price range discussed in this article but it may require a little shopping around.  
Full Tang
Most outdoorsmen will agree that a full tang knife is your best bet. This is where the knife steel runs all of the way through the handle to the end. This provides extra durability to the handle should the knife be used for heavy-duty tasks.
I know that this does not apply to one of my recommendations, the Swiss Champ. But a Swiss Army Knife is so useful due to the multitude of tools it has, that it is one of the few folding knives I can overlook for this purpose.
Additionally, if the knife has scales and they break, the scales can be removed. The remaining tang can then be used as a handle, as uncomfortable as it may be.
Blade Length and Thickness
I am going to ruffle some feathers with this category so please remember that this is my opinion.
The length and thickness of a knife is primarily going to depend on what it is being used for.
Personally, I like a knife that is between four to six inches long. This is large enough to handle most tasks without being overly large and difficult to handle.
A knife is meant to be used as a cutting, slicing, and penetration tool. Chopping should be left to axes and hawks. But, in a survival situation if a knife is all that you have then one with a spine of several mm thick would be good to have.
Blade Coating
A lot of blades today have a black (or some other color) coating on most of the blade. This coating is meant to reduce glare and to protect the metal from harsh environmental conditions.
However, these coatings are not food prep friendly and after use and abuse the coating will eventually begin to flake off. For this reason, I prefer uncoated blades.
Lanyard Hole
You may not think much about that little hole at the bottom of your knife handle. But it really can be a life saver.
I almost always will thread a piece of cordage through there to create a loop. That loop then goes around my wrist when I am using the knife. This helps to keep the knife from becoming lost.
There have been more than a few times I have dropped a knife in thick underbrush or even over the side of a boat and into water.
Accidents happen but in a survival situation you do not want to lose your knife to a dumb mistake. If a knife has a lanyard hole, use it.
Sheath
They are harder to come by these days but I like leather sheaths. They are durable, can be used for stropping, securely hold a knife in place, and are beautiful.
Nylon sheaths are more widely used these days but just make sure that they have sufficient straps and snaps to hold the knife in place.
Hard plastic sheaths and Kydex has its place but overall, I am not a fan. I have had them break on me and not having a strap or snap to secure the knife is just asking for problems.
Video Review
Make sure to check out this video:
---
Final Thoughts 
As I stated at the beginning of this article, I have not used every knife there is but it sure is a fun trying to.
I can guarantee that there are plenty of great knives out there that didn't make the cut (sorry but I had to say it one last time!) but I am sure there will be a continuation of this list in the near future.
If you have a great outdoor survival knife under $100 that didn't make the list, sound off in the comment section below and let us know about it. Thanks for reading and stay sharp!