A knife is arguably the most important piece of gear to have in a survival situation, which is why it is also one of my favorites. A good knife in the right hands is incredibly versatile. Through it a fire can be made, shelter can be built, and it can also help in obtaining food to fill our stomachs.
I have used all sorts of knives in my life but there is one in particular that I keep coming back to, a Mora knife. I have thoroughly enjoyed using this brand of knives for years now and over the last year I had the opportunity to use the Morakniv Bushcraft model. This brand of knife has been around for a long time and for good reason. High-quality materials matched with affordability and usability make it a popular choice across the board with outdoors people.
Before choosing a survival knife there are a few things to consider.
Is it full tang and what does that mean? A full tang blade is one where the knife is one solid piece of metal and the scales/handle is secured around the knife. This provides extra strength to the knife during rough tasks and I find this to be essential for my outdoor knives.
What kind of metal is it made of? Many knives today are made from stainless steel which is a good option especially when it comes to caring for the blade. However, one problem I do have with stainless steel is that it can be more difficult to produce sparks with it when using a ferrocerium rod.
What kind of grind does it have? The grind is the shape and degree of the cutting edge. Just as every tool has a certain function, the grind of a blade can be specialized for certain tasks.
---
Morakniv Bushcraft Review: Features
This model is a full tang blade that measures in at 1/8-inch-thick, 4.3 inches blade length and an overall length of 9.1 inches. The blade is made from high carbon steel which means that without proper care, i.e. oiling the blade after use, it is susceptible to corrosion. Because of this much of the knife is covered in a black anti-corrosive coating.
The cutting edge is formed from what is called a Scandi grind. This gives a thin cutting edge backed up by a strong foundation. This allows for fine detail cutting work as well as heavier duty tasks. In my opinion the Scandi grind is also much easier to sharpen, especially for those not well versed in sharpening stones.
The handle is made from a synthetic rubber type of material that provides a non-slip grip when working on tasks, even during wet weather. It is also incredibly comfortable to hold and allows for different hand sizes.
The sheath is what makes the Bushcraft model a bit different than other Mora models. Made from a hard plastic, it comes with two additional tools that are very important in a survival situation. A small diamond sharpener has been integrated on one side of the sheath to help keep a sharp edge after use and abuse. And on the other side of the sheath is a series of plastic rings that houses a Swedish made ferrocerium rod for getting a fire started. This fire steel can throw sparks that reach three thousand degrees and is rated for up to seven hundred strikes. The sheath also has a belt clip making it easy to carry on your person at all times. However, if you are looking for a sheath without a belt clip, don't worry because this one is removable. And the great thing is that all of this weighs in at a mere eight ounces!
Pros of the Morakniv Bushcraft
The blade is made from a high carbon steel which makes it easier to sharpen and easier to use with a ferrocerium rod.
Overall, Swedish made knives are of high quality
It has an anti-corrosive coating
Comes with a knife sharpener
Comes with a ferrocerium rod. Swedish made ferrocerium rods are some of the best around
The sheath is very durable.
There is a hole in the bottom of the sheath for drainage so there is no worry about the blade sitting in any water that has accumulated inside. This also makes cleaning the interior of the sheath much easier after days of hard use.
Lightweight for ease of carrying by anybody.
Cons of the Morakniv Bushcraft
The blade is made from a high carbon steel so it is susceptible to corrosion. It is important to wipe it dry after every use and to apply a thin coating of oil to it.
Because it has an anti-corrosive coating you may want to be careful when using the knife for food prep.
FAQS about Morakniv
Morakniv has been around since 1891
In the 1950's they started making ice drills that became world renowned for the sharpness of the auger blades.
Sale
Last update on 2023-12-04 at 01:32 / Affiliate links / Images from Amazon Product Advertising API
Also, make sure to check out a comparison between the Morakniv Bushcraft vs Companion.
---
Morakniv Bushcraft Knife Hands-on Review
Here are high-resolution pictures of my Morakniv Bushcraft:
Sale
Last update on 2023-12-04 at 01:32 / Affiliate links / Images from Amazon Product Advertising API
As I stated at the beginning of this review, I have used the Bushcraft model for over a year now and just like the rest of the Morakniv models I have used, I am not disappointed. The knife itself is great for all kinds of food prep. When it comes to outdoor tasks and working with wood, this is my go-to knife. I have made a ton of outdoor and bushcraft types of projects with this knife and it is a joy to use. The Scandi grind really bites into a piece of wood without much worry about the cutting-edge slipping.
The Spine
For two reasons I really like that the spine of the blade is flat. When using a thumb pushing cutting method for detail work or making feathered cuts, this allows for a more comfortable and controlled cut. The second reason is that it digs into the ferrocerium rod much better and thereby produces more sparks.
Baton? 
There are many opinions out there when it comes to whether or not a knife should be used to baton cut wood. For now, I will leave my opinion out on this matter suffice to say that if you feel the need to baton cut wood this knife does hold up to the task.
Ferrocerium Rod             
To date I have used the ferrocerium rod to start hundreds of fires and it is beginning to show wear. Having said that, I can tell that there is a lot of life left in it and I am confident I will be able to start hundreds more. I do have a quick tip in regard to the fire steel. Since the rings that hold it in place are plastic, I can see the potential of them breaking through some sort of accident, like a fall. In a real-life survival situation, I wouldn't want to find myself without a way to make fire. Luckily in the handle of the fire steel there is a predrilled hole.
I took this opportunity to thread paracord through the hole and made a lanyard. On the end of the lanyard I made a loop large enough that it could be attached to the belt loop of the sheath. This is an added level of production of me holding onto the fire steel if its holder were to ever break.
Diamond Sharper
Obviously keeping a knife sharp is, well, important when it comes to cutting efficiently. But believe it or not having a sharper knife is safer to use than a dull knife. With a dull knife a lot more force and effort have to be put into the cutting task and this is can lead to an uncontrolled cut.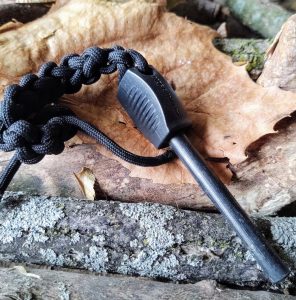 Take it from me I have been there, done that, and it is no fun. Because of this I take the time to sharpen and hone my blades often. Having the diamond sharpener integrated into the sheath is a real plus for times when I have forgotten to bring another sharpener, or one just isn't available.
When it was brand new the diamond sharpener was actually quite rough so take care in how you carry it in order to protect other items from being scratched up. After using it several times the surface of the sharpener did smooth out and this particular issue is no longer a concern. In addition, the sharpener does not appear to be directly molded into the sheath so I am to assume that it is being held in place by some type of adhesive. Given more time I am curious how this will hold up against the elements.
---
Verdict?
At the end of the day this knife has many more positives than it does negatives. With the plethora of survival knives out there it can be confusing trying to wade through the available options. I hope that the information provided and my personal experience with this knife will help you to decide whether or not the Morakniv Bushcraft is right for you or not. If you have experience with this knife, I encourage you to please leave a comment below. Stay sharp!
Sale
Last update on 2023-12-04 at 01:32 / Affiliate links / Images from Amazon Product Advertising API