Why doesn't everything that can run on solar power actually run on solar power? Solar is a universal energy source given that all the plants, oceans, and winds have rolled along just fine on solar energy for millennia with nothing more than a steady stream of photons from the nearest star. And that particular star still has a couple of billion years of fuel in its tank.
But two words tend to kill our personal preparedness solar enthusiasm: charge controller. The solar panel is like a plant leaf that converts light into electrical current, in this case a flow of electrons through a conductor. A battery is a storage tank for the electrons where all those tiny negative charges are organized into chemical bonds for later use. And a light bulb converts the flow of electrons back into photons that bounce off of stuff and reflect into our eyes allowing us to avoid stubbed toes, dinged shins, bonked foreheads, and calling it a day with plenty of awake left.
I was going to but…
With dedicated solar lighting systems where the solar panel, battery, and light output are integrated, all the electrical engineering is done and baked into the design at point of manufacture. But what if there is variability in the storage and output options? Then there are some calculations to deal with, and that's usually where eyes glaze over and the dream of off-grid solar hits a speed bump or even a full-on roadblock.
Enter turn-key solar solutions like the BioLite SolarHome 620. With a six watt solar panel, three independent lights, and a combination battery/controller/wall light/dual USB charger/FM radio/music player. The solar panel plugs into the controller, and the two lights plug into the controller with the third light daisy chained together with one or more of the others.
Related: Survival Gear Review: Sunjack Solar Charger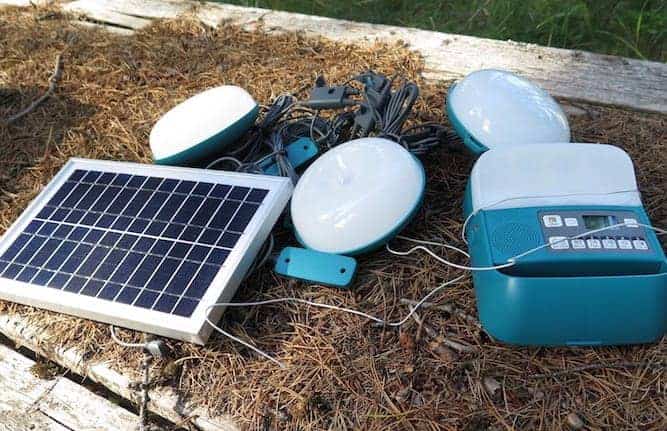 In recognition of September as National Preparedness Month, BioLite dug through its rich and wildly diverse product inventory and compiled several options together for those who want instant solutions for power outages, are off grid curiousness, and just general preparedness because you should. Reviewed here is The BioLite Prep Kit: Apartment Edition, an emergency solar-solution and lighting bundle for 2-4 people. Included in the package are two headlamps, two solar-powered Sunlight area lights, two diffusion stuff sacks, a LifeStraw water filter, and the entire BioLite SolarHome 620 microgrid solar lighting solution.
Be A Hero
The pair of HeadLamp 330 headlights are a balanced 2+ ounce headlight solution where the ultralight light frontend is supported by a backend battery. With a less than one centimeter thick frontside, the tilting light has both spot and flood capabilities and a night vision-saving red light option. With an advertised 40 hours of runtime, on a week-long trip in a remote high mountain region of Montana's high country (the highest possible actually), I couldn't push this more than two hours a day before falling asleep. That leaves 26 more hours beyond the 14 hours I used for camp chores and reading, or a little over one third of the low output (book reading level) total runtime. The only two issues I noticed included that when lying down, the battery pack located on the headband at the back of my head needed some adjustment for comfort. And since the tilt lever of the headlamp also houses the on/off/adjustment button, attention was needed to ensure that only a tilt or light adjustment happened, not both. And gloves make it a little more difficult to separate the functions.
To add lighting options to the headlamps, two amazing Light Diffusing Stuffsacks are included in the BioLite package. By providing a way to turn a compact direct lighting solution into a wider area one, just a few grams of storage double as an area light converter. While the Stuffsacks do have an engineered way to attach the headlamp properly so as to float inside the bag for maximum diffusion, I found over time that when exhausted or late at night and couldn't care less, I just cinched the Stuffsack over the business end of the headlamp and hung it by the headlamp strap. Either way, it's a winner, and a new member of the essentials kit. Think of it as a way for two people to prepare the tentspace and fall asleep reading with one light source.
Stored Sunlight
Two basic independent area lighting solutions are also part of this kit with a pair of SunLight LED solar recharging lights. These are rough squares about three inches on a side and an inch thick. At only 3.5 ounces, the 100 lumen output is plenty of picnic table area-sized lighting. One face of the SunLight LED is for lighting, and the other face is full of integrated solar panel for charging. If you can plug in the SunLight to the grid through its miniUSB powerport, a full charge will happen in two hours or less. With just the sun to give you juice, it might take seven hours; still within a day. And if your needs expand beyond basic survival, then the party-color output choice will raise the mood.
The LifeStraw water filter needs no introduction. Providing gallons of safe water, the LifeStraw is a fine addition to a turnkey off-grid survival solution. One would hate to have plenty of bright light but no clean water to drink. And remember, you can scoop up water in a container and then use the straw rather than lay face down in the mud with your head inches from the mosquito-infested swamp.
The Main Event
And the coup de grâce is the Biolite SolarHome 620 system. What if outfitting an area with four solar powered 100 lumen lights, an FM radio/MP3 music player, dual 5-volt powerports for charging phones, a solar panel, and a charge controlled battery was as simple as stringing Christmas lights? More than likely all your fears and confusion over installing and using a basic solar system would disappear. Enter the SolarHome 620; a solid, intuitive, flexible, and affordable solar lighting solution.
In one box are all the parts to connect a six-watt solar panel to a combination battery/charge controller/audio/charger/light box, and then connect two more light cables to the charger for full room lighting including one with a motion sensor that Biolite refers to as a security light. The plug-and-play connections are obvious, and the digital readouts on the controller keep you up to date on the health and strength of the system.
Real LIfe Test
I set out to install the Biolite SolarHome 620 in my proverbial "cabin in the woods." an off-grid single room mountain retreat nestled just a couple yards from an isolated two-acre pond in Nowhere, Montana USA. The usual lighting solutions we use in the cabin are headlamps, old-school cotton-wick oil lamps, and the warm glow of the woodburning stove that keeps the place toasty in the winter.
For tools, I brought my go-to multitool a Leatherman Charge TTi. With its 19 different tools, but I quickly realized that I brought 18 tools too many. The only tool needed was a Phillips screwdriver, and even so there are many installations that would not even require twisting a single screw.
I was already familiar with the components of the Biolite SolarHome 620 because I played with it in the comfort of my home before heading off to the mountains. Troubleshooting any system during the actual time you need it is a broken rule. Do familiarize yourself with the basic operation, and that all components are fine and dandy before storing the system for a future disaster, or packing up the fun-truckster to go adventuring. I charged up the battery using an AC converter, played around with the connections and switches, confirmed that the radio works, and most importantly, loaded a gig of music onto a microSD card. Advanced work with the system allows a richer and quicker imagination when you survey the potential installation site.
The small LCD readout on the 620 controller has five info display options: day/date with battery and sun strength indicators, a battery screen with percent full and numbers of hours of available light at current settings, a sun strength display with panel efficiency percentage, an FM radio station frequency selector, and an MP3 track display. A previous screen button and a next screen button toggle through the five options. The remaining buttonset on the controller/battery/light counsule include a light on-off-dim button, a radio on off button, volume up and down buttons, and back/forward/play buttons to run the MP3 player. There is also, of course, a speaker built into the unit that does a nice job with radio voices, but not quite the rich audiophile experience many of us are used to. But remember, this entire Biolite SolarHome 620 might cost less than many of the better portable Bluetooth speakers we use with reckless abandon.
Also Read: Survival Gear Review: Hybridlight PUC Solar Lantern
The back of the controller has plug-in ports, two for lights and one for the solar panel input. The left side (when facing the unit) contains the microSD card slot, and the right side has two USB charging ports and a battery expansion port. On the front of the unit, the top third is a variable 100-max lumen light, the middle third houses the buttons, display screen and speaker, and the lower third is a shelved tray that holds your phone while charging since the unit is likely mounted at eye level on a wall. A short multi-ended USB cord is included that will connect to most non-Apple devices. iPhone users will need to include their own particular charging cord.
So in a nutshell, you place the solar panel in the sun within 21 feet of the controller since that is the length of the non-removable cable. Then two lights are plugged into the back of the unit. Each light has an 18 foot cable, and they are all chainable meaning you can reach out quite a distance in any direction from the controller. The chaining connection ports are about two-thirds of the way through the light cable length so you don't get the full 18 feet of stretch combined. In other words, you are not going to light up a 55 foot long hallway, but you can spread out the lights in other shapes and directions filling a room with usable light. Not surgical theater lighting, but four 100 lumen sources that is plenty for most end-of-day tasks and safe mobility. Also at the chaining junction is another four-foot strand of cable leading to the switch. The additional length allows the lights to be much higher above the switch.
Although each light has a 100 lumen output, as the light moves away from the object that reflects it (floor, table, book page, etc.) the brightness drops off as a function of the inverse square law. That just means that the intensity is reduced by the square of the distance so twice as close gives your four times the light, or double the distance away and you get one fourth the amount of light energy bouncing off the surface. Our eyes are pretty good so the reduction in brightness at room distances is not dramatic unless you need fine visual acuity or to see colors accurately.
Follow Me
In my cabin, the first thing I did was to mount the solar panel to a spot on the roof where the sun peeks through the tall lodgepole and ponderosa pines. Actually no, the first thing I did was turned on some music. Then I went to work as Led Zeppelin disturbed the peace. I ran the solar panel's power cable through the leaky door seam to the controller I mounted on a wall near a corner. Since the controller is also an area light, it's placement should be part of your lighting plan so keep that in mind. The security light with motion sensor was mounted outside the cabin above the small raised porch. I noticed that it turned on reliably just before I placed a foot on the first of the two steps up to the porch. The security light has a non-adjustable 30-second timer for keeping the light on that long if no further motion is detected and the switch is in the sensor position. Otherwise, all three separate lights have their own switches that toggle through three light settings and off. The other two lights were chained along a beam inside the cabin filling the entire short length of the room with controllable light.
The aerial view of the Biolite SolarHome 620 is a controller with three cables running from it, one to a solar panel, and two to lights. That's it. So any complex issues behind the concept of installing the system are optional. The Biolite SolarHome 620 could just as easily be set up around a tent campsite, car camping area, or temporary worksite. The key to easy mobility and setup is mostly in cable management. There are a combined 85+ feet of wires between all the components so build in an extra minute or two in your takedown routine to properly manage all the electrical lines.
The MP3 player accesses MP3-formatted audio content on a microSD card. That content can be anything including music, podcasts, and audio books for example. That said, in the size of a baby's fingernail, you could house 256 or 512 gigabytes of audio content on a single chip including kid's audio books, survival manuals, audio entertainment, two to four million songs, and of course all the Survival Cache Podcast episodes ever made. Just have patience with the navigation buttons since forward and backward are your only options.
You Need It Yesterday
The Biolite SolarHome 620, so named because it is a 6 watt solar panel and a 20 watt-hour battery, is a fixed set of components specifically sourced to work together. There are many other solar panel/controller/battery/lighting combinations possible if you want to assemble and match the components yourself. But the Biolite SolarHome 620 begs the question, "Why bother?" If your solar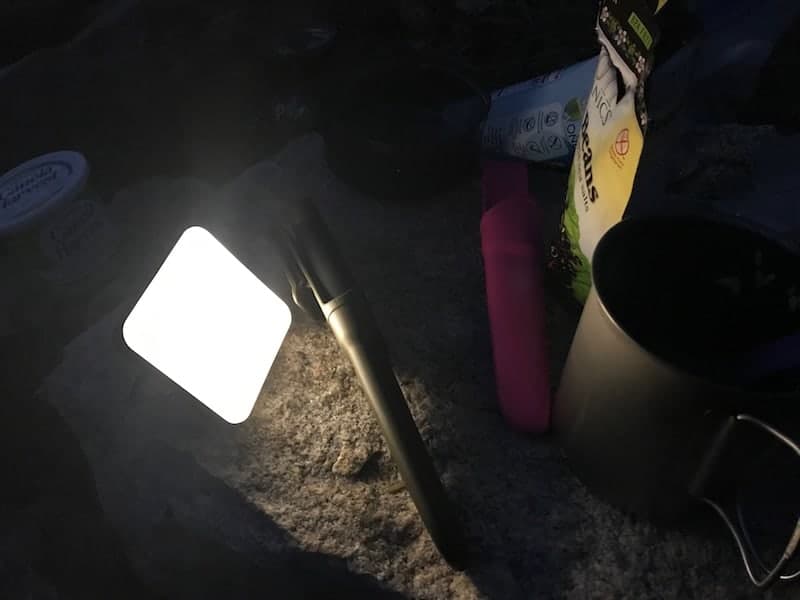 needs require portability, simplicity and efficiency and yet still fit in a shoebox (more like a boot box), the Biolite SolarHome 620 should be your first choice. And if you would rather get on with your life then calculate panel output, controller cost, battery power management, and compatible connectors, then get the Biolite SolarHome 620 as a useful introduction to solar living. Better yet, get the whole Biolite Prep Bundle and meet all your needs. Or at least a bunch of them.
I'm typing this as Hurricane Dorian was just declared a Category 5, and the strongest storm on the planet this year.  Whether the Bahamas, Florida, or points north, there will be all manner of power outages, family displacement, destruction, and plenty of long-term unknowns. As the irony of September as National Preparedness Month is overshadowed by actual reasons to prepare or suffer, turnkey solutions exactly like the Biolite SolarHome 620 and Prep Bundles are just what is needed to check off that box and move quickly to the next of the dozens of other preparedness decisions and challenges. Plus, the BioLite colors and form factor always make people smile. Something we can use more of.