Admittedly I watch a lot of outdoor television programming.  For Christmas this past year my wife got me the upgraded programming on cable so I could receive outdoors television basically 24/7/365.
By Dr. John J. Woods, a contributing author to SurvivalCache.com
I enjoy watching the different location venues, and the behaviors of the big game being pursued including everything from wild hogs to elephants, but I am especially into whitetails.   It also helps to keep survival prepping thoughts in mind, too.
Prepping Gear Bags
One of the curious things I take note of when watching these hunting and game pursuit television shows is the gear the participants use, but more specifically all the stuff they tote afield.  To me it looks like some of these guys are carrying hiking packs with enough gear to set up camp for a week.
In a SHTF or Bug Out scenario it could easily turn into that very quickly.  I'd love to know what all is stowed in those duffle bag sized packs they carry on a single day's hunt.  It might help us orient our own planning for Bug Out or just weekend trips to our escape hide outs, or even items to add to our Bug In plans.
My individual preference is to use the base camp, staging area, or a vehicle as the center point of my outreach operations.  From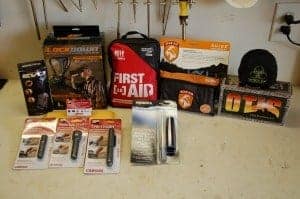 there I pack out a smaller bag with essentials for the day once I know what the agenda is going to be.  I usually tend to take too much "stuff" but I work by the old philosophy of "I'd rather have it and not need it, than need it and not have it."  Even then, it seems I inevitably forget something.  In one of my prep planning drawers I must have a half dozen gear lists to pack for different scenarios not counting what stays packed all the time for the ready.
All this still begs the question of what should go in a field gear box, backpack or carried on the individual.  Naturally much of this is personal preference.  However, here, I want to recommend for consideration several items I have been in the process of field testing and using over the past year.  They are all great and suitable for SHTF events.
The utility of each item is relatively simple and doesn't really require a lengthy individual field test report, so I felt the best approach was to include them all in one report.  All of these items though are worthy of consideration to put in your hunting gear pack box, bug out bag, hunting pack or otherwise carried.
Otis Zombie Gun Cleaning System
Whether hunting for food, zombies, wild hogs, sighting in at the range or conducting perimeter security, it never hurts to have a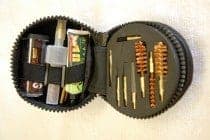 lightweight, complete gun cleaning kit along.  Such a kit comes no simpler than the Otis "Zombie" Gun Cleaning System.  The Zombie tag simply being a trendy marketing ploy, but it also generically translates into deadbeats that want to steal your stuff during a societal or natural breakdown event.
This compact all-in-one zippered soft case unit can take care of basic gun cleaning tasks for firearms chambered for the 5.56mm (.223), 9mm, 40 and 45 caliber pistols plus 12 gauge shotguns.  This is going to cover a lot of guns.  To be honest, any kit able to handle these calibers is also going to work for most large caliber hunting rifles like the .270, 30-06, 308, and such.
Included in the Otis system are 8 and 30-inch flex cables for breech-to-muzzle cleaning, five bronze bore brushes, a rubberized patch saver, specialized cleaning tools, and a tube of cleaning solvent all in a soft pack with a convenient belt loop.  On the waist or in a pack the kit is great for cleaning out mud from a muzzle dropped weapon.
Medical Adventure First Aid Kit
Sure, it will never happen to you.  One of the worst knife cuts I ever saw was when a hunting friend was trying to gut a deer in the
winter.  We had nothing to wrap it with.  If it had not been freezing, he might have lost that finger.
Every prepper ought to carry some basic first aid items in every field box or pack.  The 2.0 kit I have includes a howler whistle, compass, antiseptic wipes, assorted bandages, dressings, tape, sterile pads, gloves, blister moleskin, elastic bandage, cold pack, scissors, safety pins, and a variety of medications.  This comes complete in a zippered nylon bag that is easy to pack.
The package says this is enough first aid and medical gear for 1-4 people for 1-4 days.  It retails for $23.00 from Adventure Medical Kits.  Other kits are available, too (click here).
S4 Gear – Lockdown Optics Deployment System
I broke my best Pentax binoculars on an elk hunt in Colorado when they slipped off my shoulder on a steep climb and smashed into a
boulder.  Prior to the fall, they were around my neck flailing around like a wounded wild turkey.
The S4 Gear's Lockdown optics system holds your optics securely and completely protected in a secure pouch with cover.  The binoculars are connected to shock cord security straps.  The shoulder strap system fits snuggly but is not restrictive in movement or mounting a long gun.  The Lockdown comes in two sizes.  Check them out at www.hunting.s4gear.com.
S4 Evo Sidewinder (Next Generation – Dummy Chord)
This is one of the next generations of tether technologies designed to attach a single piece of critical gear to an extension cord
retractor device capable of clipping on a person or a backpack, etc.  The Evo Sidewinder is a uniquely engineered piece of gear they call a "retractable gear deployment system."
The "retractor pod" attaches to say a rangefinder, a radio, GPS, or small optic via an adhesive sticky pad and/or a secure strap that locks around the item.  The pod then slides into the Sidewinder's base unit where it is held until withdrawn.
The base is equipped with a secured, lockable claw clip that can be rotated to one of four 90-degree positions depending on the placement requirements on a person, pack, harness, or other attachment point.  Other accessories are available as well.  Anyone walking, hiking, hunting, conducting security work, or observation will quickly appreciate the Evo Sidewinder's utility.
McNett Gear Aid Field Repair Kit
I have seen a lot of neat products in my day, but the McNett series of Gear Aid kits tops the list.  There are several types or levels of kits available from the Explorer to the standard Tent Repair Kit, a Sewing Kit, and a Camper Kit.  Each kit contains some different items or amounts of repair items.  Each kit is designed to help outdoors people effect quick repairs on essential gear in the field.
I have the Explorer Field Repair Kit in hand and the stuff in it is amazing to include four categories of repair items such as gear repair
supplies, buckle kit, adhesive and fabric patches, and a sewing kit.  In total there are 27 items in the nylon zippered bag that only weighs 7 ounces loaded.
Example of repairs that can be done with this kit include gluing boot soles, fixing a broken zipper, seal a leak in an sleeping air pad, replacing a bad buckle, or fixing a busted tent pole.  One of the kits in a field box, camping gear bag, or bug out bag will take care of most common place gear failures in the field.  Check them all out at www.mcnett.com.
Carson Lens Cleaning Tools
The point of quality optics of course is being able to see clearly through them.  Have you ever been afield or needed optics during a
snow storm or a wind driven sand blow or an early morning in the South with high humidity.  I rest my case.
These Carson lens cleaning tools are small and compact, but essential for keeping optical glass clean on the bench or in the field.  They are simple plastic handles with a cleaning pad on one end.  The special pad removes smudges, prints, dust, and dirt, as well as moisture.  I find it best to blow off lenses first, dry them off with a clean cotton handkerchief then clean them with a Carson Tool.
These lens tools do not contain alcohol or ammonia.  They are suitable for cleaning cameras, binoculars, spotting scopes, and firearm scopes.  They are small and lightweight fitting into a pack side pocket or shirt pocket.  Examine them at www.carsonoptical.com.
Frontier Emergency Water Filter System
On every trip afield I carry water.  I have also run out of water on hunting or observation trips.  The Frontier Emergency Water Filter
System by Aquamira is a simple design created for filtering up to 20 gallons of water under emergency conditions in the field.  I discussed this with Aquamira and all of their filters are designed to filter double the amount of water that is on the label.  So in a pinch, you could probably get closer to 40 gallons of water through this straw depending on the quality of water you start with.
The tube filter takes out 99 percent of Giardia and Cryptosporidium commonly found in water sources even in mountainous areas where streams seem to be running crystal clear and clean.  Don't trust it.  This filter will handle it.
You will hardly notice this filter in your bag at one ounce.  It is a plastic tube into which an included special drinking straw tube is inserted in one end.   The other end is put into the water source and then water is drawn up as with any straw.   Every gear kit bag should have one.  More information is available at www.aquamira.com.
Conclusion
As mentioned from the get-go, any Bug Out gear kit or bag can contain a myriad of equipment and gear items.  Most of the final choices are based on personal choices for the type of trek being planned, duration, terrain, weather, and other input factors.
I can highly recommend these products outlined here for use in your Survival Cache gear box or backpack.  You may not ever need them, but then again you just might.
All Photos by Dr. John J. Woods
Support SurvivalCache.com by shopping @ Amazon.