An old standby "survival" skills game used to facilitate leadership development training forced participant teams to choose among a list of survival gear and supplies items. The game was posed as being cast on an isolated island after a ship wreck or plane crash (Hey, remember Wilson?), or in the jungle after a plane crash or some other fictitious peril.  The teams were limited to picking only 10 items.  It was fun, and very instructional.  
The groups had to gather up individually and begin the process of the picking of their top 10 survival gear items from the available list.  Then each team had to present their choices to the other teams and explain their rationale for their decision-making.  The instructional part was not only the communication and exchange of ideas among team members, but also the feedback and assessments provided by the entire group.  What survival items would you pick?
Just to take a note as a sidebar such a game would be very useful for potential prepper teams in the formation phase to process survival information and to express opinions about various related survival tactics.  This would not only reveal other's survival knowledge base, but also their compatibility, communication, and sensitivity to the other potential team members.  
Formulating a Minimalist Survival Kit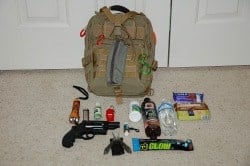 In our reality based world, lucky for us, we are not really limited by any set list of survival gear, tools, supplies, or essential items.  We can choose from the infinity of everything out there to include in a bare bones kit bag.  The only primary limitation then for the assembly of this kit becomes the kit's total weight, and a practical choice of just the bare fewest items to complete such a kit.   
Related: Bug Out Bag Essentials
For this kit, we are not even suggesting a backpack or indeed a fanny pack sized carry conveyance.  We have to keep focused on the minimalist approach here.  This kit then is not really an EDC bag nor is it any kind of a BOB either. It's different.  It goes in the trunk of the car or under the back seat of a pickup truck, in an office desk drawer, or some other place that is easily and quickly accessible.  It is not intended for long term use, but a "get by" circumstance.  
This kit may also not be something that is necessarily grabbed and carried during an emergency, but it could be.  It might be a kit used during an office or school lockdown during say an active shooter situation or maybe a tornado warning or other emanate emergency condition or SHTF.  It could get you by if the interstate highway was shut down by a wreck for an extended period of time or if you got caught in a snow storm, perhaps even overnight.  
Depending on the SHTF situation (urban or wilderness), you might have to hunker down in the office or in your vehicle.  You could have the option or decide to hike out a few miles to another safe location or to be picked up elsewhere.  Naturally, the potential emergency situations are also endless, so think for yourself, what are the likely events you could encounter and stock your bare bones kit accordingly.
---
Bare-Bones Survival Kit Parameters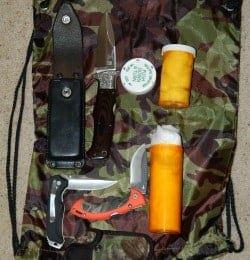 For this exercise, I have volunteered as the Guinea pig.  Of course, my personal situation and conditions are decidedly different than yours, so I will outline my own parameters.  You need to do the same.  It is important, no critical, that every person self-profile themselves so they build a kit that meets their exact personal needs for virtually any type of short-term survival SHTF. I am a senior citizen, retired, and of age for social security, but still quite active.  I have health issues that require daily medication, hydration and minimal food intake.  I am an avid reader, and writer with good mechanical and organizational skills.  I am more of a hermit than a joiner, but am active in wildlife management work and serve on the executive board of a state wildlife conservation group.  
Read Also: The Prepper Learning Curve
I could not run a hundred yards, but could walk for five miles, more if allowed to rest periodically.  I actively hunt, fish, work my bug out camp, ride ATVs, and am a proficient shooter.  I carry concealed with a legal permit.  I work at home every day, but travel a fair amount.  My minimalistic survival kit would likely be used mostly via access in a travel mode, so they are kept in vehicles.  
Are there some assumptions then?  Yes, of course. Let's assume you will have your iPhone with you at all times, ideally fully charged.  You'll have a wallet or purse with IDs, cash money, and credit cards.  If you have a CCW permit, carry it.  You may have with you a concealed carry weapon, or in close proximity to one and maybe at least one extra loaded mag.  Have available or carry a lightweight rain jacket ideally with a hood.  Accordingly these items are not included in your minimalist survival bag, because you should always have them anyway.  
---
One Bare Bones Minimalist Survival Kit
Here are the items in my own Bare Bones Minimalist Survival Kit:
Quick bag.  This would be a lightweight nylon pull cord top bag, small satchel zip bag, or some small military type gear bag. You should check out the EVATAC Tactical Backpack as well.
Last update on 2023-06-03 at 07:52 / Affiliate links / Images from Amazon Product Advertising API
Water and Snack.  I would pack (2) bottles of water and (2) protein and power bars.
Medicines.  3-5 days of required meds.  A small bottle of pain relievers.  
Blanket or Cover.  One fold up compact space blanket or similar cover/shelter. Or better yet, a TACT Bivvy.
Our Favorite Sack

Weighs only 6.2 ounces. Very durable.

Use in all survival situations to stay warm

View Latest Price
Knife.  A high quality folding knife or fixed blade camp/survival knife.  Not a Rambo blade. Read our survival knife guide for more details.
Sale
Last update on 2023-06-03 at 01:12 / Affiliate links / Images from Amazon Product Advertising API
Firestarter.  Box of waterproof, wood matches and (1) butane lighter.  Small tin or med bottle with prepared tinder cotton balls. Read our fire starter and tinder articles.
Signals.  (1) Signal whistle with lanyard.  
Sale
Last update on 2023-06-03 at 06:33 / Affiliate links / Images from Amazon Product Advertising API
Paracord.  (1) Wrap of 50 feet of paracord rope.  
Last update on 2023-06-03 at 07:52 / Affiliate links / Images from Amazon Product Advertising API
Head and Hand Gear.  One ball cap or hat with sun visor and a pair of durable gloves.  
First Aid Kit.  One micro first aid kit in tin or plastic container.  
Last update on 2023-06-03 at 07:52 / Affiliate links / Images from Amazon Product Advertising API
---
Final Assessments
Now before you go crazy at ripping apart my selections for a bare bones kit, reflect on your own needs or make viable suggestions for other needed items. Undoubtedly, in my own thinking and planning, I have left out something.  With practice and trial, perhaps I will change up my own bare bones kit to delete some items or add others.  We want to learn from the readership, too.  That is best accomplished by not criticizing, but by comparing and contrasting.
Save
Save