For some of us, the call of the wild can be a hard thing to ignore. There is nothing that can bring us back to our roots, calm our souls, or reset our stressed minds, like time spent in the great outdoors.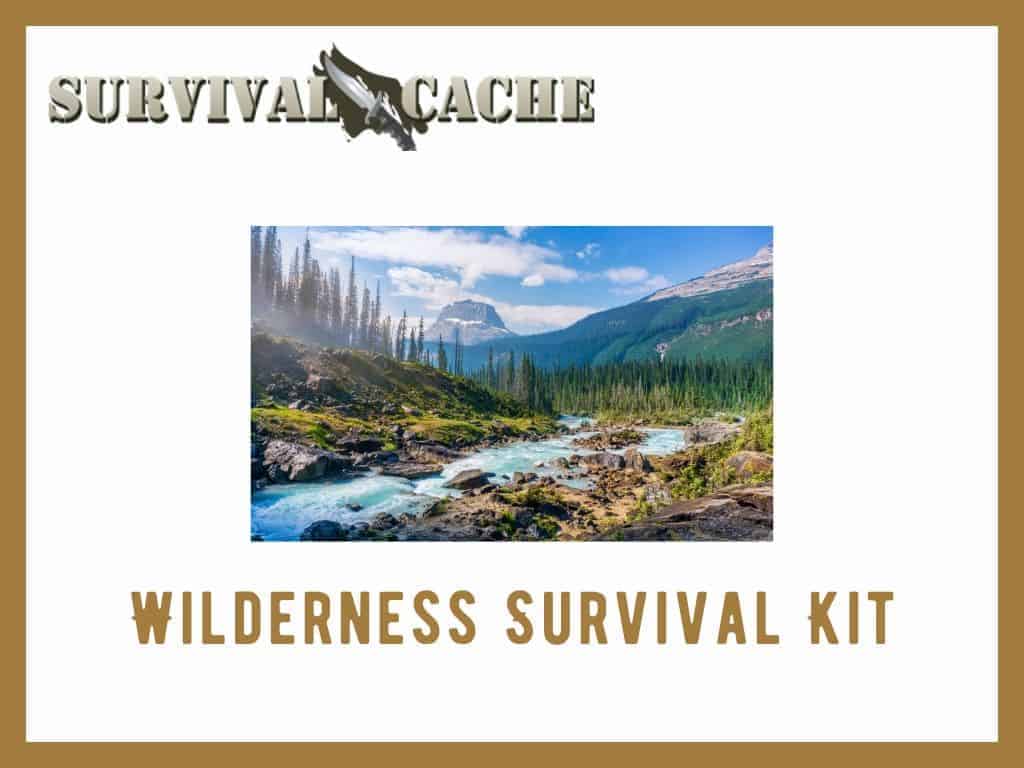 All to often though, it is common to hear news of individuals who have become lost while on a day hike or some excursion in the backcountry. Sometimes these stories have happy endings and sometimes they do not.
There seem to be two common themes I observe from these situations. The first thing is that the victims either have zero gear or they do not have the right gear. And the second is that it is not uncommon for rescuers to see the packaging of brand new outdoor gear on the ground. Meaning that the gear had never been used before.
Knowing how to use gear by obtaining the right knowledge, and practicing skills are essential when venturing into the outdoors. But before that, you first need to have the right tools for the job. To that end, In this article, I have put together a list of items for creating your wilderness survival kit (also known as a bushcraft survival kit).
Before that, I do need to clarify one aspect…
Bushcraft vs Wilderness
These are more or less the same thing and used interchangeably. Bushcraft, a camping style, is also about sustaining in a natural wilderness environment.
Both go hand-in-hand and thus I will cover how to put together a wilderness and bushcraft survival kit. Let's get to it.
Bushcraft and Wilderness Survival Kit Design
Drybag/Waterproof Container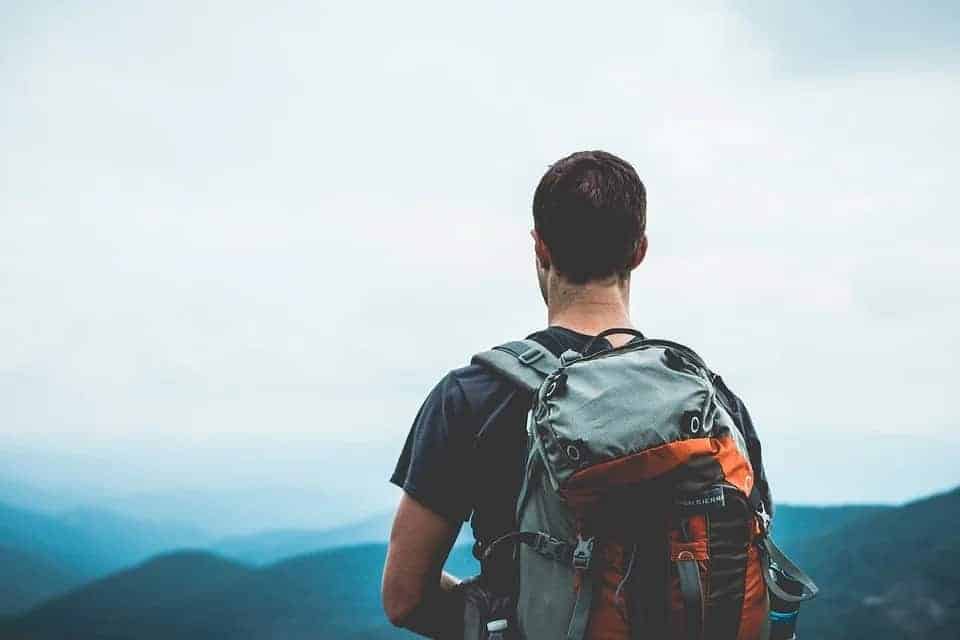 Further down in the list there will be a few items that can be used as a drybag. However, it would be a good idea to have a waterproof container specifically designed for this purpose. To help keep clothes, fire-starting aids, or important documentation dry.
Check out the article we did on the best buschcraft backpacks. You can store your gear in a backpack as well.
Clothing
There is a saying among outdoorsmen, "Cotton kills." Of course, this has to be taken with a grain of salt but only wearing cotton clothing is generally frowned upon.
This is because cotton does not wick moisture away very well but absorbs it. When this happens, it loses its insulating properties, becomes heavy, and makes dealing with cold temperatures much more dangerous.  
Outdoor clothing can be thought of as three simple layers. A base layer, mid-layer, and outer layer. 
The base layer should consist of wool or synthetics that wick moisture away from the body. 
The mid-layer should be made from materials that again wick moisture away but are also insulating, such as fleece. 
The outer layer needs to be able to protect against the elements such as wind, rain, and snow. 
Three other items that should be a part of this section are a hat, sunglasses, and a thick pair of work gloves. 
*Warning: Synthetics need to be kept away from heat sources as they do not burn but will melt onto the skin*
Rain Poncho
A great way to stay dry in wet conditions. Choose a large poncho so that it can be thrown over you and your pack while you are still wearing it. 
We cover the best ponchos in this article.
Heavy-Duty Trash Bags
Trash bags are lightweight, compact and have more applications than I can list for this article. It would be worth your time to pack ones that are brightly colored.
Bandana
Several bandanas are extremely lightweight, compact, and cheap. They also have a lot of uses, some of which are:
A Mask
Keeping sweat out of the eyes
First aid applications 
Water collection
Water filteration 
A signaling device
Gear repair 
A container
Water Purification Methods
There are several different ways in which to clean "dirty" water. 
Manufactured filters
DIY field filters
Water purification tablets
Boiling 
If you assemble a fully stocked wilderness survival kit, you will already have the means to boil water and make a DIY field filter. Water purification tablets and a small filter are lightweight and compact enough that both should be added to your kit. I have had good experiences with Potable Aqua Water Purification Tablets and I like the Sawyer Mini because it can filter up to 100,00 gallons of water.  
Food
Even if your time in nature is planed as a short excursion, a day hike, for example, you should have some emergency food stores. Plans fall apart and keeping your energy up is important. Some food items to consider are energy bars, granola bars, trail mixes, MREs, and dehydrated pouches like Mountain House meals.
Navigation 
As much as I do not like technology sometimes, there are two items you should carry. A GPS device and a phone. They are valuable tools for quickly finding your location, plotting a trail, and calling for help. A phone's camera can also be used to document landmarks and other important features along a path. 
A few more items that you should have are a map and a compass. If you are on vacation or unfamiliar with the area in which you will be trekking, you should purchase a map before heading out. I also highly recommend finding some local teachers and participating in a course on navigation. 
Cordage
There are many different types of cordages and ropes available, but I tend to fall back on 550 paracord. It is incredibly affordable, lightweight, compact, and versatile. A bonus to paracord is that it comes in an array of different colors. By choosing a brightly colored cordage it can be used for signaling and trailblazing. 
You can also get a paracord bracelet that you can wear at all times.
First Aid 
A first aid kit is another must-have in any type of survival kit. Items that you should consider are:
Bandages 
Butterfly bandages/steri-strips
Gauze and trauma pads
Antibiotic cream
Medical tape
Ace bandage 
Alcohol prep pads
Antiseptic towelettes 
Medications- Pain and fever reducer, anti-inflammatories, anti-diarrhea, and burn/sting gel.
Finger splints
Tourniquet-Make sure you are educated on when and how to properly use one. 
Fire Starting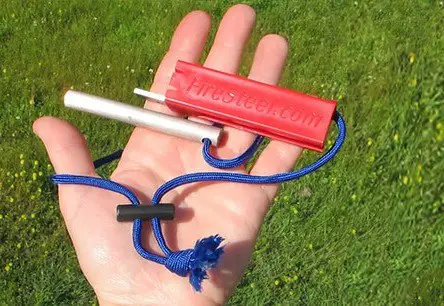 I always carry a fully stocked fire making kit. My kit may seem a bit overboard but being able to make a fire can be critical. I pack the number of items that I do to give myself the best chance possible while using the least amount of effort. The items I include in my kit are:
A Bic lighter 
UCO Stormproof matches 
Magnesium rod
Magnifying glass
Birthday candle- lights easily and will save ignition resources
Fatwood
Duct tape rolls (homemade)
Cotton balls, dryer lint
Char cloth (homemade)
A small diameter tube (used blowing embers back into a fire)
Emergency Candle
It can be used as a light source and an aid in starting a fire. Sterno Emergency candles are a good option because they have long burn times and offer a variety of sizes to choose from.
Flashlight
Other than shining a path in low light conditions a flashlight can be used as a signaling device. Consider a solar-powered or crank-style flashlight to avoid having to carry extra batteries. Headlamps can be more convenient to use as they allow hands free operation. 
The ProCharge Survival Flashlight is jam-packed with the ideal features in a flashlight.
Multitool
People have varying opinions about this piece of gear but I don't go anywhere without a plier style multitool, like the Leatherman SuperTool or the Gerber Suspension. For me, they are too useful not to have.
They are great for gear repair, adjusting gear, and by using the cutting tools I won't dull my fixed blade knife unnecessarily. Another great multitool that I use often is the Swiss Champ by Victorinox. The pliers on them are not as robust as a larger multitool but in some ways, a swiss army knife can be more useful.  
Check out our article on the best multi tools you can buy.
Fixed Blade Knife.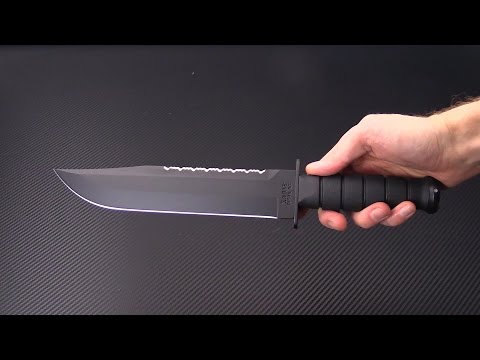 A knife is an incredibly useful tool and the different features of them are a personal choice. I like a 4-6 inch fixed blade, full tang, carbon steel knife that does not have a powder coating. 
Chopper
Just like the knife section above, I will be fairly general in this section. In my opinion, a knife should not be used to baton cut wood or other impact tasks. A larger and stronger tool should be used for such tasks so take your pick of an ax, hatchet, or hawk. Plus, these tools will have additional uses as well. 
Wood Saw
Three cutting tools in the same kit? That's right because every tool has its place. When processing wood a saw is much safer to use, requires less energy, and makes precise cuts for projects such as constructing a shelter, or other outdoor tools.
Check out this compact wire saw. It's easy-to-carry, affordable, and can cut wood easily.
Metal File and Sharpener 
If you want those cutting tools to stay in good working order you need a way to keep them sharp. I suggest one to three different files. A flat one, a round one for serrations, and a three-sided one for saw teeth. For the knife, a small wet stone or a diamond sharpener can be used. 
Duct Tape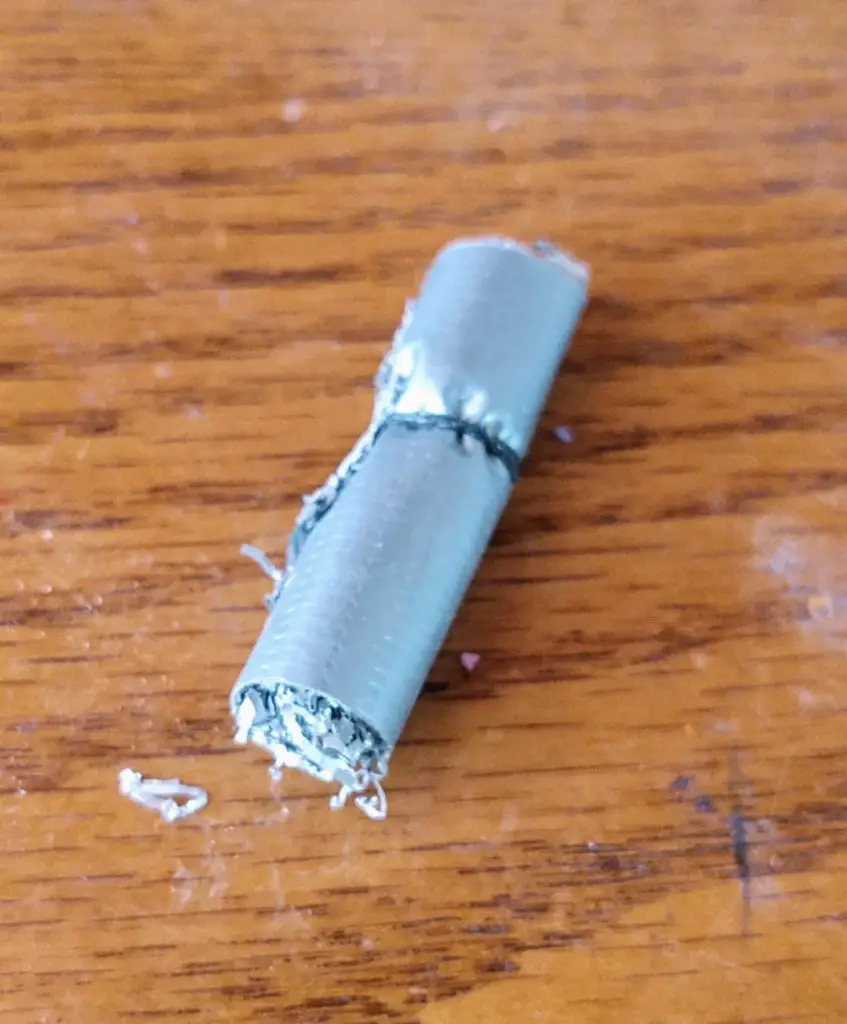 Duct tape has a million and one uses, is affordable and lightweight. Here are a few ways you can use duct tape:
Patching holes in gear
Make an equipment sling 
Make a first-aid sling
It takes and holds a flame well so it can be used in starting a fire
Make cordage
Make a carrying handle
Can be used in shelter construction 
If you don't want to pack an entire roll, try making duct tape wraps around some of your tool handles as a way of carrying it.
A Large Net
A net is kind of like duct tape in that it is lightweight, compact and has a lot of different uses. Here are some ideas of what to use a net for:
Catching fish 
Catching birds
Catching small animals 
Can be used as a tote to carry items 
If it is strong enough can be used as a hammock.  
Signaling. 
There are a few simple items that should be packed into your kit in case you need to signal for help. An emergency signal whistle like the UST JetScream,and an emergency signal mirror, the larger the better, and flares. Brightly colored gear can also be used for flagging (cordage, bandanna, clothing, etc.)
Wool Blanket 
A 100% wool blanket needs to be in this type of kit. 100% wool is great at insulating, is water-resistant, and wicks moisture away. Even when wool becomes wet it retains quite a bit of its insulating properties. These type of blankets can be expensive but they are durable and should be thought of as an investment. Here are a few ways in which a wool blanket can be used:
Poncho
Coat
Pillow
Bedroll
Blanket
Shelter covering
Pack
Tarp
A heavy-duty waterproof tarp has many uses. It can be used as a poncho, shelter, to collect water, a carrying container, a dry bag, to process food on, signaling, a pack, and a ground barrier in which to lay on.
Check our guide on the best tarps.
Snares/traps
Snares and some traps can be easily made in the field, but I feel it is worth your wild to have a few premade ones in your kit just in case. The great thing about these is that once they are set up you can attend to other matters while they work.
Fishing Kit
A fishing kit is a must. It would be disappointing coming upon a stream or pond filled with fish and not have any way of catching them. The great thing about a fully stocked fishing kit is that the items inside can also be used to catch birds and other small animals. The size of the kit and the contents that go into it are fully up to you but at a minimum, you should be carrying plenty of fishing lines and hooks.
Stove 
There are three basic kinds of stoves to choose from. 
Biomass Stoves. Burns natural fuels like pinecones, bark, grasses, and wood.
Canister Stoves. Stoves that require acanister of fuel to be used. The stove itself is lightweight and compact but the canisters can be bulky. 
Other Fuel Stoves. Some types of emergency stoves resemble biomass stoves. But they are designed to be used with Sterno like cans of fuel or emergency fuel tabs. 
There many pros and cons to each. I have enjoyed the biomass stoves made by Kelly Kettle and a Solo Stove. By offering those two options I am not saying that a biomass stove is better than the rest. Take the time to research the different stoves and find the one that will work best for you and the region you will be operating in.  
Mess Kit 
A plate, metal cup, spork, and a small pot are some good items to have in a mess kit. If space and weight are a concern then you could remove the pot. A decent size metal cup can double as a small pot for boiling and cooking purposes. 
Stainless Steel Water Bottle
You will need a way in which to collect and transport water. A water bottle or a bladder are obvious choices. I prefer a metal bottle because it can be used for a variety of tasks other than carrying water. A metal bottle will also double as cooking and boiling container. 
Stationary
Having a few stationery supplies on hand are handy for taking notes, leaving messages, and keeping track of important information. A small pad of paper, a pencil, permanent marker, and a ballpoint pen does not take up much space.  
---
Wrapping It Up
The above list is merely a guideline of items that I think should be in a bushcraft and wilderness survival kit. At the end of the day, it is up to you to make the kit your own.
Check out below for on additional item I think everyone should have for when venturing into the wilderness!
Walking Stick
While this isn't something that can be packed away into a kit, it is an item that I consider a part of my gear. Here are a few ideas of what you can use a walking stick for.
They can be used for support when walking or when ascending or descending steep terrain. 
They can be used to get items that are out of reache such as food in a tree, or a water hole. 
They can be used to put distance between you and dangerous animals.
By having a wood walking stick you will always have a source of dry fire tinder. 
It can be used as a hunting implement. 
It can be used as a fishing pole. 
It can be used as a measuring device.
It can be used as a lever to move objects. 
It can be used as a digging tool
It can be used as a crossbar when constructing a shelter.
They can be used as a weapon for personal defense. 
Additional gear can be attached to it, such as wrapping portions of in cordage or attaching a signal whistle or Ferro rods to it. 
A walking stick can be found in the field each time you venture out but I suggest making your own and holding on to. When making your walking stick, make sure that its length is taller than eye level. Having a walking stick shorter than eye level is a hazard should you trip and fall onto the stick.